Moscow: Luzhniki set for demolition?
source: RIA.ru / StadiumDB.com; author: michał

Unexpected news comes from Sports Minister Vitaly Mutko, who suggests the most famous Russian stadium may be demolished ahead of 2018 World Cup. So far it was only suggested to get a renovation.
When Russia filed their bid for 2018 World Cup, they were sure that final game can only be staged in one place: Luzhniki. The famous venue played host to 1980 Olympics, 1999 UEFA Cup final and 2008 Champions League final, so one more event of this magnitude seemed natural.
However there was no solid vision as to how Luzhniki should change before the tournament comes. Initial images and announcements suggested only overall renovation and minor changes may be happening at the 80,000-seater.
Then came visions of new seating bowl being constructed inside the existing shell with facades unchanged and roof only extended to cover spectators better when stands go from athletic to football-only mode. With two or even four tiers of seating (middle tier/tiers for corporate clients). Both ideas can be seen below: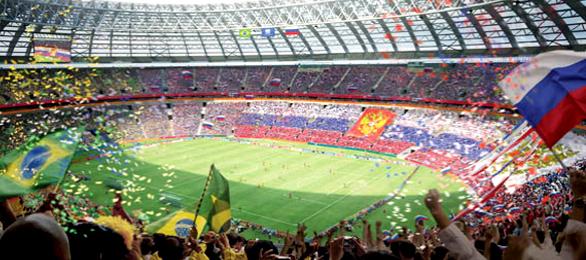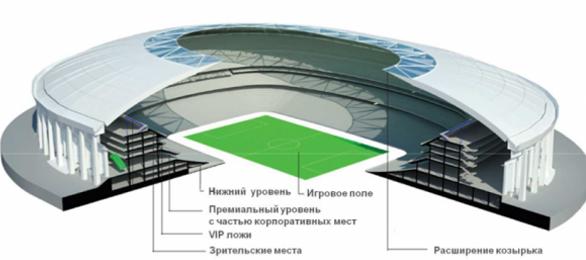 But perhaps the boldest statement came from Sports Minister Vitaly Mutko who told journalists yesterday that the whole venue may be demolished.
"The Moscow city government has not yet examined the concept completely. There is the refurbishment option but that's very tricky from a technical point of view. You know that sometimes modernising arenas can be more expensive than building all over again. There is the demolition option. We'll see what Moscow decides soon enough," Mutko said.
What may raise concerns is the fact that facades built back in 1956 are a historical monument and should not be changed (roof was added no sooner than in 1996). There is an option of rebuilding them as it was done, in smaller scale, during construction of Warsaw's Pepsi Arena that has its pre-war main stand façade redone after partial demolition. Mutko didn't give a clear idea as to how this may be carried out.