Rotterdam: To build or to rebuild De Kuip?
source: StadiumDB.com; author: michał

That is the question Feyenoord is facing as architects and supporters attempt to put pressure for redevelopment of De Kuip, while "Pride of the South' would most likely relocate to a plot nearby. Check out the independent proposition of preserving the unique Feijenoord Stadion.
Although discussions have been ongoing for quite a few years, no final decision was made yet. Three different relocation plans have been on the table – all within walking distance from De Kuip – with only one of those remaining on the table.
The new dream
And it's not the Stadionpark Rotterdam vision presented when Netherlands were bidding for 2018 World Cup. Feyenoord confirms that locating a new ground of that size on the riverside north-east of current stadium simply wouldn't be viable financially.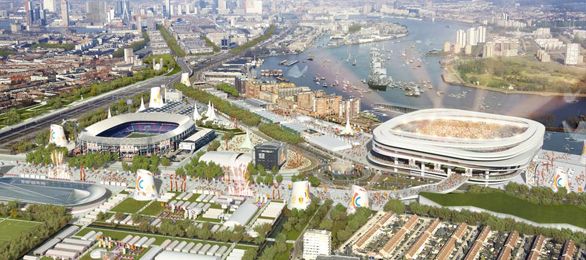 Stadionpark Rotterdam is no longer on the table - not without public funding that would be possible only with Netherlands winning the bid for 2018 World Cup.
One vision scrapped, another one preferred, then. The club is pursuing the dream of having a new home in nearby Varkenoord, where currently the training complex is located. Though it's at a very initial stage with no renderings drawn so far, it seems to be the only vision Feyenoord consider. Main advantage – it would supposedly be the cheapest step, without comparison to both the riverside ground and De Kuip redevelopment.
Especially that converting the existing stadium along new criteria might indeed be challenging. What Feyenoord hope to have a new 63,000-seat venue with potential for further expansion, 100 skyboxes (opposed to 42 existing) and an underground car park for 1,500 vehicles. And then comes retractable roof that would make the new Rotterdam venue both largest and most universal event venue in the Netherlands. An important point, since competition from Amsterdam ArenA and Gelredome is a tough one.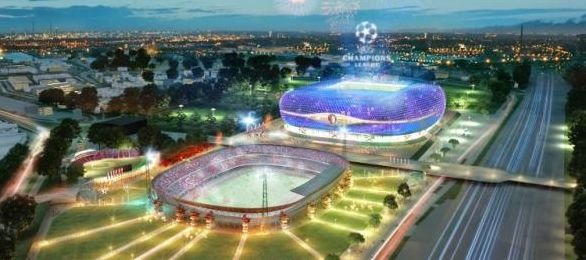 This isn't the official or actual design of the future venue, but this one shows where the preferred Varkenoord stadium might be built.
De Kuip story retold
Providing all the infrastructure listed above at the existing venue seems very unlikely, if possible at all. Even architects and planners who launched the "Red De Kuip" (Save De Kuip) campaign. But they claim Feyenoord doesn't need all that and give the club a counter-vision that we today present for the first time.
A 66,000 venue (though without any future expansion) without retractable roof with not that much effort as the club seems to expect. Seems to be one worth considering, especially with major political party pushing for the club to first thoroughly investigate the chances of current stadium revamp, before attempting to move.
Authors of "Red De Kuip" already have almost 6,000 people supporting their vision. And that is to add a third tier above existing ones. Important thing is that current roof would not be dismantled, just lifted for the expansion and then set atop the new tier. The extra tier would be externally supported by steel beams that would at the same time recreate De Kuip's shape and give additional space for other development underneath the stands.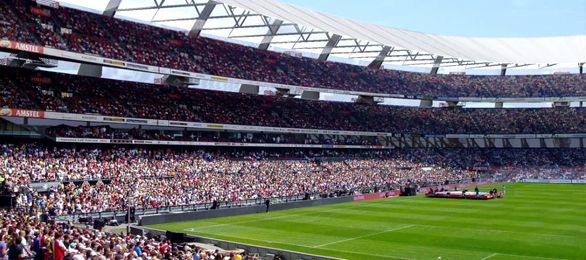 Though not official, quite amazing and preserving the unique image of De Kuip. Or so think almost 6,000 people [to date]...
"New stadium a must"?
However, stadium director Jan van Mervijk isn't convinced by the new vision at all. In his point of view relocating to Varkenoord is the only option. Otherwise Feyenoord will remain an average club. We already lost major concerts, we've almost lost big games as well. We know the "Red De Kuip" plan and respect the sentiment behind such proposals. But if we were to implement all the features we hope to have within the new ground by De Kuip's redevelopment, the cost would be much higher than starting from scratch. Saving De Kuip is fine, but not a realistic alternative, van Merwijk says.
Indeed, last concert at Feijenoord Stadion was hosted back in 2008, but "Red De Kuip" organizers claim their vision would also allow the ground to host great events again. Capacity, despite no chance to further expand is also seen as "more than sufficient" by the campaigners.
Campaigners did what they could to convince Feyenoord to stay, but it seems they didn't succeed. The club has just today signed an agreement with construction giant Volker Wessels who is to build the new Varkenoord venue for €300 million. However, since no design has been drawn yet and the selection doesn't mean construction just yet (Wessels is just the preferred contractor so far), maybe something can still change?