New stadiums: 2006 World Cup training venues and penalty record holder
source: StadiumDB.com; author: michał

Two of today's additions to StadiumDB.com were used by Ghana and Mexico for training in June 2006. Third one was the scene of a stunning number of 25 penalty shots in one game!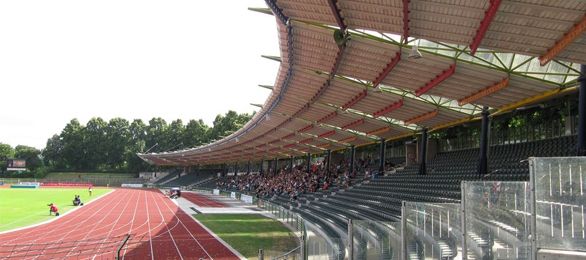 Like many other multi-use venues opened in Germany in early 20th Century this one also bears the name of Friedrich Ludwig Jahn, called the father of German athletics. Initially created with an elliptical blueprint, it lost its shape in 2008 with the creation of a straight stand opposite the main covered one (dating back to 1987).
Historical tenant of the ground was 1. SC Göttingen 05, however the club went bankrupt in 2003 and was reactivated by supporters in 2011. Currently back at the stadium RSV Göttingen 05 they have a modest following measured in hundreds, mostly at the 2008 straight terrace.
While no club was using it, Jahnstadion was usually empty and unused, with rather few exceptions like the Mexican national team's preparations for 2006 World Cup.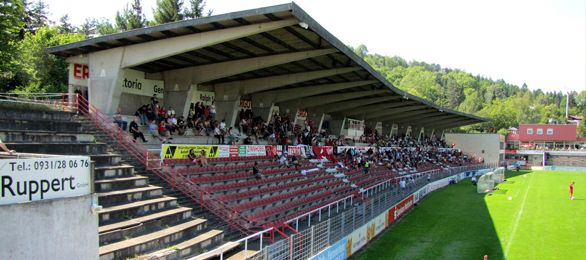 Construction of the ground along Jupp Schunk design started in 1967 with the erection of first stand, the only one with a roof to date. It could hold some 4,000 people with same amount able to watch games from three open sides to make for a capacity of 8,000.
Until 1975 all three remaining stands were done and they too remain as they used to be at the beginning – uncovered terracing for both home and away fans. Already one year after opening record crowd of 12,617 people gathered, a number unseen since then.
Unseen, though possible – the stadium can hold up to 14,500 people. No games have reached such an interest, even the friendly between VfB Stuttgart and Ghana in 2006 (when Ghana national team was training here) had only 6,000 people watching.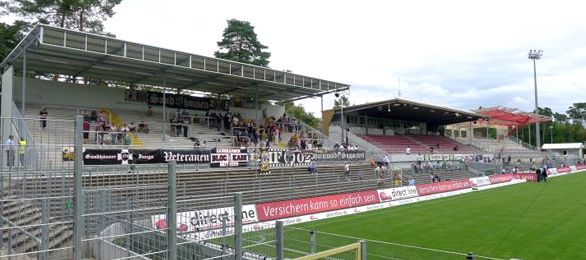 When first game was played here in 1951, there was sand instead of grass. But already then name was quite clear. Hardtwaldstadion refers to the surrounding forest, Hardtwald.
Interestingly, it wasn't until 1987 that a natural turf was actually laid for SV Sandhausen (owner) players. As the club were performing very well in late 20th and early 21st Century, they needed to invest in the ground in order to meet league requirements. First came floodlights in 2002, then new east stand with 2,500 seats (2007) and last expansion were two extra sections at the north, main grandstand. If demand is high enough, new stand on the west is planned. Eventually, however, the club plan to move to a purpose-built new stadium for up to 20,000 people.
Apart from SVS, also youth national team of Germany played their important games here. And in 1995 an all-time high of penalty shots was seen during DFB Cup match with VfB Stuttgart with the tie ending no sooner than at 13:12 in penalties.