New country: India (2)
source: StadiumDB.com; author: michał

Yesterday we presented three of India's most impressive venues. Today we do the opposite and show some of the scariest (we actually find this word legitimate) stadia that are still used for major fixtures, despite their desperate cry for renovations.
Recent years see quite some progress in India's sporting venues. The likes of Delhi's Nehru Stadium or major cricket grounds in Kolkata and Pune may be given as major examples. But throughout the country some stadiums are still in need of great spending to meet international standards after years of negligence. Three of them we present today with as up-to-date photos as we could get.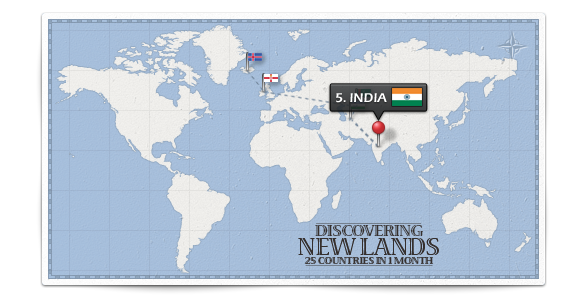 Photo: Groundhopping Merseburg
Built back in 1977, this stadium hasn't received any major overhaul yet. Initially with stands all around the pitch, it has no main stand any more as it was torn down in recent years. Remaining terraces (no seats) have a very unique shape and certain charm, but are dilapidated despite works carried out in 2005 to refurbish the lower tier.
Instead of the old main stand there are only temporary scaffolds with covering and loose seats atop – for prominent guests.
Despite its bad shape overall, it's still used for major domestic games of football as well as international events. Hosting any of these is possible after floodlights were installed in early years of twenty-first century.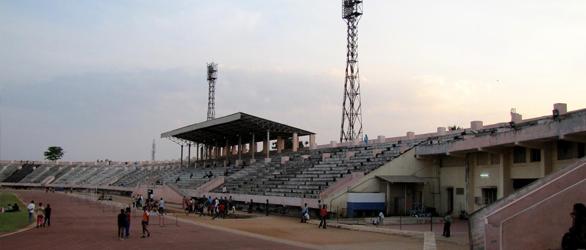 Photo: Groundhopping Merseburg
When constructed in 1971, it was to reach capacity of 45,000 people with 30,000 on the lower tier and further 15,000 on the second, mounted above. Unfortunately the plan was never carried out completely, leaving the venue with single-tiered spectator terraces.
Only reminder of the plans are concrete blocks sticking out from the terracing throughout perimeter of the ground. In three parts of the stadium – main stand and two curves – they were indeed used, but only to provide roof over of spectators.
No seats were ever installed despite Nehru Stadium having a significant renovation in 2008. It wasn't aimed to improve spectator areas, though, but those for sportsmen. The ground is open for everyone and providing high quality training facilities was given priority over event infrastructure.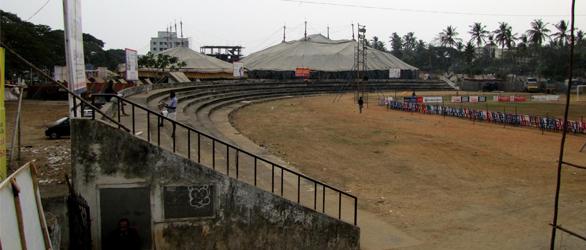 Photo: Groundhopping Merseburg
In the city of Palakkad ("Land of Palms") best stadium is the one named after prime minister Indira Gandhi, but despite quite high population (almost 3,000,000 in the surrounding district) it only received "C" shaped stands for up to 4,000 people. As there are no seats, temporary seating section was created simply by putting 1,000 seats along one sideline of the pitch. There are also 8 floodlight masts, those too of temporary nature. Especially that in June 2012 construction of a professional running track was announced and masts stand partly in its way.