New country: India (1)
source: StadiumDB.com; author: michał

On our way to country no. 120 we stop in India, this time for two days. During day one we will only show you stadia that exceeded the 100,000 mark in attendance. Among them currently the largest venue in the world...
While "discovering new lands" we're stopping in India now to take a look at some of the biggest venues in Asia and in fact the world. But first a short explanation: we decided to add Indian stadia in two turns as the ones we have prepared for you differ a whole lot. Those added today are immense in size. Those awaiting tomorrow are a bit, well, hardcore...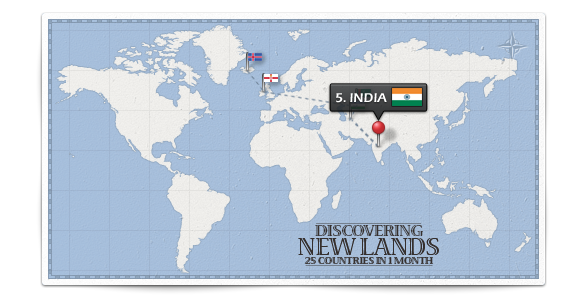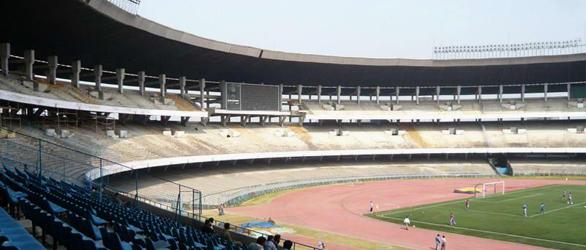 Photo: Frank-Jasperneite.de
This is most likely the largest football stadium in the world, to our knowledge. Due to capacity restrictions in Pyongyang (North Korea) this mammoth's 120,000 places (of course vast majority standing) has no math in global football.
Since opening back in early 1984 it didn't go through any major renovation works, which can be painfully seen both inside and out. It wasn't until early years of the twenty-first century that the ground was able to meet minimum requirements of FIFA with small portion of seats, a few skyboxes, new giant screens, artificial turf and improved lighting. But this still falls far from the term 'modern'.
Because of its low standard and no divisions between different sections of the stands, some sections tend to get overcrowded (particularly behind goals). This is the case very often during India's – and in fact the world's largest derby – between Kolkata's East Bengal and Mohun Bagan clubs. Both sides are able to fill the stadium to capacity when fighting one another, but despite quite feverous atmosphere and lack of safety installations, violence doesn't seem to be a major problem.
In 2008 it was the site of Oliver Kahn farewell, when Bayern faced Mohun Bagan in a friendly. But that's hardly among important events at a ground that has hosted over a dozen of large international tournaments and numerous concerts.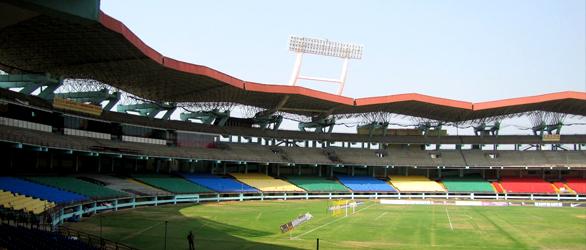 Photo: Groundhopping Merseburg
Also known as Kaloor International Stadium, this ground was built in 1996 and is among India's largest and most modern venues. Its unique shape is the outcome of triple-tiered stands (only lowest tier has seating, though), sloping roof structure and massive floodlight masts going through the roof.
When it was designed, football was to be priority. And so it seemed to be. At the beginning, at least. In 1997 an international football tournament saw attendance record set during India's clash with Iraq, when supposedly some 100,000 people were in attendance, massively exceeding capacity.
And then in 1998 football went aside. Cricket games of India were the most attended ones although club fixtures also happened. It wasn't until 2011 that football came back for to the spotlight with Chirag United claiming tenancy of the venue. However the club, despite playing in India's premier league, is nowhere close to filling the ground's giant stands.
It's very likely that cricket will soon disappear from this stadium for good as a new cricket venue is under construction not far away. Last fixture for India's cricket team planned here is the 2013 England tie.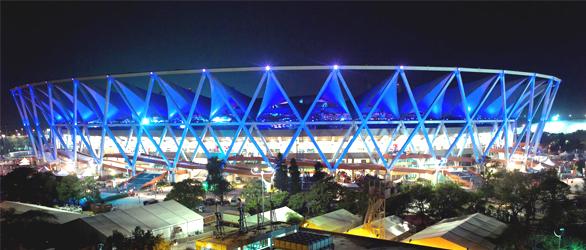 Photo: null0 (cc: by)
The ground was opened in 1982 and is one of numerous venues cross India to be named after the country's first prime minister, Jawaharlal Nehru. Thanks to massive double-tiered stands and very large field of play (enabling both football, athletics and cricket) it could accommodate even 100,000 in its best days.
However, it wasn't used too often over the years. No football team has claimed tenancy in the long run with even the national side splitting games between many venues. Some cricket games also didn't fill the calendar year after year. On the other hand – the stadium hosted its first large concert before many others, in 1988. It was when Sting, Bruce Springsteen and Tracy Chapman (among others) came to promote human rights awareness with Amnesty International.
Good days returned to the dilapidating stadium in 2006 as international competition for redevelopment was won by German GMP Architekten. Completely new roof based on massive steel rings surrounding the stands covered stands which were also extensively refurbished.
Capacity dropped, but by 2010 the ground was ready to host its first Commonwealth Games. And despite scandal surrounding lack of maintenance just several months later, the stadium was given another big event, 2013 South Asian Games.