New countries: Turkmenistan and Uzbekistan
source: StadiumDB.com; author: michał

Despite their considerable size, these two countries are somewhat unknown to people around the world. We cannot change this completely, but we can introduce some of their stadiums to our readers. Here they come. And worth mentioning – we now have 100 countries in Stadium DataBase!
Friday evening is a good occasion not only to go out, but also to celebrate. In case you have nothing to celebrate tonight, please be our guest and spread the word that we now have 100 countries presented at StadiumDB.com. Though today's additions come in a modest number of just three stadiums, we will be looking at those countries, as quite a lot is happening there. Stadium-wise, of course…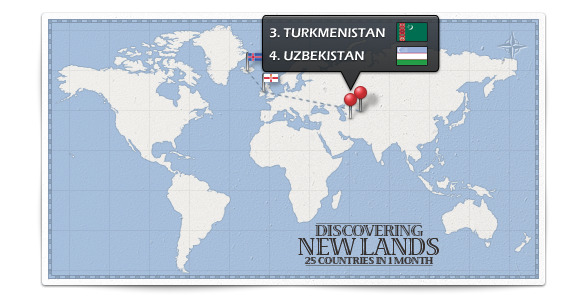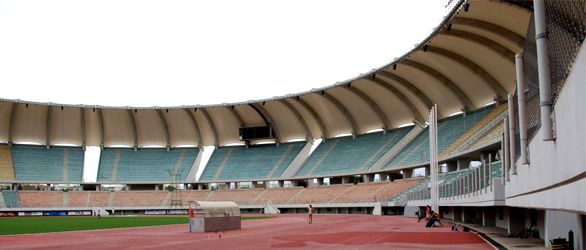 Though called Olympic Stadium, it has nothing to do with actual Olympics. Turkmenistan was never considered and shows no signs of bidding for this event any time soon, partly because of its totalitarian regime.
Ironically, this stadium is a good example of the regime's ideas. Opened in 2003, it was already the second big stadium in the capital and larger than needed. It stands along the main avenue of Ashgabat, the Turkmenbashi Ave. and is also called Turkmenbashi's name (Turkmenbashi is the "Father of Turkmen"). And just in case anyone still isn't convinced who this ground celebrates, a massive banner of Turkmenbashi is hanging inside.
Despite this stadium being bigger than Ashgabat or Turkmenistan need, there is already a much bigger one, supposedly for some 60,000 people being built less than 2 miles west. Next to it four more football stadiums are built and a whole Olympic village is to be ready in 2014, covering some 157 hectares. Again, without any bid to host the actual Olympics.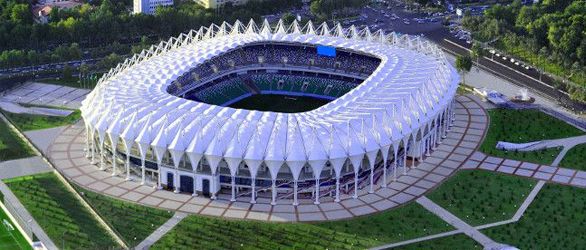 In 2008 one of the most important venues in Uzbekistan – MHSK Stadioni – was closed for complete rebuilding. After having dismantled the old structure, renowned contractor Max Boegl of Germany started working on the basis for a new 34,000-seat football specific stadium. Its original shape was designed by GMP Architekten, also from Germany.
Plans were to develop the ground for Uzbekistani new football superpower, FC Bunyodkor. However, the new club – associated with president's daughter and her financial backers Zeromax – soon got in trouble with Zeromax announcing bankruptcy. This slowed the project down a lot and brought a risk that neither any facades, nor the roof would be built.
However, as Uzbekistan was due to host FIFA U20 Women's World Cup in 2012, authorities restarted work on the building in 2011, awarding the remaining works to Austrian Oberhofer Stahlbau. Despite extremely fast design and construction process the venue was not delivered in time to satisfy FIFA. The tournament was transferred to Japan long before the venue was finished and so official opening took place in late August 2012, with the World Cup a week from ending.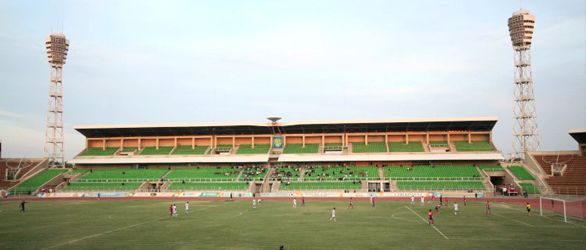 Or this is how it was renamed in 2012, after just a decade of operation. This rather international name is a shift from traditional Uzbekistani Buxoro Sport Majmuasi. From the start this track and field offered all spectators individual seats, in total over 25,000.
Though it still looks like it did in 2002, first major lifting came in 2011, ahead of 2012 FIFA U20 Women's World Cup. Ironically, the tournament was eventually taken from Uzbekistan and given to Japan after trouble with other venues marred the Uzbekistani preparations.