New countries: Bangladesh and Nepal
source: StadiumDB.com; author: michał

Today we visit two of the poorest countries worldwide and show their national stadiums. But poor or not, these have a lot of history behind them and deserve a visit, even if only online.
Slowly moving towards further continents, today we add two countries on our way to making it 25 new ones in a month. This time only two, but not even due to stadia in Bangladesh being unattractive, we simply have very limited photo resources. Still very exceptional as few websites ever presented these (photo credits for more can be found under each image).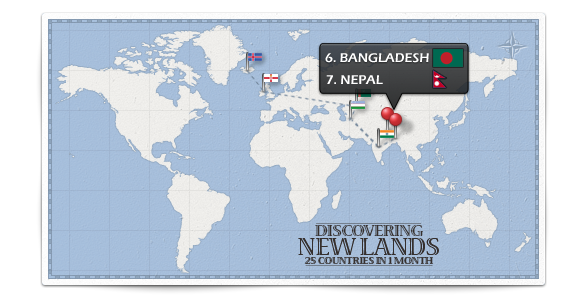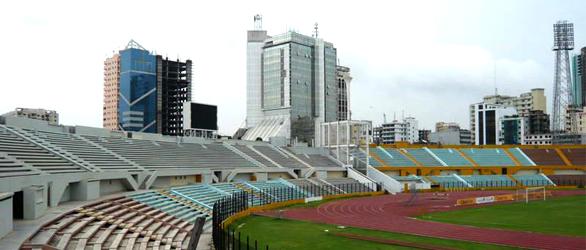 Photo: Frank-Jasperneite.de
When planned in early 1950s, it was to be the country's (not even independent then) national stadium for cricket, with a separate one for football being built just several feet next to it. Both of them stand in Dhaka's strict centre, now becoming surrounded by numerous skyscrapers.
Since opening in 1954 their roles have switched. The football ground became Bangladesh's national field hockey stadium with two pitches fitted inside. The larger one for cricket took over as national for both football and athletic events. Nowadays football became its prevalent use with four clubs from the capital playing here, not mentioning the national side.
Over the years it was subject to numerous redevelopments, but they usually covered only parts of the oval bowl, resulting in diversified designs of certain sections. It wasn't until 2010 that the stadium received a major overhaul, becoming an all-seater, losing some of the massive fences (seen below, as photos show it at the beginning of works) and getting completely new VIP and press spaces, along with partial cover.
This was an attempt to prepare the ground for its first major tournament – 2011 Cricket World Cup. Opening ceremony took place here and was highly ranked despite fears over preparations.
The name Bangabandhu refers to sheikh Majibur Rahman, called the "Friend of Bengal" (in Bengal: Bangabandhu).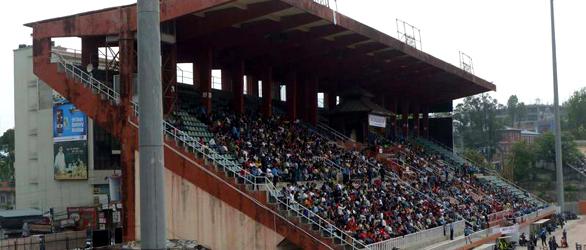 Photo: Frank-Jasperneite.de
Nepali national stadium was built in 1956 and to date hasn't changed almost at all with its original stands preserved. It has one grandstand with seats and partial cover and remaining sections being open and 'C' shaped. Since the very beginning it's been the country's central sports and cultural venue, just to mention the fact that majority of Nepal's top league clubs play their home games here.
It went through several renovations, but each time the works were rather symbolic – new furnishings, paintwork or installations, like floodlights or giant screen. Most significant works preceded large tournaments hosted here, like the Asian Games of 1999 and 2012 AFC Challenge Cup. Apart from sport numerous festivals and entertainment events take place here with international stars also appearing – like Bryan Adams in 2011.
This stadium's history has a dark page. On March 12 1988 hailstorm started during a football game. With hailstorms in Nepal being very intensive at this part of the year and causing pain to unprotected people, most spectators from the uncovered stands rushed to the only grandstand with some roof. There was no room for them and so police forces started to fight the crowd off. In an attempt to flee the ground people then rushed towards one of the gates, but it had been closed after game began to avoid illegal entry. In a massive crush 93 people were killed with some 100 more injured. Despite its giant scale, this tragedy hasn't received international attention.