Their Euro: Mladen (2)
source: StadiumDB.com; author: michał

Came from Rijeka to help Croatian supporters as a Fan Embassy volunteer. But at one point he himself needed help as police arrested him and since they didn't speak English, explaining anything was hard. But despite that he fell in love with Gdansk and wants to come back.
StadiumDB.com: From NK Rijeka at Kantrida to watching the national team in Poland. Do you follow Croatia home and away or was there a different reason for coming here?
Mladen Mikac: Well, I used to follow Croatia at home and away, but because of the people that lead our FA I stopped. I don't think that people that support our national team should beg for even a chance to buy tickets. But the reason for me coming here was to help our fans in any way I can, with information, assistance or something else.
Wait, what do you mean about begging the FA?
Here in Croatia you don't have a system that works for getting tickets. When I stopped going to national team games, tickets were distributed without any logic. In Armada (Rijeka's fanatic support) you have around 50 people that follow our national team everywhere and another 50 that go whenever they can. So to me it's unfair that nobody out of those 100 persons can get the ticket for any match. I even know that during the 2006 World Cup general secretary of our FA didn't want to sell tickets to our fans and later he was seen selling them to Japanese supporters for a much higher price. Now you figure.
Most fans sing and drink (well, apart from other stuff) while away, meanwhile you decided to get involved in Fan Embassy to help them. Why is that?
Well, usually I don't drink when I go to football. I know it sounds weird, but I like to be sober just as a precaution. So it was not a problem for me to be there and provide them assistance. Although I worked there, I still got time to spend with other fans, singing and having a good time with them.
Still – different country, huge tournament, volunteering. Did you have any previous experience with all that?
Not really, but we were really prepared and learned about Poznan and Gdansk. We were lucky, because stationary embassies personnel were really helpful and ready to assist us with anything we needed. Other people were also polite, too. As a football fan I think I know what a real football fan wants to know so in that part I was confident of doing a good job.
Croatian fans are usually associated with loud support, but also incidents like the ones with flares or violence in the city. Did you prepare yourselves for crisis situations?
We had several meetings where we talked about the possible outcomes if there were any trouble like that, so I think we were ready for any kind of situation.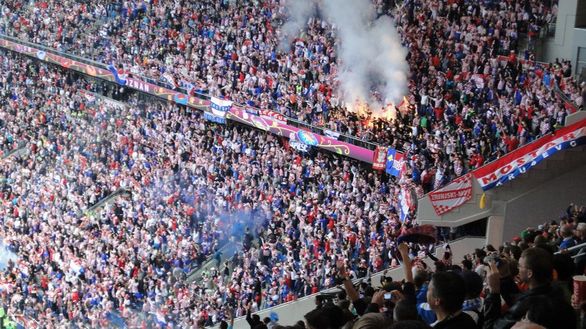 Croatian fans were the most active group during the Euro when it comes to pyrotechnics. Photo: Kai, bs-ma-bs.net
But when it happened, you ended up being arrested. Can you give any details as to how this happened?
Yes. That's quite a story. At the match with Spain my colleague and I were arrested for lighting up a flare inside the stadium. Here's the story. We were standing in our place in the stadium when I saw that guys next to us have a flare. I said to my friend that we should move and so we did. When the guy lighted up the flare, the flame burst really strong immediately so he got scared not to get burned and threw it under our feet (guess he is inexperienced with flares, because his flare was shortened, so he should expect immediate burst of flame). We immediately moved from that spot so we don't get burned ourselves. As match was ending one of Lechia supporters told us that police was looking for us, but we thought he made a mistake. Three minutes before the end 4 or 5 police officers in plain clothes (they looked more like thugs than police) took us to the station in the stadium. While they were taking us there, we were trying to explain to them that we have accreditations and that we are part of fans embassies project and that we wouldn't light up a flare. I also told them several times that they only should take a look at the video and they'll see that we didn't do it. Of course they didn't listen and their English was awful, they barely understood anything. So they took us there, put us in separate interrogation rooms and took our info. When I got my phone call I called my boss and then he called anyone possible to sort this out. And fortunately for us they all managed to get us out in 3hrs. This way I would like to thank them all – guys form Lechia supporters group, Kibice Razem coordinator, my translator and everybody that helped us.
So how do you think this mix-up happened in the first place? You guys were representing a project supported and recognized by the organizers. Didn't UEFA do anything?
I think this happened because of insufficient police work. As I learned later the steward told the police that he couldn't be sure that it was us, but he saw us going away from the place where the flare was lit. It was shocking to me that police didn't look at the security tapes, although they bragged all the time how their surveillance system is the best and stuff like that.
As far as I know UEFA didn't do anything. And the police didn't care that we were a part of a UEFA project. In the end I didn't even get an apology from the authorities.

Despite the arrest that happened at Arena Gdańsk Mladen still has great memories from Gdansk. Photo: Kai, bs-ma-bs.net
Surely a lot of things went wrong here then. But apart from this incident did you have trouble communicating with the stewards, with UEFA and other authorities?
The first game in Poznan was really problematic, because the stewards were lost in space and time. No one knew to which gate should people with accreditations go and they've sent people with tickets to other sectors. There were a lot of fans without tickets who managed to get into the stadium and pass the stewards. After that game we told the officials from UEFA about all the flaws, so they improved it a lot for the second game. The problem was in general that some stewards and the police especially didn't speak good English so it was a problem communicating with them. Luckily we always had someone from the Polish stationary embassies with us so it made our life easier in that part. For example on the matchday Croatia vs. Spain a Croat came to us and said that his wallet was stolen. We immediately told guys from Gdansk what happened and they took him to two police officers. They asked policemen if they knew English and they said of course they do. A minute after that we saw those officers taking that guy to the first steward that knew English because they didn't understand anything he said. The same situation was when I was arrested. No one understood what I was saying, maybe one officer could guess. Luckily they had a great translator for me so it was a lot easier after she came.
A lighter topic to end with: Having been in Gdansk and Poznan as insider into the event, how would you compare these cities?
The only thing Poznan and Gdansk had in common are people and their kindness and very good organization. In Poznan people from the stationary embassies were from social networking, not really football fans while in Gdansk guys are hard core supporters, so the difference was in sensitivity of needs for football fans and that's why I would say Gdansk was a bit better organization-wise. Since I'm from the seaside, I liked Gdansk a lot more because it reminded me of my hometown. I just love Gdansk, enjoyed every second of it so I'm already making plans to go there with my girlfriend again. In Gdansk I really felt like home and enjoyed it so much, the history of Gdansk is amazing and you can feel it. Poznan is also beautiful and interesting, but not like Gdansk.

Mladen Mikac. From Rijeka,Croatia. 28 years of age. Got my degree in economy 2 years ago. My love and passion is supporting my local football club, but I love to go to watch interesting matches all over Europe whenever I can.