New stadium: Mersin Olimpiyat Stadı
source: StadiumDB.com; author: michał

Turkey isn't slowing down as yet another city will soon receive a new stadium. Mersin Olympic Stadium isn't really all too olympic, but this 25,000-seater will soon host large events. For now available in construction photos and renderings only.
Turkish government continues to redevelop central arenas of major cities nationwide with southern Mersin coming after Kayseri, Istanbul, Bursa and Konya. The city slightly smaller than Birmingham will see first league games in their new venue in early 2014.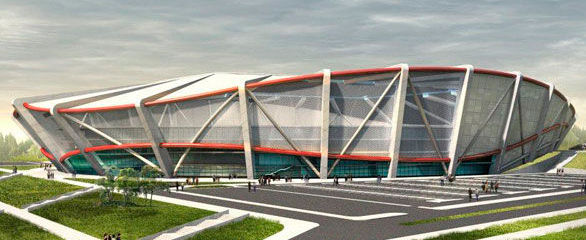 Photo: Mersin Olimpiyat Stadi
Just as in the above cases, financing comes from governmental agency TOKI, while contract for erecting the new stadium was awarded to Uzunlar, one of Turkish construction giants, known to stadium enthusiasts from Galatasaray's new home. Concept has been drawn back in 2011 with construction starting this year in February.
Within less than half a year quite some results can be seen. This cannot be surprising, though, if we take into account short deadlines. The ground needs to be operational by May 2013 to host the Mediterranean Games just a couple of weeks later. But first league encounters for local football fans are expected in 2014, since construction is to end only after the Games, in March 2014.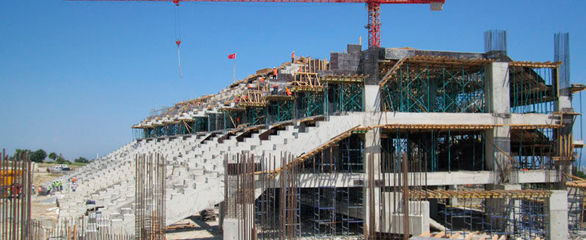 Photo: Mersin Olimpiyat Stadi
What is being built? Football-specific stadium for over 25,000 people, of whom 5,000 will be seated in premium zones of the business sections (over 3,700) and skyboxes (over 900). Around it parking space for 46 buses and 1,295 cars (plus 150 VIP bays) will be created. Arguably enough if only road transport is to be used and the stadium is being built in the hills outside Mersin with no other communication existing.
Very much the opposite location to currently largest venue in the city, Tevfik Sırrı Gür Stadı, that stands just next to the seaside in Mersin's central district. That ground is currently home to Mersin İdmanyurdu SK, top tier football side that is to relocate once the new one is finished.