London: Chelsea staying put and QPR moving out?
source: thisislondon.co.uk / Independent.co.uk

Local council assures Chelsea they will aid their redevelopment of Stamford Bridge, if the club decides to remain at its original home. Meanwhile nearby QPR plan on finding a new plot as there is no room for Loftus Road expansion.
As Chelsea's bid to buy the Battersea Power station failed, Hammersmith and Fulham council encourages the club to remain at Stamford Bridge, declaring willingness to help in redeveloping the ground.
New council leader Nicholas Botterill ensures that authorities hope to work out the best possible solution. – The council remains committed to working with the club to explore all possible avenues for keeping the Blues here at their original home. The door is open and the council is again ready to sit down and discuss how Stamford Bridge can be appropriately upgraded so that it is fit for one of Europe's leading football clubs – Botterill told "London Evening Standard".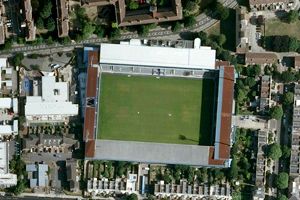 Just a few miles north Queens Park Rangers are in a completely different situation with their Loftus Road being smallest of all Premier League grounds and impossible to expand due to lack of space (see satellite photo attached). Since QPR have been taken over by multi-millionaire Tony Fernandes changing neighbourhoods seems the only possible option.
It won't be easy as the club plans on securing space for up to 45,000-seater as possible to their current home as possible. QPR is very much based on local district community and moving to a distant area might be risky.
Though not a desired option, the club announced reasonable ground-share options will be taken into account. Closes neighbours are Chelsea and Fulham (app. 4 km / 2,5 miles) and Brentofrd FC (5 km / 3 miles).