Euro 2012: Stadia filled beyond capacity, but seats left empty
source: FSF.org.uk / StadiumDB.com; author: michał

One day before the final, tickets are again on sale. In previous fixtures thousands of seats were left empty even if declared attendance stood at 99%+. How about more transparency, UEFA?
When we were trying to find official capacities of the Euro 2012 venues, UEFA was of no help. It's certain capacities must have changed due to additional press seats, camera platforms, business allocations, etc. But how much? Nobody seemed to know beforehand.
In fact, a fact sheet released back in 2009 proved to have more probable data than the one just ahead of the tournament. The latter stated that, for example, Stadion Narodowy in Warsaw had exactly 50,000 seats. Later on UEFA data was corrected (though not for all stadia) and now capacity in Warsaw stands at 56,070 seats. That would sound great, but how come the opening game was watched by 56,826 people, then? Even if counting dancers from the opening ceremony, where are the extra seats required by Polish and – ironically – UEFA's regulations?
This isn't the only question. Were we to believe official data, there were several games with 100% attendance. Even forgetting that this is nearly impossible in practice, the very same games in broadcast and first hand revealed numerous empty seats, in hundreds if not thousands.
To give a few examples – Arena Lviv was filled to capacity twice, while Gdansk, Poznan, Kharkiv and Kyiv – once. Meanwhile there was not even one fixture in Kyiv without whole rows of empty seats. Moreover, tomorrow's final – previously announced as sold out – has tickets again on sale. And that announcement comes one day ahead of the game!
During Group D opener between France and England there were officially 2,000 empty seats. Photos from that game suggest however this number was far higher. Not only we were interested by this, but also the Free Lions supporter association of England along with Football Supporters Federation. One day before the game they approached organizers asking about ticket availability. Answer was "100 tickets only" and changed to "sold out" within two hours. But "sold out" is not what can be seen in the photo below, of match opening.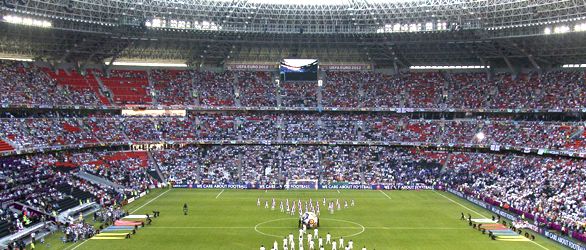 The FSF approached UEFA about that game and received two different answers. "It could be that a group could have missed their flight connections, or that the travelling distances to the host cities are too far so they are unable to attend.
Unless we have the specific seat and row numbers of the tickets we cannot say who did not turn up at the game, but given the empty seats were in the opposite end to England fans we suspect these were tickets unsold by the French federation which should have been returned to us, or they had been returned to us and resold locally – and for whatever reason these ticket holders were unable to make the match said one UEFA spokesman.
However, another source from UEFA told the FSF that the tickets may have been purchased by local 'businessmen' through a less-than-formal arrangement with a view to possible resale as part of a black market that turned out not to exist. This theory would explain why there were a number of tickets on sale for less than face value outside the stadium.
StadiumDB.com comment: One game before the tournament end we have claims of stadiums being filled at 99% rate, while real data seems disturbingly lower. What we would ask for is less PR by UEFA, more transparency. And since there will undoubtedly be numerous empty seats tomorrow in Kyiv, maybe it's time for UEFA to revise their pricing (and distribution) policy. €600 per ticket?! C'mon!