New designs: How Euro 2016 venues will NOT look like
source: StadiumDB.com; author: michał

Today we take you on an unusual journey across France to see rejected bids for Euro 2016 host venues. They may have lost, but surely are worth a closer look!
Two construction giants fought for one of France's most prestigious sports venue redevelopment. Bouygues, who teamed up with SCAU and Atelier 9, apparently did a more convincing job, sending Vinci and Populous to rethink their design.
As Stade Vélodrome was subject to major overhaul prior 1998 World Cup, it is no wonder Populous decided to leave its somewhat distinctive oval stands almost untouched, changing only the main grandstand. Changing it a lot, though, with a massive corporate zone consisting of several floors of skyboxes (1,300 people can sit there) to start with. Then some 4,700 more business seats and commercial space in the infrastructure.
And all this covered with elliptic shell based on four giant steel trusses. The shell would have been among the largest photovoltaic surfaces to be done on a sports facility with 30,000 sqm. No solid facades were planned, only a dynamic "web" that was said to be a metaphor of chants and matchday atmosphere. This way the ground was both open for ventilation and more welcoming than a closed block.
Bouygues may have won in Marseille, but lost the Nice contract. For that job they cooperated with Jean Nouvel to create a vision for the 2016 venue. Meanwhile the winners, Vinci, worked with Wilmotte and got the job.
Nouvel's vision was very aggressive and dynamic in its form with contrasts striking the beholder even from a distance. First, the concrete structure was supposed to be left uncovered, naked. Only painted with a mixture of red and black stripes (colours of OGC Nice) to create a lasting impression. Though the seating bowl was almost symmetrical and quite simple – two tiers divided with corporate zone – the cover of different height and independent for each part of the ground suggested we were dealing with four separate stands rather than a closed bowl. This didn't convince the jury, however, just as a multimedia sports museum or public-use sports fields at the foot of the stadium.
Just like the two cities above, Saint-Etienne also did their tender in 2010. The famous Chaudron (Cauldron), as Geoffroy-Guichard is often referred to, is being revamped along Atelier Chaix design, that provides corner stands to this open venue. The Cardete-Huet vision does the opposite, by preserving the division to four independent stands with open corners. Capacity is still at the anticipated level of 40,000+, but with end sides being expanded to two-tier structures.
Both concepts, both the chosen and rejected bid, have one thing in common. Main stand and its roof are left as they were. However while Atelier Chaix decided to incorporate it into the future stadium bowl, Cardete-Huet left it untouched and stand out from the new additions. And though the added tiers, roof and facades are impressive, the whole venue isn't consistent.
Experienced architect of numerous stadiums worldwide Pierre Ferret this time had to recognize superiority of Suisse duo Herzog and de Meuron.
Ferret, to put it simply, closed an oval in a cuboid. And did it with style – the stands' crimson colour reflects that of local specialty, the Bordeaux wine. This claret shape is enclosed in a translucent, almost transparent box as if in a glass cabinet. Then comes the roof descending in the pitch's direction which was supposed to be coated with wood from the inside, adding warmth and originality.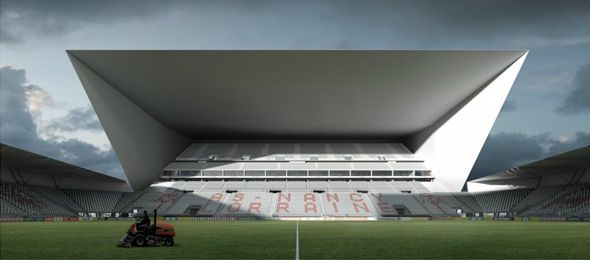 Smallest of today's addition to Stadium Data Base isn't on the host venue list any more, but back in 2010 Nancy was still planning on hosting Euro 2016 games, even if encouraged only by Michel Platini himself (famous Nancy player years back), as some suggested. Capacity was set to reach UEFA's minimum of 30,000, just enough for group matches. The winning bid suggested making the stadium a regular bowl with clear form and colour. And retractable roof, later changed to fixed one (forcing artificial pitch instead of natural one).
What SCAU proposed was the exact opposite – a bold attempt to emphasize difference between stands alongside the pitch and those on endlines. This disproportion exists today, but with the SCAU vision it reached a scale one wouldn't expect. With very tall, red, geometric shapes invading the city's skyline it would surely be a landmark, but probably also a controversial one. Among football stadiums surely one of the most original in years as architects gave a lot of attention to making the new forms a clear and elegant look, not only a massive size.