YouTube: World Stadiums Under Construction (May 2023)
source: StadiumDB.com; author: Kuba Kowalski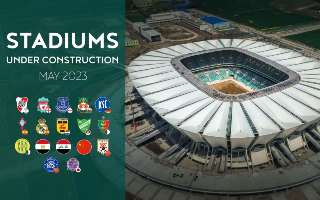 Every month we see more changes witnessed by stadiums under construction around the world. Renovations are undergoing not only the Santiago Bernabeu or Mas Monumental, well-known among all fans, but many other venues. See the progress of the work and find out when we can expect a happy end to the constructions.
In the latest video you will see as many as 18 arenas from 4 continents. Although our list of stadiums is dominated by venues of big teams such as Everton FC and Liverpool FC, there are also arenas from more exotic places. We visited African and Asian countries - 4 new stadiums are currently under construction in China alone.
What technologies are the construction teams using? Where is the work moving at the fastest pace? Don't forget to write in the comments which arena you are most looking forward to the completion of and to like the video.