YouTube: Top 10 Best Ultras Atmosphere Stadiums (Pyros and Tifos)
source: StadiumDB.com; author: Mateusz Osmola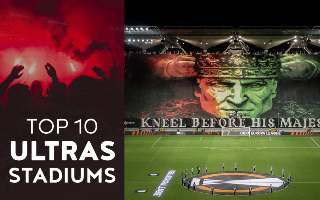 Football cannot exist without the fans. It is thanks to their commitment and unconditional love for their club that football matches have such a great atmosphere. Particularly noteworthy are those of them who lead the cheering and take care of tifo in the stadiums. It is all about ultras and it is to them that our latest material is dedicated.
The editors of StadiumDB.com have prepared for you the top 10 football arenas where supporting has reached a higher level. Our ranking is based on data from the Ultras World channel, where the best ultras squads have been selected since 2013. We took the summaries from 2017-2022 excluding 2020, added up the results and that's how we came up with the Top 10 stadiums with the best atmosphere.
Unsurprisingly, the ranking was dominated by European venues, but we also included one stadium from Africa. Be ready for tifos, chants, flags, pyros and smoke, because the best ultras take no prisoners!
Join us and check out the stadiums with the best atmosphere in the world!