YouTube: World Cup 2030 Stadiums | Spain–Portugal-Morocco bid
source: StadiumDB.com; author: Mateusz Osmola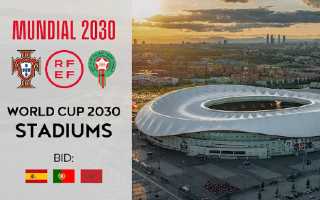 The landscape in the football world is constantly changing. We have just learned that Ukraine withdrew from the joint candidacy with Iberian countries. Spain and Portugal are now joined by Morocco to bid to host the 2030 World Cup. We have a video for you covering stadiums that make up this proposal.
The addition of Morocco to the Iberian countries naturally made it necessary to revise the existing stadium arrangement. Portugal was left with 3 stadiums, but Spain had to share with the African country and the number of football arenas was reduced to 7 instead of 11 as previously agreed. Morocco also presented 7 stadiums. Will it be enough to host the 2030 World Cup? Watch our video and judge for yourself.
This change means that the distances between football venues have been significantly reduced compared to the situation, in which some matches would take place in Ukraine. We start in the Iberian Peninsula. We will first visit Portugal then Spain and then head to Morocco via the Strait of Gibraltar. Enjoy the material!