YouTube: Santiago Bernabéu | Construction Update (March 2023)
source: StadiumDB.com; author: Kuba Kowalski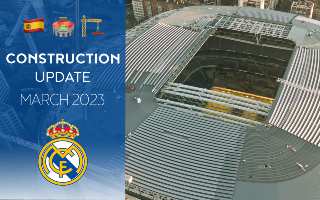 When the stadium of the best football team in the world is being built, we just have to make you feel like you were there. Are you looking forward to seeing the new Santiago Bernabeu? Let's see what is going on there right now!
Our new video showcases the current state of the Santiago Bernabeu construction, using actual photos and videos. The materials take you on a virtual tour of the construction site, providing a detailed look at the progress made so far. It features footage of the stadium's iconic exterior, as well as shots of the construction inside the venue.
If you are a Real Madrid fan, we are so jealous of the new stadium… But, this video is not only for Los Blancos' supporters. Let's just admire and imagine how futuristic and impressive the Bernabeu will look. There are more stadiums in Spain which are under construction, though. Stay tuned and make sure you subscribe to our channel - there is so much to wait for!
Which element of the new Bernabeu is the most extraordinary?