Stadium of the Year 2022: Discover Lanzhou Stadium
source: StadiumDB.com; author: Kuba Kowalski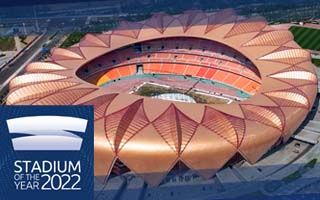 Our Stadium of the Year competition has officially begun and will run until 15 March. As many as 36 venues are on the list of nominated arenas this year. One of them is Lanzhou Stadium located in China. Take a look at this candidacy and decide whether you want to vote for it in the contest for Stadium of the Year 2022!
Lanzhou Stadium nominated for Stadium of the Year 2022!
Residents of China are proud of their new venue, Lanzhou Stadium, which made it to the list of 36 football arenas nominated for the prestigious Stadium of the Year 2022 award. The competition is the largest public vote of its kind in the world. Since the first edition began, a total of more than 400,000 valid votes have been counted.
This year's contest is highly varied, with stadiums from as many as five different continents taking part: 18 venues are from Asia, seven from Europe, five from Africa, three from North America, two from South America and one from Australia and Oceania. The competition is fierce, so don't hesitate to cast a vote for the stadium you appreciate the most! If you're still unsure, you can watch a video covering all 36 nominated stadiums:
Get to know Lanzhou Stadium
Last year a stadium was completed. Here are some interesting facts about the venue:
The main theme that guided the designers is the concept of "flowers dancing on the silk route."

In line with this idea, each of the five main buildings in the complex will present motifs relating to five different flowers.

Thus, next to the "rose" stadium, there is a "tulip" sports hall, a "lily" swimming pool, a tennis hall inspired by the lotus flower, and an "orchid" apartment building for athletes.

The landscaping of the complex is based on motifs reminiscent of the ribbons made famous by Dunhuang Feitian's costumes.

The structure of the main building is clad in aluminum panels of a warm, dark gold color.
How to vote for the Stadium of the Year 2022?
In order to take part, everyone has to select five stadiums by giving 5 stars to the best one, 4 stars to the second best, 3 stars to the third, 2 stars for the fourth and finally 1 star for the fifth most interesting. It means that you cannot cast your vote for only one stadium - all 5 venues must be included in your form. To vote visit Stadium of the Year 2022, the voting platform which will be open until March 15. To learn more about the nominated stadiums and the voting rules themselves, it is recommended to watch the video: