YouTube: World Cup Stadiums 2030 | Morocco bid
source: StadiumDB.com; author: Mateusz Osmola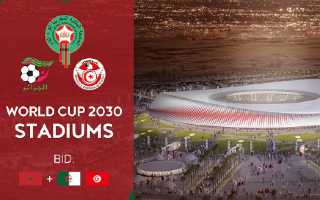 Before you is the next part of the series in which we present the candidates for hosting the 2030 World Cup. After proposals from South American and European countries, this time we head to Africa, where stadiums in Morocco, Algeria and Tunisia await.
This is the sixth time that Morocco will be bidding for the right to host the World Cup, and it has to be said that the stadium offer from the country looks very attractive. It was initially rumoured that Morocco would put forward a joint bid with Algeria and Tunisia, but for political reasons this cooperation is unlikely to materialise. The editorial staff of StadiuDB.com have in any case decided to also present football venues from the two countries as a bonus.
Will Morocco finally succeed in hosting the world's best footballers at the 2030 World Cup? The arguments are strong, as the country already has several modern stadiums, with plans to build more. However, the competition is strong, as the candidatures of Argentina, Chile, Paraguay and Uruguay, as well as Spain, Portugal and Ukraine also look respectable and the choice of host for the 2030 World Cup will be extremely difficult.
We invite you to take a look at footage of the stadiums in Morocco, Algeria and Tunisia: