Stadium of the Year 2022: Discover Allianz Stadium
source: StadiumDB.com; author: Mateusz Osmola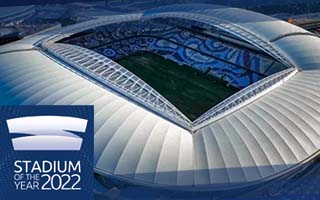 Our Stadium of the Year competition has officially begun and will run until 15 March. As many as 36 venues are on the list of nominees this year. One of them is Allianz Stadium located in Sydney, Australia. Take a look at this candidacy and decide whether you want to vote for it in the contest for Stadium of the Year 2022!
Allianz Stadium nominated for Stadium of the Year 2022!
Sydney residents can look with pride at the new stadium opened in their city last year. The state-of-the-art Allianz Stadium made it to the list of 36 football arenas nominated for the prestigious Stadium of the Year 2022 award. The competition is the largest public vote of its kind in the world. Since the first edition began, a total of more than 400,000 valid votes have been counted.
This year's contest is highly varied, with stadiums from as many as six different continents taking part: 18 venues are from Asia, eight from Europe, four from Africa, three from North America, two from South America and one from Australia and Oceania. The competition is fierce, so don't hesitate to cast a vote for the stadium you appreciate the most! If you're still unsure, you can watch a video covering all 36 nominated stadiums:
Get to know Allianz Stadium
Last August, after 2.5 years of construction, the 42,500-seater, which joined the family of arenas with Allianz in their name, including some of the most famous stadiums in the world. The venue serves as a new home for football club, Sydney FC from the A-league as well as two rugby teams, the Sydney Roosters, from the National Rugby League, and the New South Wales Waratahs, a Super Rugby participant.
The stadium is located a short distance from the centre of the Emerald City metropolitan area, next to the Sydney Cricket Ground. Cox Architecture was responsible for the design of the stadium. Here are some interesting facts about the arena:
Allianz Stadium cost AUD 828 million
Its roof weighs as much as 333 adult African elephants!
The seating form an interesting scheme, based on Aboriginal culture
The facade was created using striking bronze slats
The 7th venue in Allianz's portfolio
The stadium will be one of the arenas for the 2023 Women's World Cup and the 2032 Olympic football tournament. The stadium is also being considered as part of Australia's potential bid to host the 2034 FIFA World Cup
How to vote for the Stadium of the Year 2022?
In order to take part, everyone has to select five stadiums by giving 5 stars to the best one, 4 stars to the second best, 3 stars to the third, 2 stars for the fourth and finally 1 star for the fifth most interesting. It means that you cannot cast your vote for only one stadium - all 5 venues must be included in your form. To vote visit Stadium of the Year 2022, the voting platform which will be open until March 15. To learn more about the nominated stadiums and the voting rules themselves, it is recommended to watch the video: