YouTube: 36 New Stadiums Opened in 2022
source: StadiumDB.com; author: Mateusz Osmola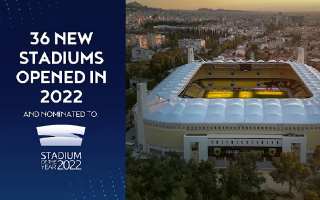 Voting for Stadium of the Year 2022 is fast approaching. In order to help you with your choice, our editors have prepared material in which we present 36 football arenas that were inaugurated last year.
As every year at the turn of February and March, StadiumDB.com will organise a vote in which it will be up to you to choose the best stadium of the past 12 months. The year 2022 was full of openings of truly impressive football facilities.
To help you decide we prepared a special video, that features the most impressive arenas inaugurated last year. Check out the glamorous stadiums from the USA, South America, Europe, Africa, the Middle East, China, Indonesia and Australia.
We invite you to take a look at the 36 stadiums with more than 10 000 spectators that opened in 2022.