Liverpool: How is work progressing at Anfield?
source: StadiumDB.com; author: Kuba Kowalski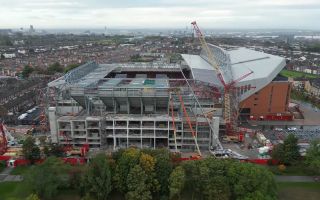 It's been over a year since the construction work began on The Reds' stadium. Back then, the idea of increasing the capacity of the stands lit up Jürgen Klopp and the fans, and the current implementation continues to excite.
On September 30, 2021, the Liverpool coach himself symbolically opened yet another phase of the venue's expansion. Since then, 750 people responsible for the project have worked more than a quarter of a million hours to make the club's community, with a home at Anfield, enjoy improvements to the facility as soon as possible.
So far, progress is going as planned and the Liverpool FC authorities are hoping to complete the last part of the project before the start of next season. The stands currently hold 54,000 supporters and the project involves increasing the auditorium by 7,000 seats.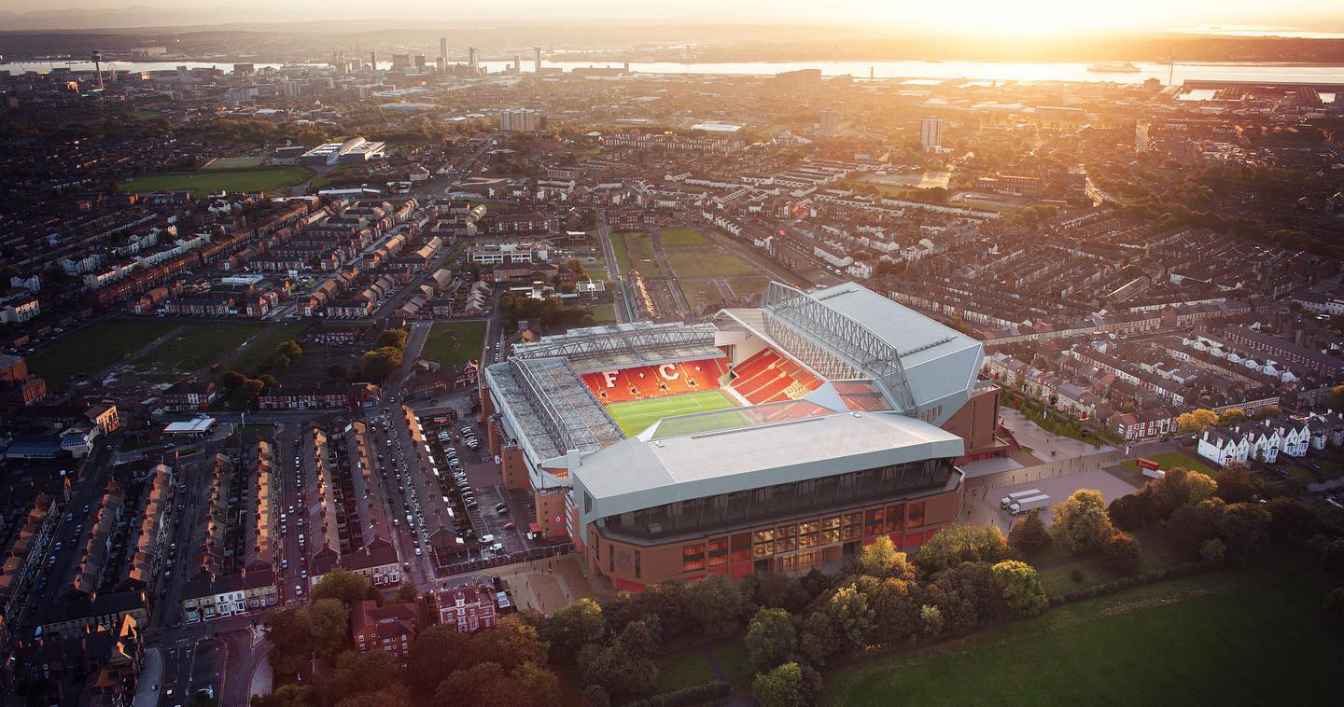 © Liverpool FC
The challenge for the builders was to plan the construction in such a way as not to disrupt the everyday life of Anfield. The aim was to not interfere with match days, site tours and the holding of cultural events. For this reason, four months after construction began, huge Y-shaped columns were raised to create a safety zone. The improvement allows the stand to operate on the mentioned days of stadium activity, while work is ongoing on the others. More than 2 million people have visited the venue since the expansion began.
An important achievement took place in July this year, when the 300-tonne roof truss was carefully lifted and then put in its place. Preparations for this project began back in May. That was when the two towers were built and the 20-metre haunches, that were located on either side of the truss, were raised.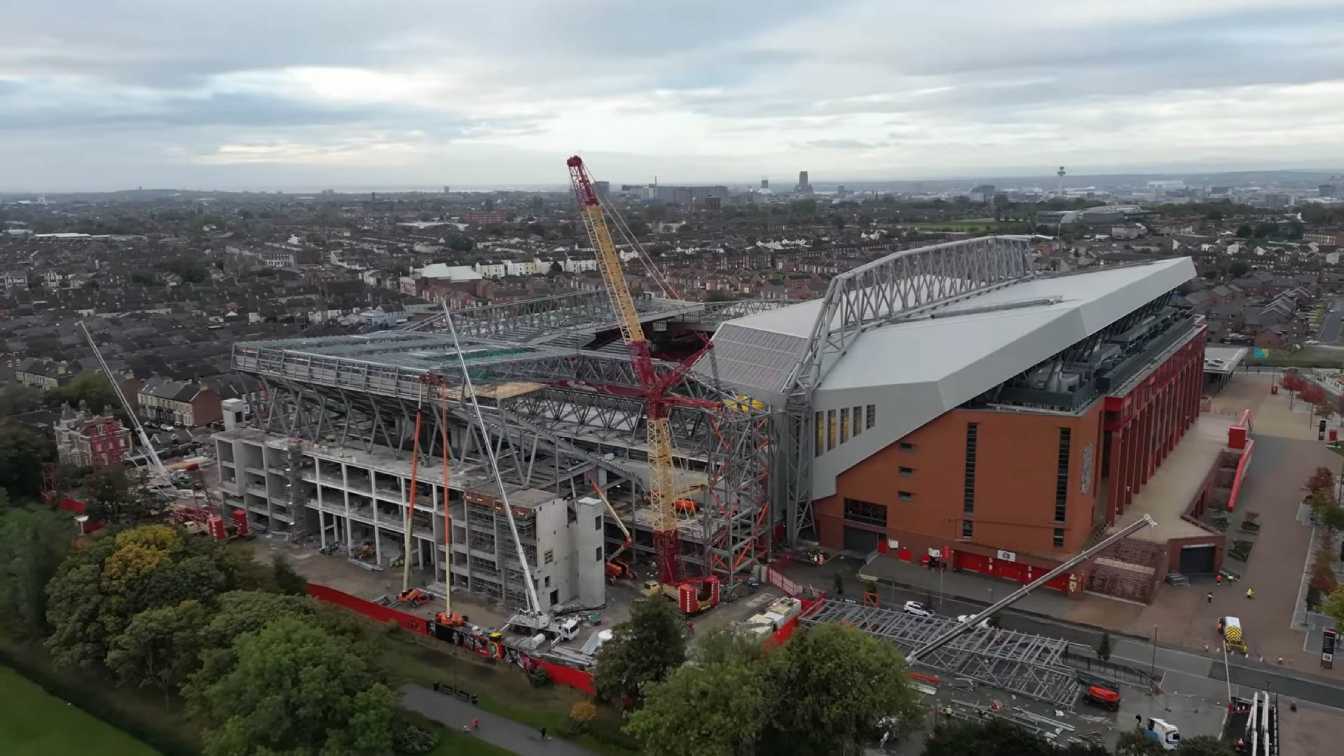 © Mister Drone UK
Assembling the structure was challenging by the record temperatures appearing in England at the time. The task took 30 engineers around 12 hours to complete, while two 600-tonne cranes were used. The haunches, roof truss and towers were bolted together with 25,000 screws and the operation was finalised.
State of completion as of now: ⅔ of the steel framework on the new stand, ⅓ of the ground floor and all the upper terrace. It is estimated that 3,700 tonnes of steel will be used throughout the project.
Interestingly, 15 children from local schools have been selected as young ambassadors for the project. They receive a detailed insight into the development progress each month. The programme is being run by Buckingham, the main contractor, together with the Red Neighbours team. The idea is to introduce young people to the construction industry.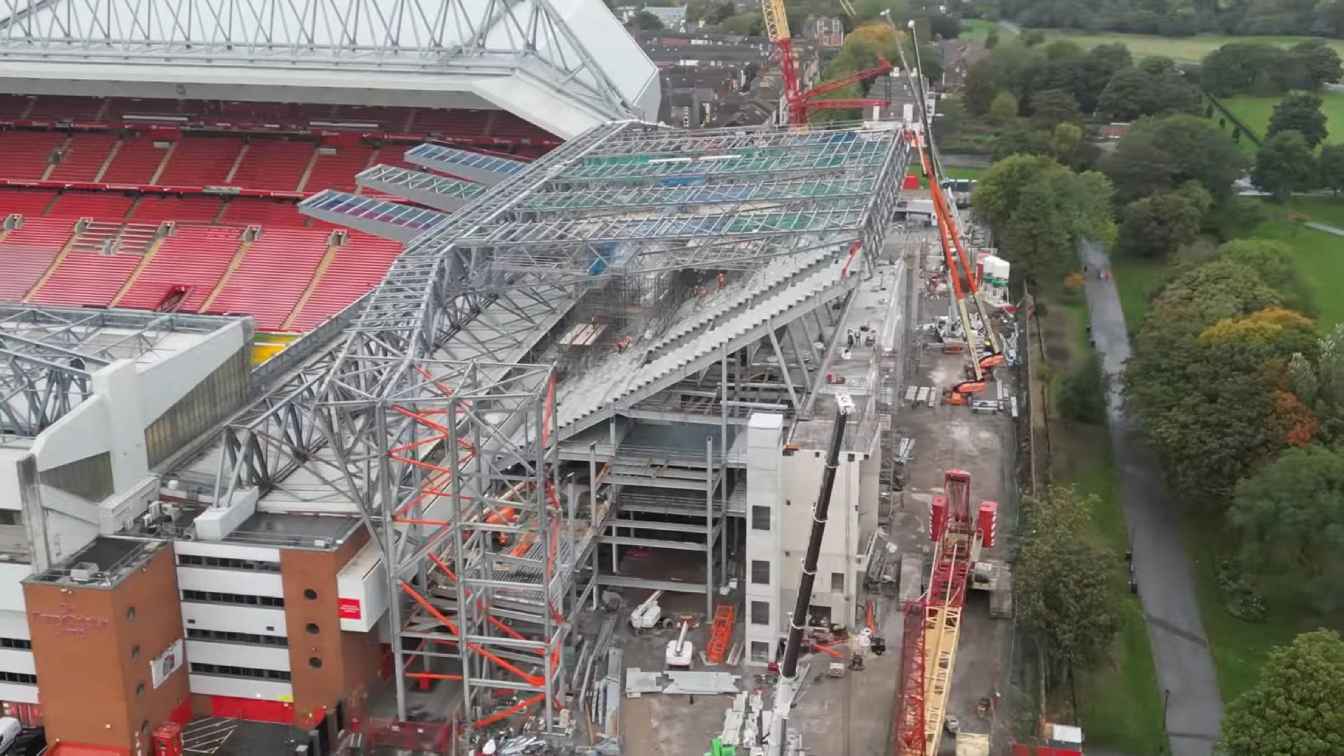 © Mister Drone UK