Japan: Construction begins on Nagasaki Stadium City
source: StadiumDB.com; author: Rafał Dadura
The entire project will cover an area of 75,000 m²s, which in addition to the stadium, will include a multipurpose indoors arena, as well as hotel, office building and a shopping mall. The facility in Nagasaki is expected to be ready as early as 2024 and, for the time being, a groundbreaking ceremony was held at the construction site.
A private investment, but with a public mission
The initiator of the whole project, which envisages the creation of the Nagasaki Stadium City Project, is Japanese retail company Japanet Holdings, based in Sasebo. The whole thing is a rather rare form of completely private project that will at the same time drive regional development with a public mission. The football stadium will be hosted by second-tier club V-Varen Nagasaki.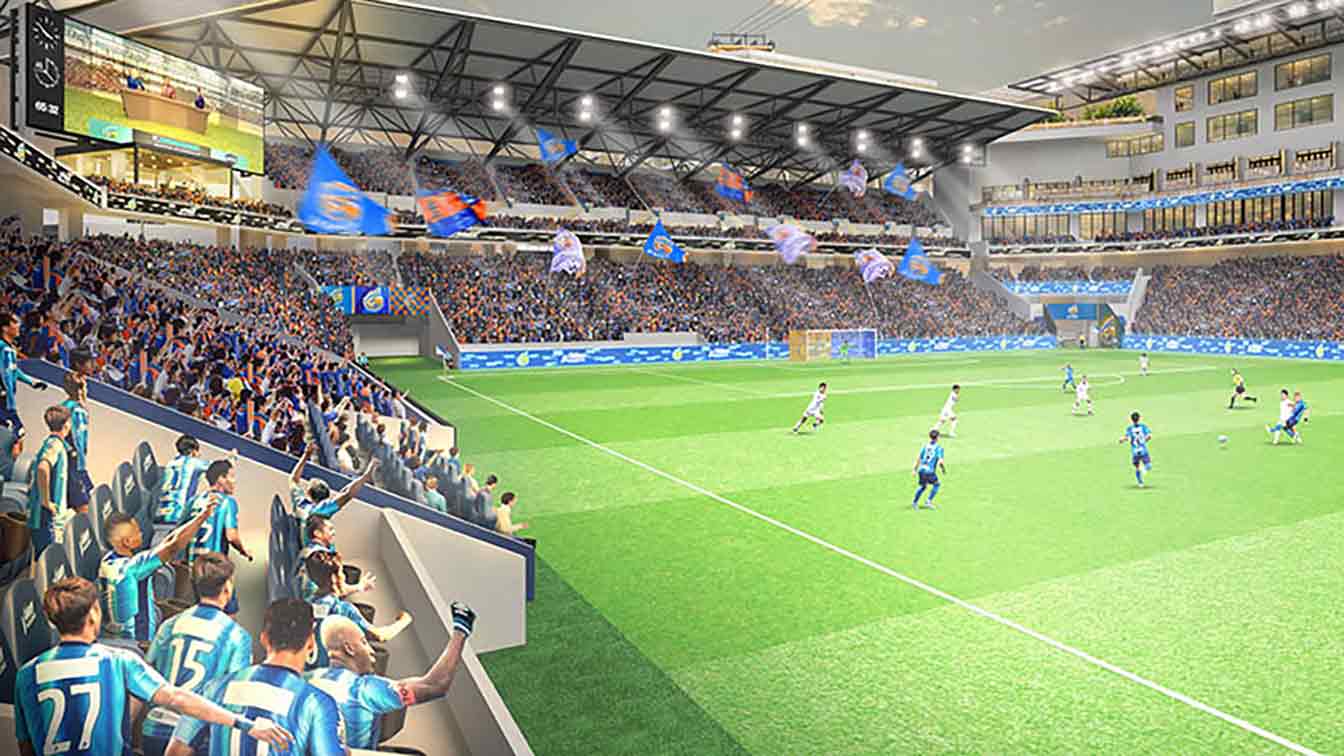 © Nagasaki Stadium City Project
The stadium will be a typical football facility, with two levels of stands that will accommodate a total of 20,000 spectators. The stands on the venue are to be almost completely covered by roof and the whole stadium will be part of a larger structure that also includes a hotel towering over the main stand. Its guests will have a unique view of the entire stadium and pitch, and from a height inaccessible to fans in the stands!
Zip line and a multi-purpose indoors arena
In addition to these features, the complex will also include a shopping mall, which is expected to be the main feature of the facility. Its objective is to attract visitors on days when matches are not being played. Another of the attractions offered by the Nagasaki stadium will be the possibility to zip-line over the stadium, a kind of an entertainment also known from several other stadiums around the world.
© Japanet Holdings
Another fully functional sports venue, which will be an integral part of the Nagasaki Stadium City Project complex, cannot be overlooked. A multi-purpose indoor arena that will have a seating capacity of around 6,000 and will be the day-to-day home of the Nagasaki Velca professional basketball club.
The project was initially estimated to cost JPY 70 bln (£427.4 mln / €493.6 mln), but due to planning changes and rising material costs, it is estimated that the final cost will exceed JPY 80 bln.