New design: Egret in flight straight from China
source: StadiumDB.com [TS]; author: Tomasz Sobura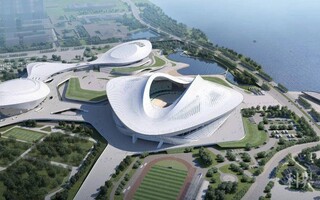 China is laboriously preparing for continental football championship. The vast majority of tournament venues are currently under construction. Stadium in Xiamen stands out among them.
Main structure almost ready
The 18th edition of the AFC Asian Cup will be held in China in 2023. One of the ten arenas where games are to be played is Xiamen Egret Stadium, of which construction started in July 2020 and is expected to be completed in December 2022.
The 60,000-seat facility is being built in the Xiang'an district of Xiamen (Southeast China). Two sports halls are also under construction next to the stadium: Phoenix Gymnasium (18,000 seats) and White Dolphin Swimming Hall (5,000 seats).
The first one is to convert from basketball to ice hockey and back again. Together with Xiamen Egret Stadium, they are lined up in a row, and this arrangement refers to blooming bougainvillea flowers.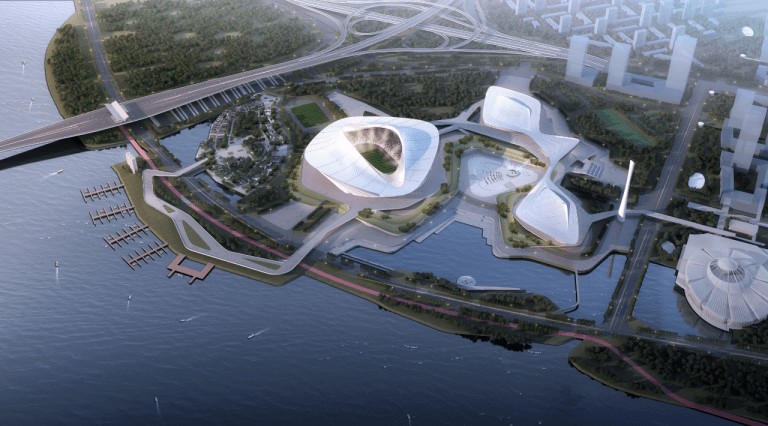 © China Architecture Design and Research Institute
The tender for general contracting was won by China Construction Eighth Engineering Bureau. The total cost of work was estimated at CNY 8.53 billion (€ 1.13 billion). Interestingly, the future host of the ground, Xiamen Egret Island FC, is currently playing on the third tier.
Construction is progressing at a very good pace given the scale of the project. Works on the concrete structure of the football venue were finished by the end of September. The other sports arenas in the area have a similar level of advancement.
Egret by the bay
From the top, the facility is to resemble an egret taking flight. This effect will be achieved thanks to the appearance of the roof, based on two huge arches. The canopy in the middle reaches its highest point and on the sides it is visibly lowered. Intertwined elements in the roof structure are a reference to the Minnan architectural style.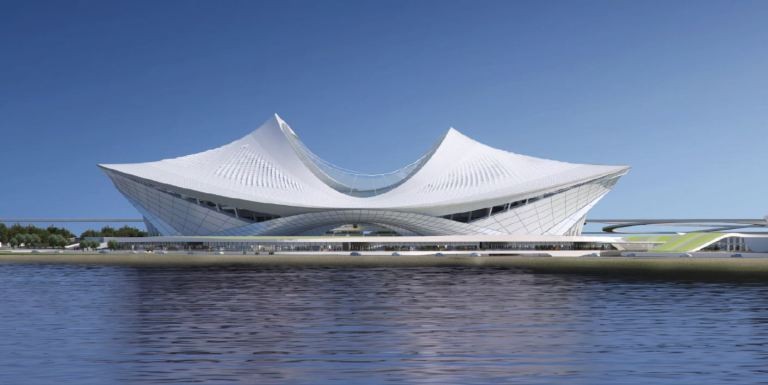 © China Architecture Design and Research Institute
Wind from the bay will provide excellent ventilation through openings in the building's facade. The construction area of the arena is 180,600 square metres. At the highest point the stadium is to be 85 metres tall to the west and 77 metres to the east.
The venue is to enable conversion from football to athletics within 7 days. It will be possible thanks to movable lower stands, which have been divided into two rings. The inner ring can be moved and the outer ring raised and lowered. This action is to make room for an athletics track. In total, there will be 26,000 seats in the movable part of the tribunes.
Above, two more levels of stands are planned, which are of a permanent nature. It is worth mentioning that there will be an 80 metre wide opening between the middle and upper tiers, which provide spectators from the upper sectors to the north and northeast with a view of Wuyuan Bay.
Author: Tomasz Sobura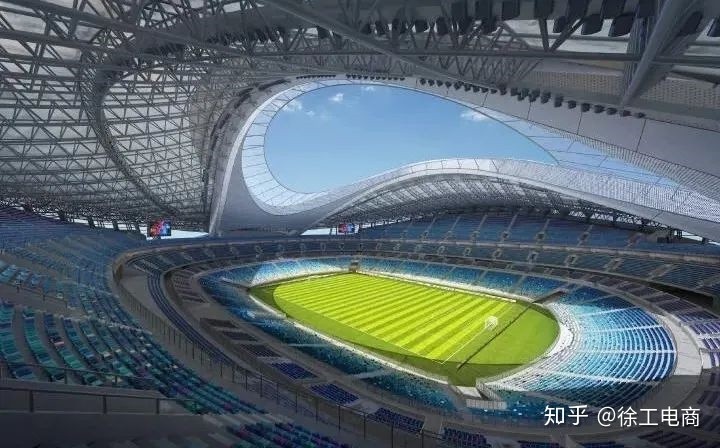 © China Architecture Design and Research Institute