England: Bolton Wanderers to cut themselves off from betting
source: StadiumDB.com [TS]; author: Tomasz Sobura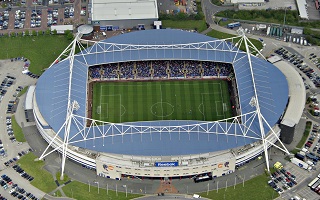 Income from the gambling industry is a significant cash injection for sports clubs in England. Meanwhile, Bolton took a different path and joined the fight against betting addiction.
The club will fulfill all commitments under the contract that League One has with its main sponsor (Skybet), but nothing else. Wanderers do not intend to promote gambling at their ground in any way.
Bolton management will not enter into any sponsorship deals with gambling companies. Instead, club representatives are to establish relationships with organisations that help people addicted to betting. Furthermore, they plan to close all match day betting kiosks at University of Bolton Stadium.
According to the latest research, there are between 340,000 and 1.4 million adults addicted to gambling in the UK. To make matters worse, over 60,000 young people aged between 11 and 16 cannot cope with this problem.
Club CEO Neil Hart added: "In the spirit of transparency the club does operate a club lottery which allows supporters to take part on a match-by-match or monthly basis with all this fundraising income supporting club-related good causes and supporter engagement projects. We will continue to provide this support for our local community and our amazing supporters".
Bolton Wanderers in the Community will launch the Team Talk project on mental health. This programme aims to provide a "safe space" to talk for men and support in solving problems in an informal and friendly atmosphere.
The entity mentioned above and Bolton Wanderers FC have partnered with Bolton-based charity Whysup who raise awareness about addiction and mental health. They organise prevention, awareness presentations and workshops on education, business and sport.
Author: Tomasz Sobura