No such thing as a non-conventional stadium event
source: StadiumDB.com; author: michał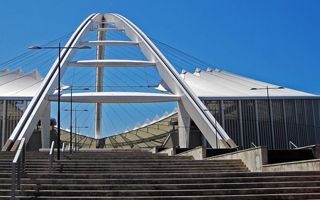 As far as stadium events are concerned, we surely haven't seen it all just yet. Almost every year there are new ideas to make use of spaces previously not considered suitable to generate revenue…
Sports, cultural and entertainment events, religious and political gatherings – stadiums are usually associated with sell-out crowds. But that's their primary use only. While crucial to generate bulk of the annual revenue, they're no longer the only way of making money and luring people in. If you read stadium news, you surely know the phrase "we want this stadium to live 365 days per year, not just on 20 matchdays". A worn out cliché, true. But it's also the reality faced by stadium operators.
Standing idle for 6 days of the week is no longer acceptable for event venues. Of course, filling all of the auditorium isn't possible each night, the world only has a few Taylor Swifts and Ed Sheerans to sell out 5 nights in a row, while Spice Girls or Take That really can't have a reunion tour every year…
But the hospitality zones are extensive and flexible enough to host events for between a dozen and several thousand people. Banquets? Exhibits? Sure, but these are quite conventional. These days even poker tournaments seem nothing out of the ordinary. After all, one of the most popular tournaments is known as the Stadium Series. Of course, such events are for professionals only, the rest are left with online platforms like ggpoker.co.uk or Twitch streaming of 'the big boys'.
In fact, with social media allowing enthusiasts of niche interests to gather in one place, stadiums often land events quite out of the ordinary. Between wedding expos and comic-cons you may find a festival of... carnivorous plants, true event held earlier this year at Poland's Stadion Wrocław. E-sport is also becoming a feature inside football stadiums, thanks to their advanced technoly and electrical systems.
Then comes the unusual use of stadiums' scale. At Moses Mahida Stadium in Durban you can take a gondola to the top of the roof's 106-metre arch or use one of the world's largest swings to fly along the field. Aforementioned Stadion Wrocław allows one to jump down from its facade, while zip-lines are already quite common worldwide.
Quite recently, Perth's Optus Stadium decided to build a new viewing deck with a special rail-free area for visitors to stand on the edge of the roof and take a stunning selfie. The decision came after thematic tours of the inner edge of the roof proved a huge success.
And finally, we arrive at spaces often remaining unused. Warehouses and technical rooms, underground parking sites. Why not run extreme marathon routes, build escape rooms or invite people to live out a zombie apocalypse game? All these ideas were actually implemented and proved popular, becoming a worthy supplement for the stadiums' primary and secondary uses.