MetLife Stadium to have a sportsbook lounge
source: StadiumDB.com; author: michał
During the 2021 season, New Jersey Nets will open their first sports betting lounge within MetLife Stadium, joining the list of venues that offer betting live during the game in person, not just online.
For decades the NFL kept as far away from gambling as possible but the 2018 Supreme Court decision opened the door to a completely new market by allowing the legalisation of sports betting. Initially cautious, the shift has soon become a race for control of the largest possible slices of the cake, subject to green light being given within respective states.
Even today it remains unclear just how large that cake would be, however the latest Daedal Research report suggests growth rate of nearly 30% annually until 2025. This, in more practical terms, means a leap from $5.57 billion this year to $15.67 billion in just four years. While other studies suggest different numbers, the scale of growth remains tremendous.
It goes a long way to explain just why professional sports teams across the USA are securing high profile casino and/or sports betting partnerships and why largest casino operators are rushing in to get their place on the map.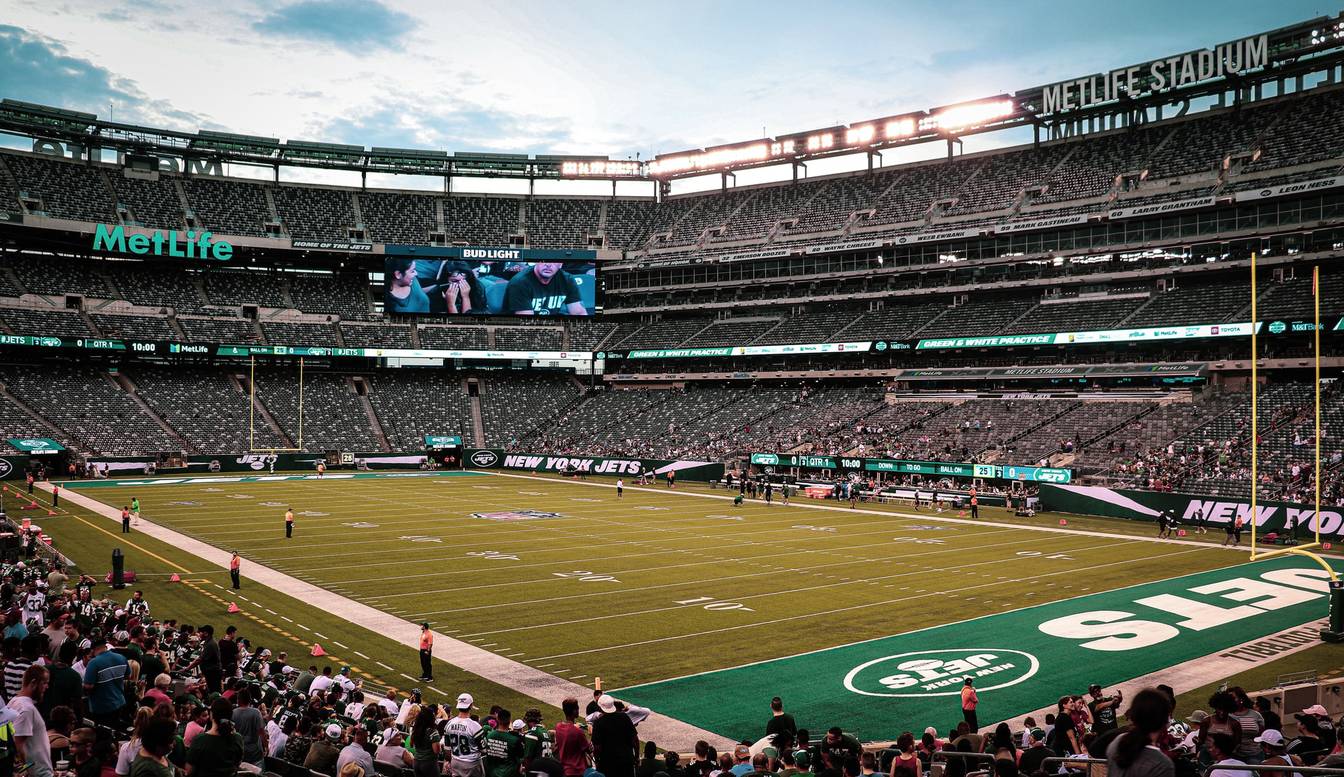 Just last year the number of states with legal sports betting was 18, now it's nearly 30, with Maryland expected to join the pack soon. Earlier this summer, Arizona Cardinals announced their home, State Farm Stadium, would be the first in NFL to have its own retails sportsbook in 2022, allowing in-person betting rather than only using online services. Already then it seemed a stretch to consider Arizona's project the first, with other teams working to introduce their sports betting facilities already during the 2021 season.
One of such teams are the New Jersey Jets, who have just announced a sportsbook lounge would be opened within MetLife Stadium already this season. It rises out of partnership with Fubo Sportsbook, a company expanding to Arizona, Indiana, Iowa, Pennsylvania and the aforementioned New Jersey. Their sportsbook lounge at MetLife Stadium will be open to all adult fans, offering 7,000 square feet of space, with special bonuses and incentive offers for those inside. While inside, guests will still be able to watch the Jets play thanks to an outdoor patio.
While a sportsbook lounge is not exactly the same as a retail sportsbook, it's part of the same effort: to commercialise on a new market that is only just opening and promises great revenue. Perhaps the place you'd expect such facilities first is Allegiant Stadium in Las Vegas. But, while there are premium facilities allowing betting, the stadium is yet to include a retails sportsbook. Of course, bulk of the money being bet on football – like most sports already – is spent online, while in-person options are seen as complimentary.