Istanbul: Galatasaray upgrading Türk Telekom Stadium
source: StadiumDB.com [MK]; author: michał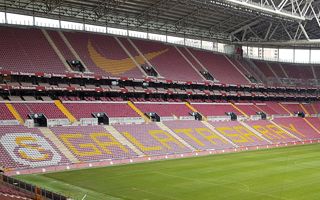 New playing field in place, 50,000+ seats being repainted, while one of the largest stadium solar power plants is being installed on top of the venue. But fans would gladly see more changes.
Though it still seems new at first, the new Ali Sami Yen in the north of Istanbul is 10 years old already. Even more, that decade saw all of Turkey build brand new stadiums and just several years after opening the stadium doesn't seem so fresh, especially by comparison to other Süper Lig venues.
Türk Telekom Stadium is of course still among the largest in Turkey, its structure is unique and the steep and compact auditorium impressive, but in technological terms Turkey has moved forward. Giant screens are no longer so giant, advertising boards are heavily out of date, which is combined by regular wear and tear.
Arduous seat painting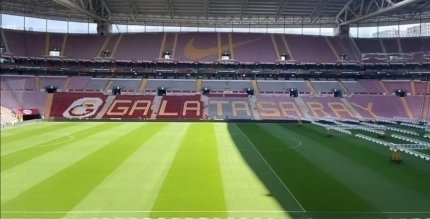 Passage of time is particularly visible when you look at the seats, heavily oxidised and now almost uniformly pale. When they were installed back in 2011, their colours were vivid burgundy and gold. During the pandemic they were covered with advertising banners. But now that fans are returning to the stadium, the problem became painfully visible again.
Last year, the club decided to replace some of the premium seating, however regular fans aren't as lucky. In order to renovate their seats, the club commissioned their painting as an interim measure. The solution has a limited lifespan and rumours have it that the club will opt to order new seats in a few years.
The painting process is very arduous. It began in late August and by today only three sections of the stadium are completely covered. The entire lower tier should be revived by mid-October, although current pace suggests this might be too optimistic. Galata began by repainting the lower east stand, the one most exposed during broadcast.
New, seriously delayed playing field
Just after the 2020/21 season, precisely on May 21, the field replacement operation was launched. It's the largest such process in the stadium's decade-long history, as it includes excavation to create new drainage and ventilation systems. The natural grass surface will also be extended by 1 metre on each side to prevent injuries from players running past the lines.
While much anticipated, the process was initially announced by Galatasaray to end in July, before the first game. Meanwhile, we're in mid-September and Türk Telekom Stadium is yet to host a game. Instead of playing at home, GS had to use the national stadium and the home grounds of Kasımpaşa and Başakşehir. Tomorrow's Europa League clash against Lazio will be the first of the season to be played at Aslantepe.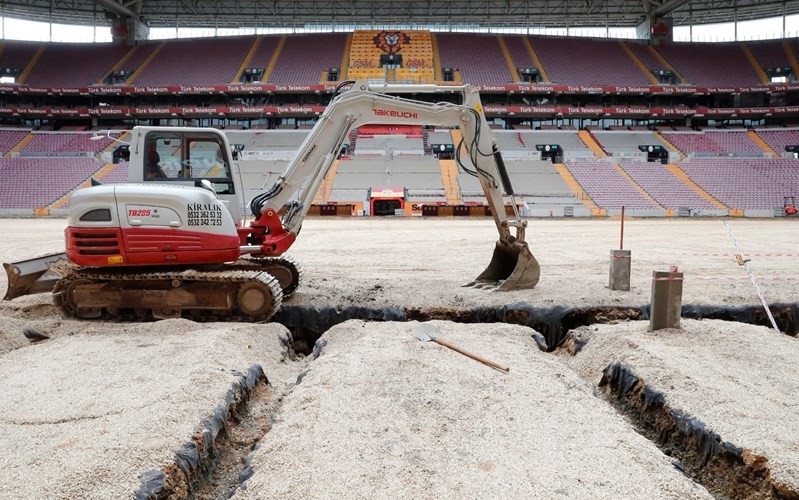 © Galatasaray SK
Power plant growing on the roof
Also in August, first works began on establishing Turkey's largest stadium-based solar power plant, one of the most impressive worldwide. It will cover 40,000 square metres and deliver 4.1 MW of clean energy, enough to power 2,000 homes. We covered the subject in more detail back in March.
More desires expressed by fans
Working on the article we checked not only Turkish media and club sources but also fan forums. Aside from the field and seats, fans in high numbers see the stadium's exterior as requiring an intervention.
Its rough concrete aesthetics was created like that intentionally, but stands against what became the standard across Turkey over the past decade, that is: softer, smoother cladding. Especially since west Istanbul archrivals Beşiktaş opened their elegant 'coliseum', the difference became more obvious.
Investments in technological upgrades are also listed by fans as necessary in the short-to-medium term.
Author: Michał Karaś