Paris: PSG aiming high with Parc des Princes
source: StadiumDB.com [MK]; author: michał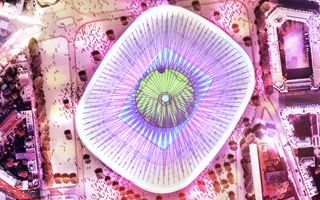 Along with introduction of Lionel Messi as the main star of PSG, club president announced the goal is to have 80,000 people per game. That won't be easy, is it even possible?
Qatari money continues to flow to Paris, where the building of a football superpower is continuing. With Mauricio Pochettino as manager and sensational signing of Lionel Messi, Paris Saint-Germain is aiming to reclaim domestic dominance, 'stolen' by a single point last season by Lille OSC.
Messi's presentation drew immense crowds to Parc des Princes earlier this week, with police reportedly being forced to use tear gas to disperse the dense crowd. The 2021/22 season's opener against Strasbourg enjoyed a complete sell-out, with 46,962 people inside and many more missing out on tickets.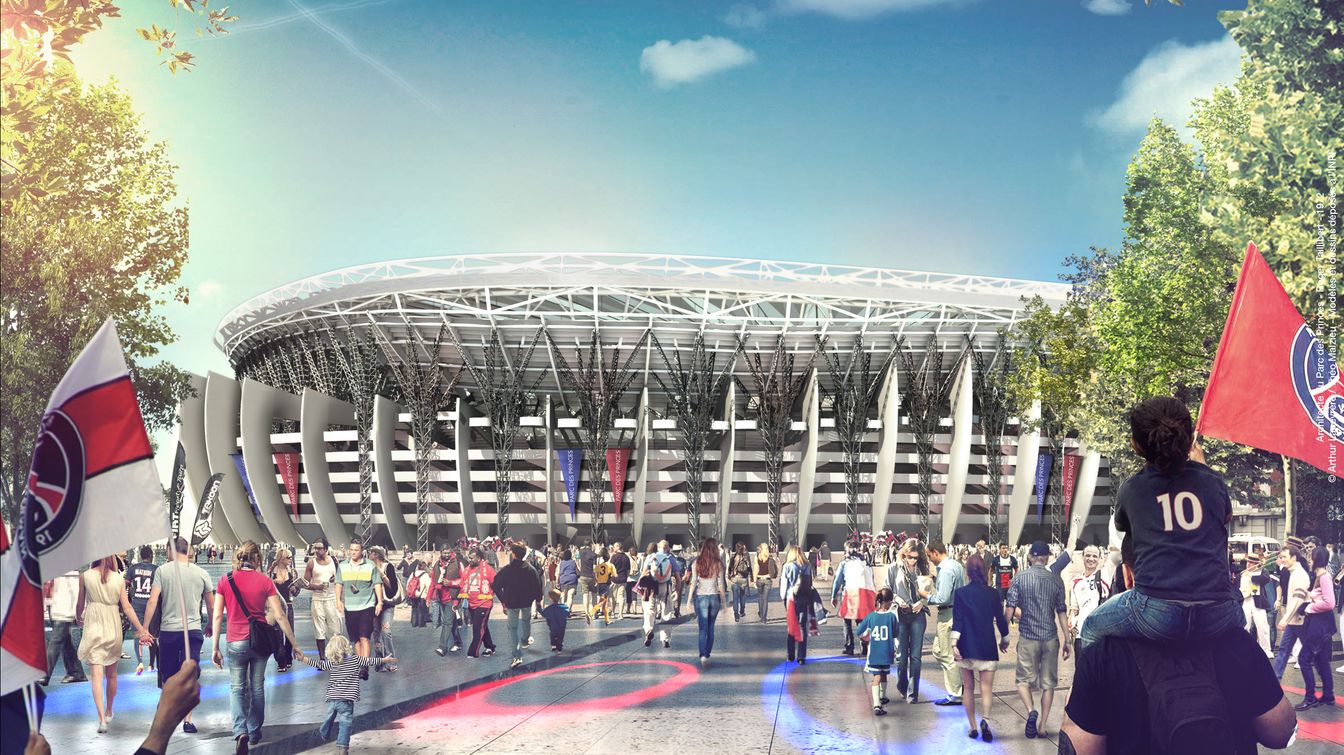 © Arthur Lapeyrère, Théo M., Antonio Villani / Un Grand Parc
The stadium is PSG's key issue at the moment, an obstacle on the road to being an international superpower. As of today, the peak capacity is under 48,000, which makes it among the smallest of all major teams in the top four leagues. Even in France the stadium is only fourth in the league, after Lille (50,000+), Lyon (60,000) and Marseille (67,000).
With ticket demand expected to grow both in the short and long term, expansion is of the essence. Not just to distance other domestic contenders in terms of matchday revenue but also to create a sustainable brand, able to sustain itself with lower dependency on the Qatari investors.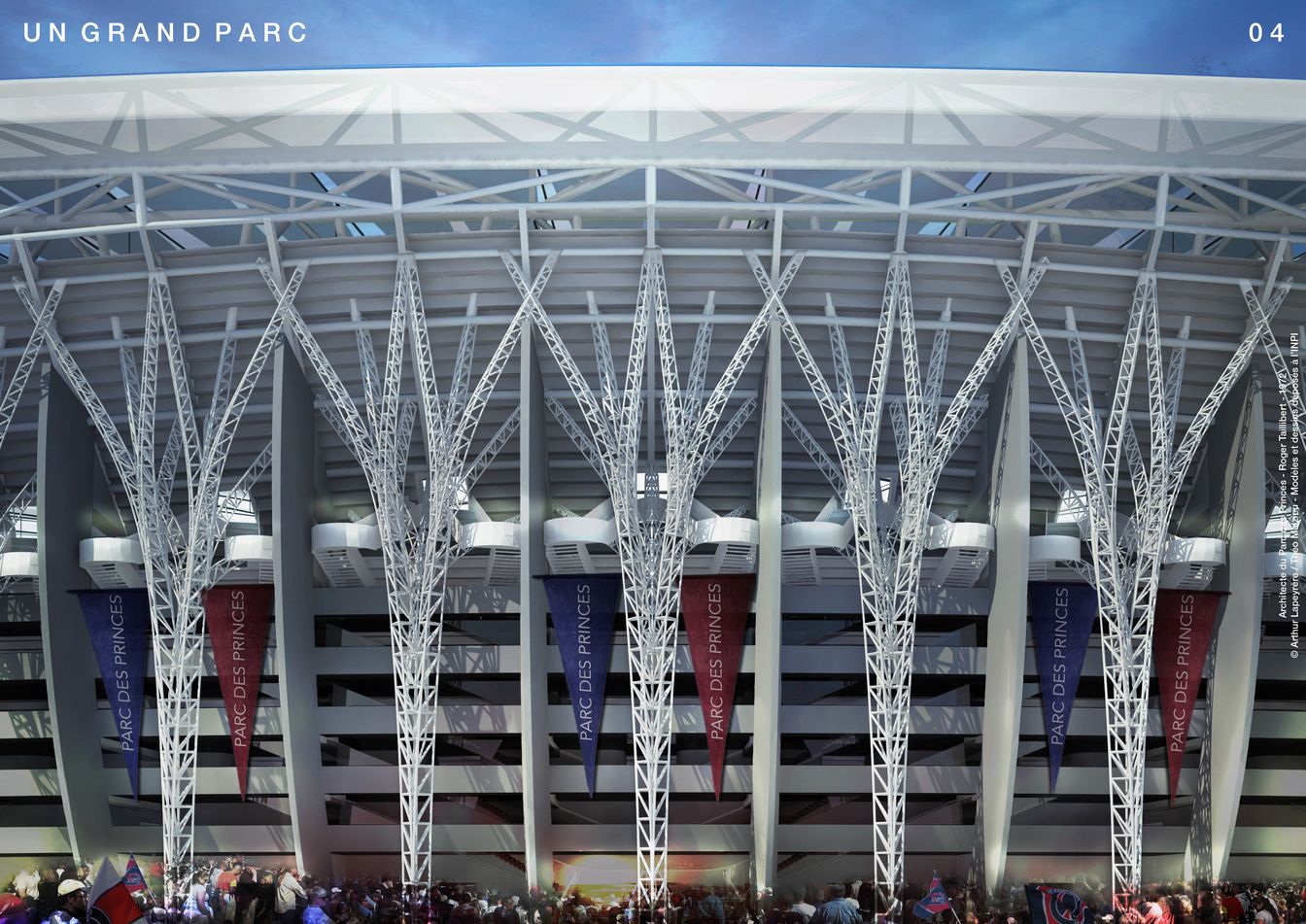 © Arthur Lapeyrère, Théo M., Antonio Villani / Un Grand Parc
Along with the introduction of Messi, PSG president Nasser Al-Khelaïfi said that he aims to compete with the largest clubs in Europe, which have stadiums of 80,000. This would be even more than the largest conceptual expansion study for Parc des Princes (Un Grand Parc), which suggested 75,000 as the final capacity. That study is what we're using to illustrate this article as the closest thing to the desired scheme.
Expansion being discussed. But not that big
The plan is surprisingly ambitious and the authorities of Paris aren't sure 80,000 is achievable at all. Speaking to France Bleu after the announcement, the mayor's assistant for sports Pierre Rabadan confirmed that it was the first time he even heard of such plans. Although talks have been ongoing for months, it seemed to be more about 60,000.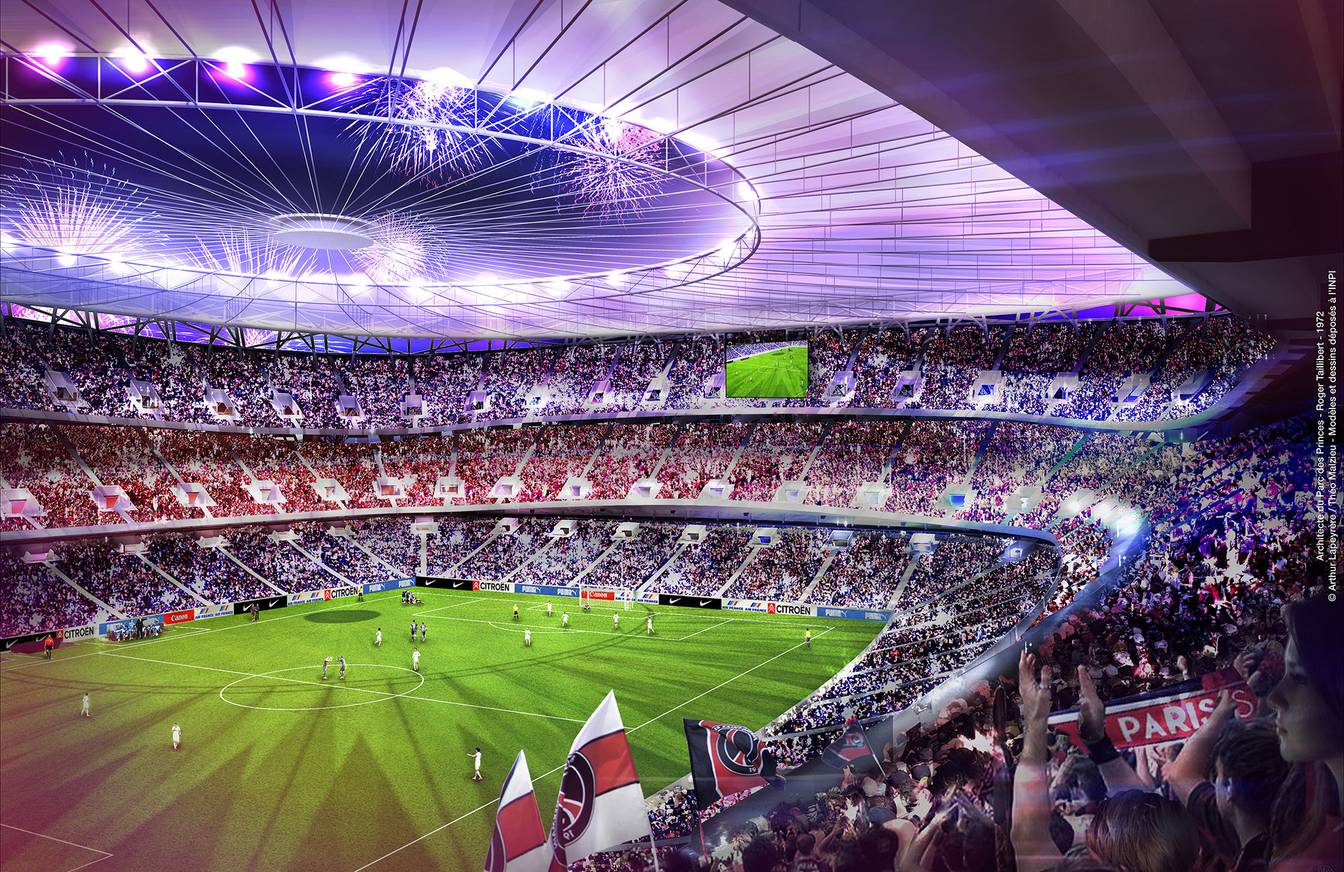 © Arthur Lapeyrère, Théo M., Antonio Villani / Un Grand Parc
The president announced an even higher ambition. Technically, today I cannot tell you if we are able to fit 80,000 seats. It seems to me that this was not the case in the studies that I have seen. Maybe he has some new ideas. You know, they don't always tell us everything. A few days ago we didn't know that Messi was coming. Rabadan said.
Expansion upwards or demolition?
Regardless of the target capacity, it seems a significant expansion upwards is necessary, most likely with a third tier. Should that prove impossible, it might be necessary to demolish the existing stadium, which hasn't been considered before. One thing certain at the moment is that the expansion cannot happen by lowering the field.
While there is enough room between the turf and front row, there would be a major issue with digging. Keep in mind, the east part of Parc des Princes has the metropolitan ring-road running directly beneath it. Sinking the field further was immediately excluded by Pierre Rabadan. So, either a third tier or complete reconfiguration of the auditorium.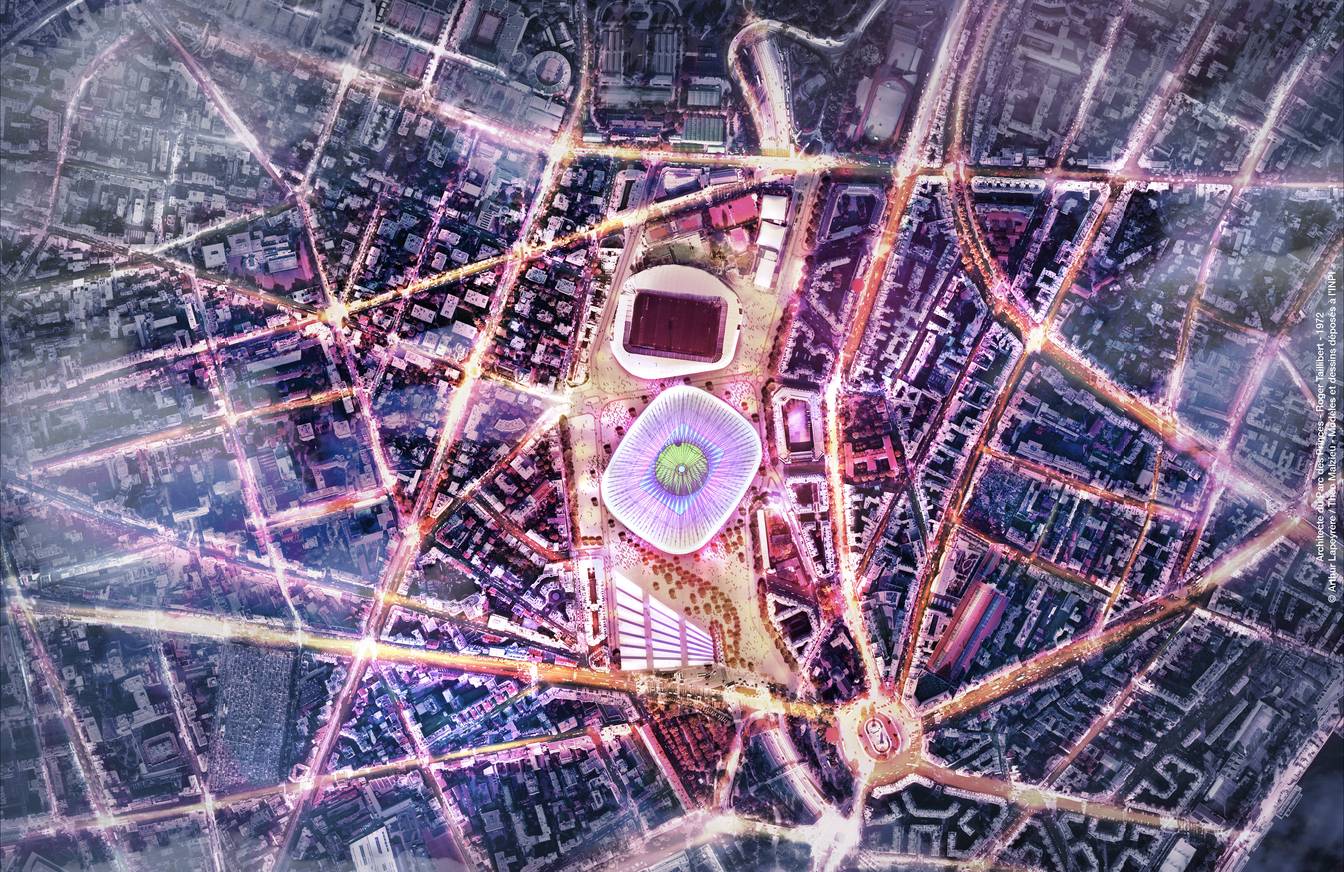 © Arthur Lapeyrère, Théo M., Antonio Villani / Un Grand Parc
Tunnel only one of many constraints
The ring-road isn't the only or the biggest challenge the stadium presents. Spatially, it's also heavily constrained from all sides. In the south, just 12 metres separate it from the nearest building. In the north, Stade Jean Bouin is just 15 metres away. In the east there are residential buildings within 30 metres. Finally, in the west the stadium sits just 20 metres from the administrative border of two councils.
On top of that, the stadium is a listed historical monument, with its unique concrete shell that would have to be retained. This is why demolition of the entire stadium would only come if absolutely nothing else could be done. It's hard to imagine even a major intervention into the landmark structure, rather an addition.
And finally, the stadium is owned by the city of Paris, not by PSG. So a sustainable and fair financial model has to be found for any project to be carried out. In times of financial uncertainty for many French citizens it seems impossible to 'sell' the idea of taxpayer funding. Especially when the Qatari owners show little limits in terms of spending on players.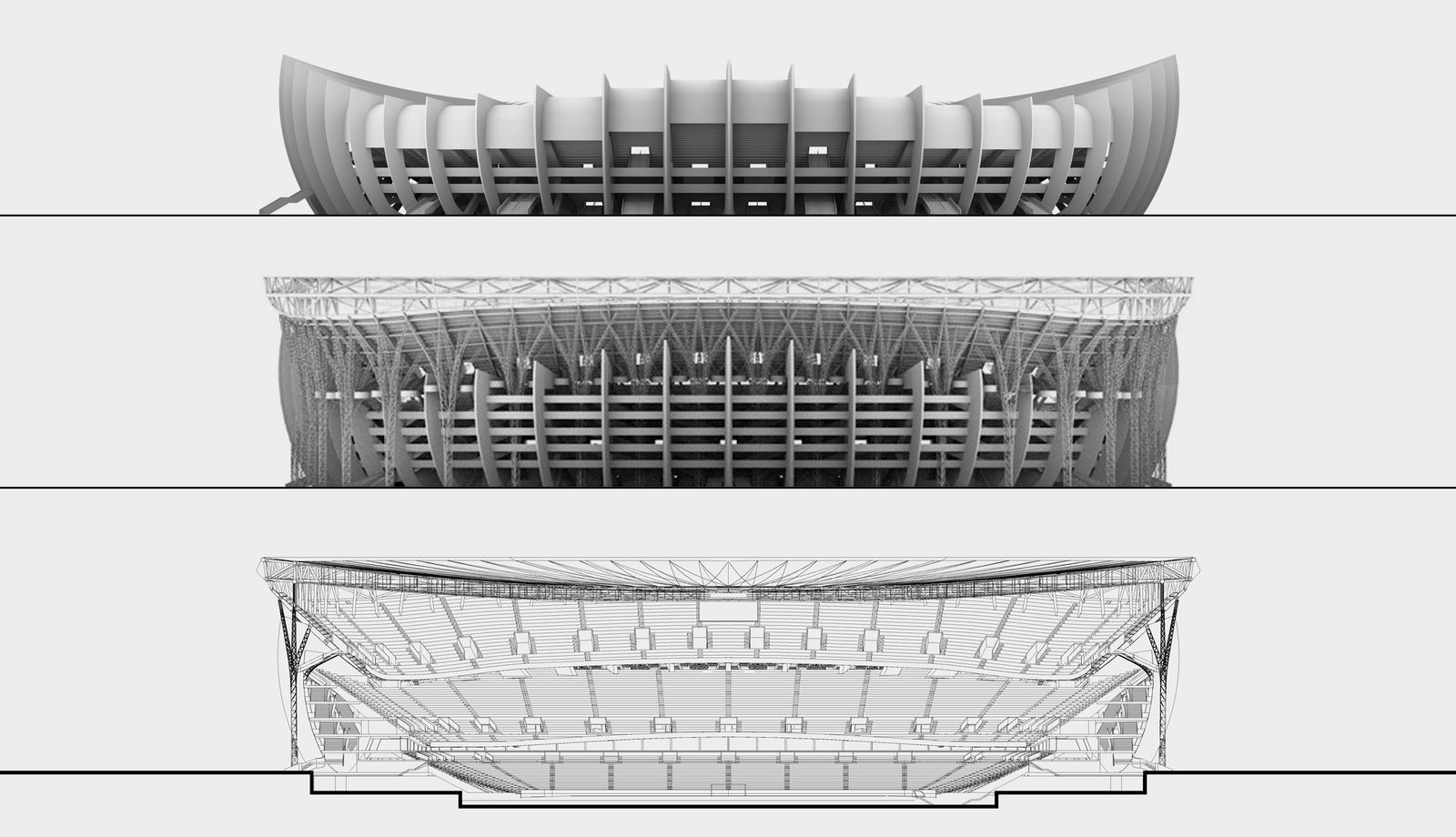 © Arthur Lapeyrère, Théo M., Antonio Villani / Un Grand Parc
Talks now, work after the Olympics?
Anyway, you can imagine that there are a number of studies that must be done, that continue to be done, and a number of authorizations to be received. It should rather allow the expansion of the stadium just after the Olympic Games. says the municipal official.
Because Paris has a binding contract with the IOC to make Parc des Princes available for the 2024 Olympics, no work can be left undone at the stadium during the summer tournament. So the redevelopment would either come entirely after the Olympics or would only see a portion done before and the remainder afterwards.
Author: Michał Karaś