Bucharest: Steaua lands home
source: StadiumDB.com [MK]; author: michał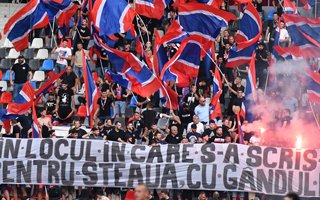 Even heavy rain wasn't able to spoil that party! New Stadionul Steaua is officially open. It was crowded, noisy and the event goes down in history despite imperfect circumstances.
This could have seemed a recipe for mediocre opening: rival team OFK Belgrade were contracted late, and on a Wednesday evening. The home side may have won promotion recently but only to the second league, not the top flight. And then there's the pandemic, which meant that only 50% of nominal capacity could be used, only by people with complete vaccination, with negative test results or recently recovered from COVID.
And yet the Wednesday night inauguration in Bucharest was a feast like few other these days, surely much more intense atmosphere-wise than recent Euro 2020 games at the National Arena. Tickets for the south stand were sold out almost instantly, after a few days only the corner sections had some wiggle room left.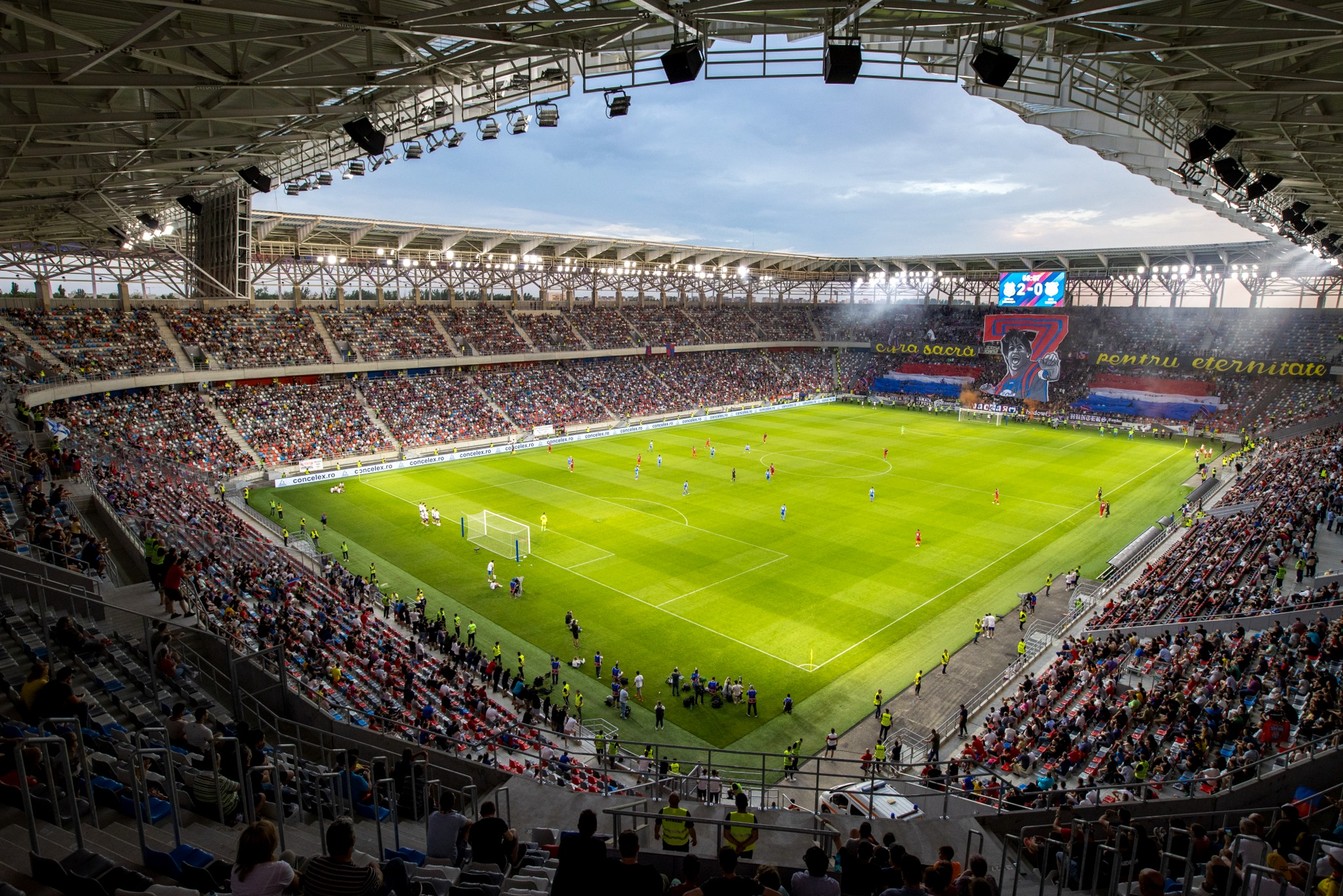 © Compania Națională de Investiții / CNI Facebook
Show on the field and in the stands
Inviting OFK Belgrade is no mistake, it's the exact same team which opened the old Stadionul Steaua in 1974. Until the break it really seemed to be a friendly affair, with no goal scored. But once Steaua began shooting, it ended 6:0 and further boosted the mood.
The south stand, here known as Peluza Sud, took care of the atmosphere. Almost all major groups of fans consolidated there, each unfurling a banner celebrating Steaua's return home during the game. Together fans prepared two large choreos under the new roof, one celebrating their club and another to Marius Lăcătuș, who played nearly 360 games for 'The Star'.
While we're at Lăcătuș, on Wednesday night the number 7 was officially withdrawn from use at the club, no future player will bear it on his back. Not just the number of Lăcătuș, it's also a key one for Steaua, established on June 7, 1947 and now celebrating 74th anniversary. And then there's the new stadium's opening game: July 7.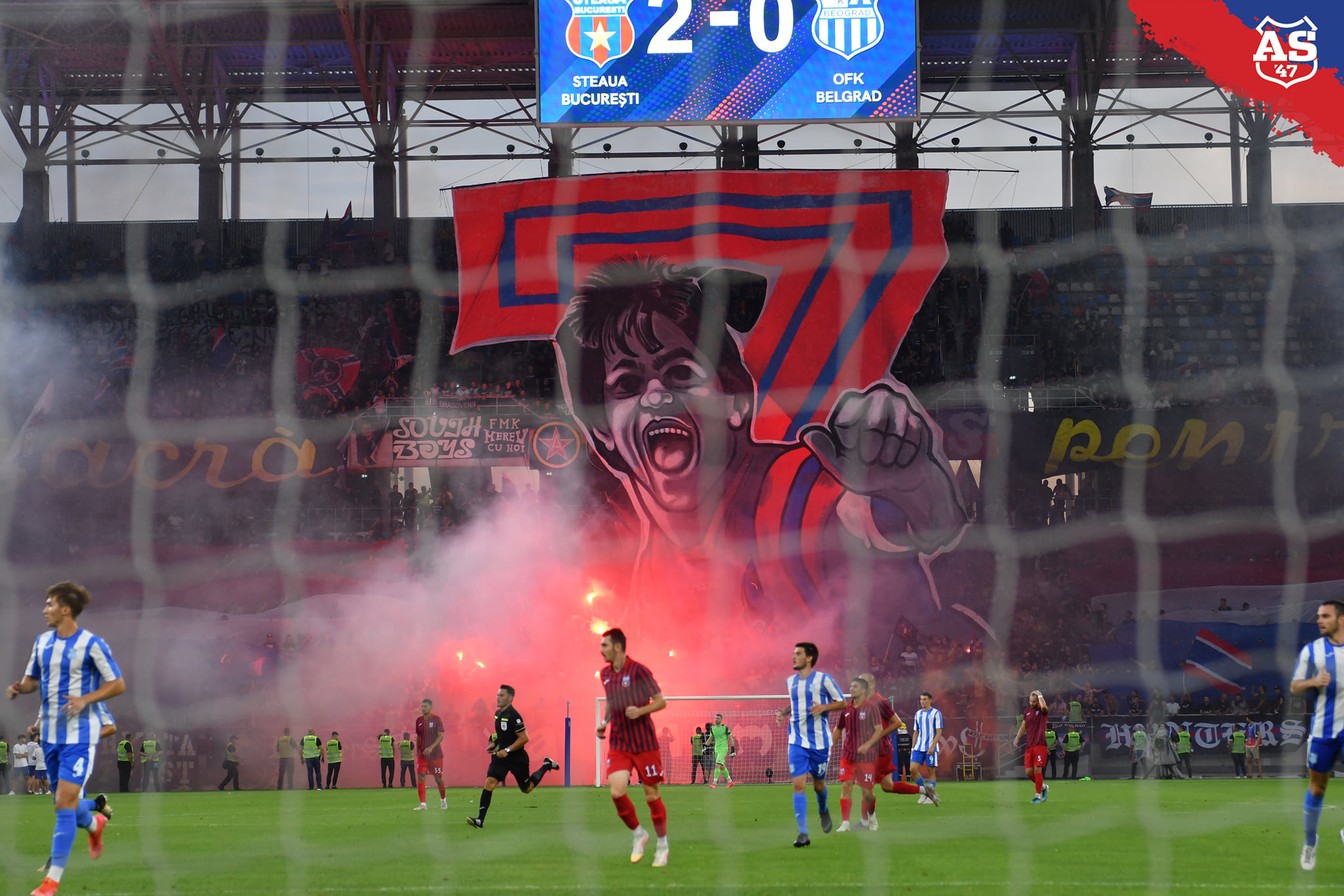 © Asociația Steliștilor
The long list of included guests included legends who defeated Barcelona in 1986 and won the very first European Cup for a team from outside Western Europe. Although there were minor glitches, like faulty sound system or lack of invitation for some former stars, like Marcel Răducanu (with nearly 100 goals for Steaua). While disappointed, the latter suggested he holds no grudge.
No, Gigi, you're still not welcome
One more person who wasn't invited, this time intentionally, is the owner of another Bucharest football club, FCSB. A few years back that team was still named Steaua but it no longer is. Court ruled in favour of the Ministry of Defence, agreeing that billionaire Gigi Becali unlawfully used the name, crest and identity of Steaua Bucharest.
Court battles continue, including financial compensation and demands to strip FCSB of all trophies won under the name Steaua. There's a schism among fans, too. Some are simply disoriented, some would still rather watch FCSB fighting for the championship or European glory than go to a second-league game. But even those standing behind FCSB might find it hard to explain the team's full name (since it most certainly isn't short for FC Steaua Bucuresti, right?). Even more interestingly, the full name is "SC Fotbal Club FCSB SA". What?
Gigi wants to play, Gigi doesn't want to play
Romanian media still love Gigi. His colourful quotes, especially those made in his gold-soaked palace (where he invites journalists, as you do…), are the talk of town for days. Or they would have been if there weren't more than 3-5 articles about him daily in each portal. But it seems harder and harder to treat him seriously, even if his quotes are gold in terms of 'clickability'.
Before the opening game of the new Steaua stadium Gigi gave several interviews about how his team would still play there, despite being barred from entry for a few years now (FCSB were thrown out already from the old stadium). Despite the ban from Ministry of Defence, Becali recently claimed it will be them asking him to return, once the stadium begins running at a loss.
He also claimed "we will play at Ghencea whenever we want" but then also stated he'd rather not go there because fans from Peluza Sud would make a fuss about it. He got that part right, slurs against Gigi made up quite a chunk of Wednesday night… Seemingly hopeless, earlier today Gigi finally said "What do I have to do with them? If they have their Steaua, what do I have to do with them?".
What will the new stadium bring?
We don't have enough quality photos to present the stadium to you properly, but once it lands on StadiumDB, we'll have all the details. For now let's just say that Bucharest's second largest stadium does stand out. Sure, there are some 'budget' solutions, like the cheaper seats. It's a simple, robust stadium. But it does have its flair, too. Illuminated roof, partially LED-covered facade, staircases shaped like a star in aerial view.
When it comes to facilities, the double-tiered stands with 31,254 seats have quite some floor space to show. An inbuilt hotel, skybar, museum and 573 underground parking spaces – that should help in generating income in order to not rely on Gigi at any point in the future. All this came at a rather reasonable price of €94.7 million ($112m). And sure, it wasn't ready for Euro 2020 despite such plans, but it would have been only a training stadium anyway...
Author: Michał Karaś