The largest building in Ascot is a stadium, sort of
source: StadiumDB.com; author: michał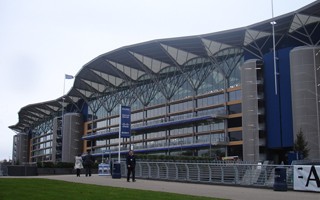 Not a football stadium, although there is one attached to the world-famous equestrian facility. The Ascot grandstand is a masterpiece in the racecourse category, fitting the unique location well.
This summer, Royal Ascot will celebrate its 310th anniversary. That's exactly how long ago horse racing began here, initiated by none other than Queen Anne, who supposedly saw this place as "ideal for horses to gallop at full stretch". The first race was organised on August 11, 1711. Just 7 horses completed it, much to the joy of everyone gathered. Of course you already know that if you're into horse racing, just like you like know https://www.horsebetting.com/ already.
But if you're new to this sport, just consider up to 350,000 people getting through a stadium within just 5 days. That's the Ascot racecourse during Royal Ascot. In total, during a season, over 600,000 tickets are sold for this venue alone, which accounts for 10% of total British horse racing audience. The Wembley of horse racing, if you will.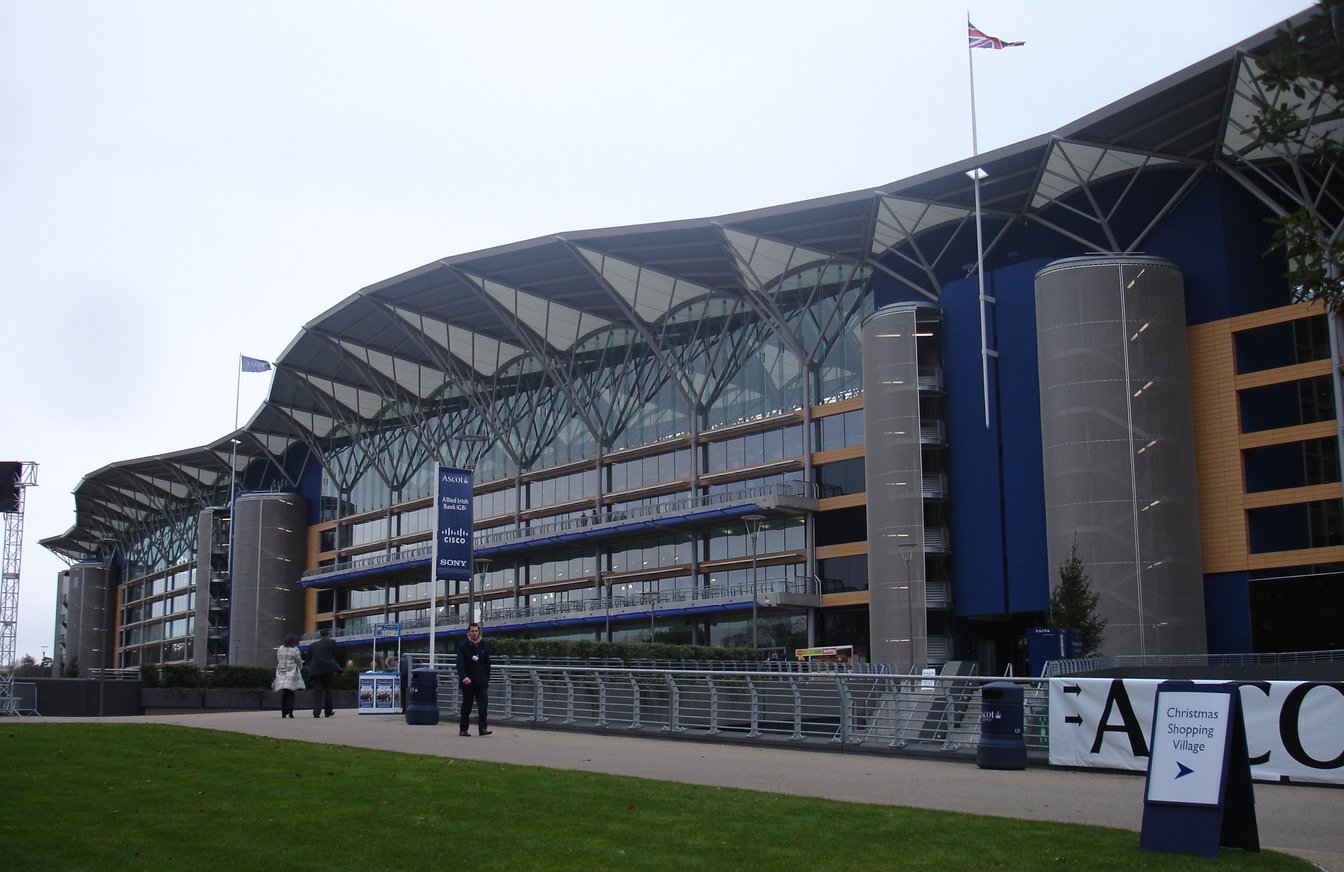 Photo: John Armagh (public domain)

It's thus no wonder that the reconstruction of the main stand in 2004-2006 was a challenging affair. Ascot may be just a small village 30 miles away from central London but the new grandstand is by far its largest building. 480 metres long (yes, almost half a kilometre!), the venue offers up to 280 private suites between 10 and 80 seats, towering above the Parade Ring, the lowest tier able to hold 9,000 viewers. At peak, up to 6,000 people work here to service all guests, including UK's royals.
The grandstand sits in the south-western corner of the racetrack, curved ever so smoothly to offer optimal sightlines to its guests. While the curve may remain unnoticed by someone focused too much on the race or socialising, for architects and engineers it was a challenge of its own. While largely prefabricated, the structure's segments are nowhere near repetitive. In fact, of the 54 roof trusses each is different, particularly because of the building's curve. Yet together they create a visually uniform, harmonious and rhythmic ensemble, meant to resemble 'structural trees'.
But perhaps the largest challenge at a venue like this was crowd management. The old Ascot grandstand was known for limitations in crowd flow, leading to troublesome congestions. Engineers at Buro Happold used their own system of visitor movement simulation to calculate the best locations and capacities of staircases, escalators and elevators. After all, it's a high-brow venue and visitor comfort has to come first. Just imagine the amount of work needed if total length of balustrades used reaches 5 km, all used to safely and comfortably lead hundreds of thousands of people within a few days.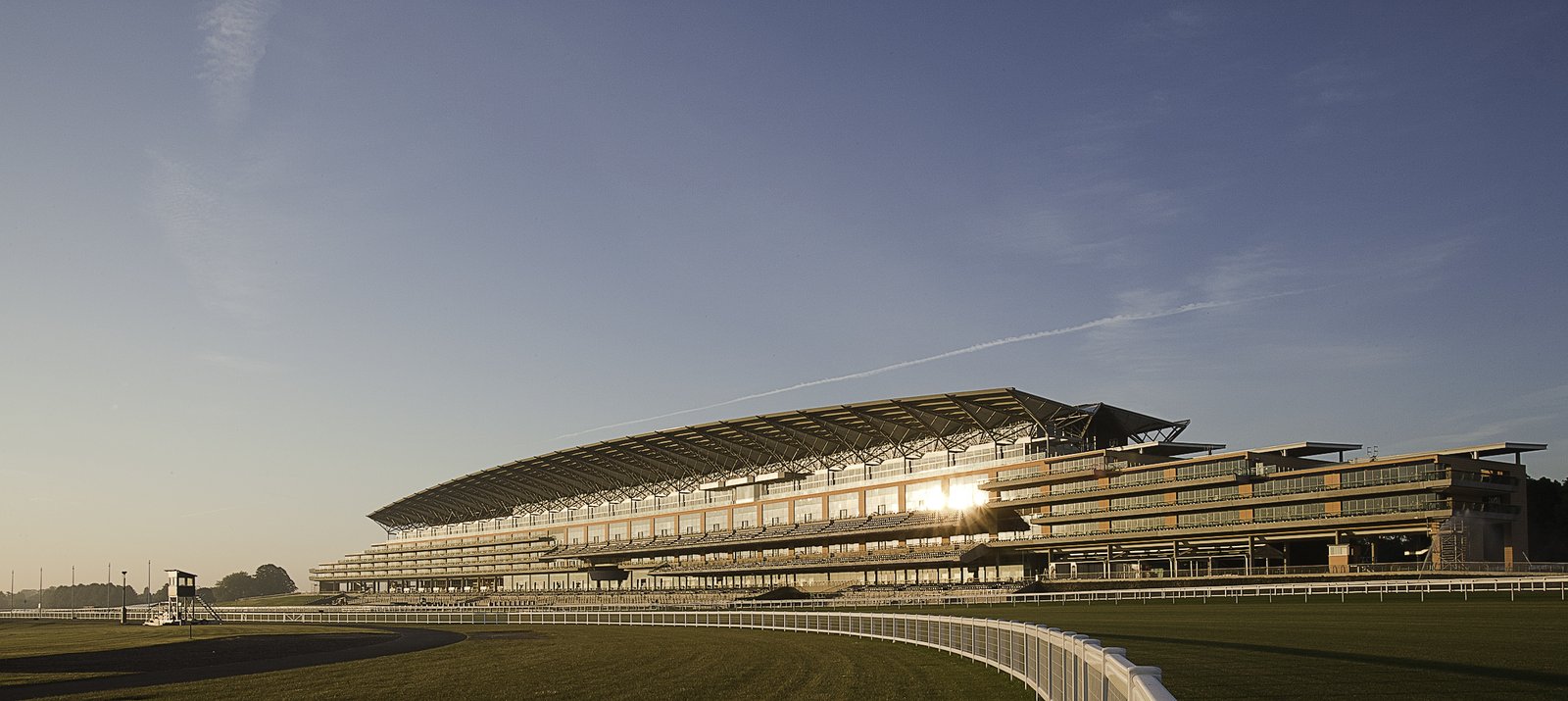 © Antony McCallum, Wyrdlight.com
Designed by global leaders Populous, the grandstand had to fit not just its surroundings, but also the sensitive historical context. There are numerous modern allusions to classic palace interior, beginning with a well-lit tall atrium, acting as an 'environmental lung' of the entire structure. In total, the multi-level building is covered with impressive 10,000 square metres of glazing, ensuring proper sunlight access.
To make the entire project even more impressive, it was delivered in a stunning time frame of just 20 months. The investment was worth over 200 million pounds at the time, which is more than half of how much Emirates Stadium consumed, being built at the same time and, incidentally, designed by the very same company. And remember when we wrote there's a football stadium attached to the racecourse? Almost touching the straight-mile race track, the home of Ascot United FC (amateur) is located north-east of the racecourse's grandstand.