Leipzig: Red Bull Arena to get red and ready soon
source: StadiumDB.com [MK]; author: michał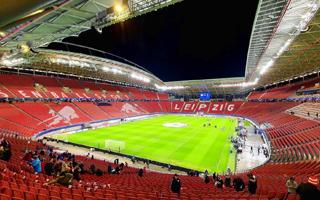 Bundesliga runners-up are gradually making their fans' dream come true, even if it ennoys supporters of other teams. Seats are being replaced with new red ones but that's just a piece of the major revamp.
Major changes are taking place in Leipzig, including the one most anticipated by RB fans: complete replacement of the seating. Mocked for years as 'swimming pool' seats (because of their blue and turquoise pattern), the seats bought for the 2006 World Cup are gradually being dismantled.
Changes were announced many months ago and initially supposed to happen over a longer period, however the schedule was changed, partly due to COVID-19. Premium and press seats, as well as the away section were equipped with red seating back in 2020.
Also, last summer RB removed all seats from the south stand (Sektor B) in order to renovate it and change into convertible seating/standing area. Initially the old seats were supposed to return afterwards, however now a full replacement is planned. In any way, Leipzig is an all-seater no more (which leaves only Olympiastadion in the Bundesliga as a no-standing venue), will only be converted into seated layout for UEFA games.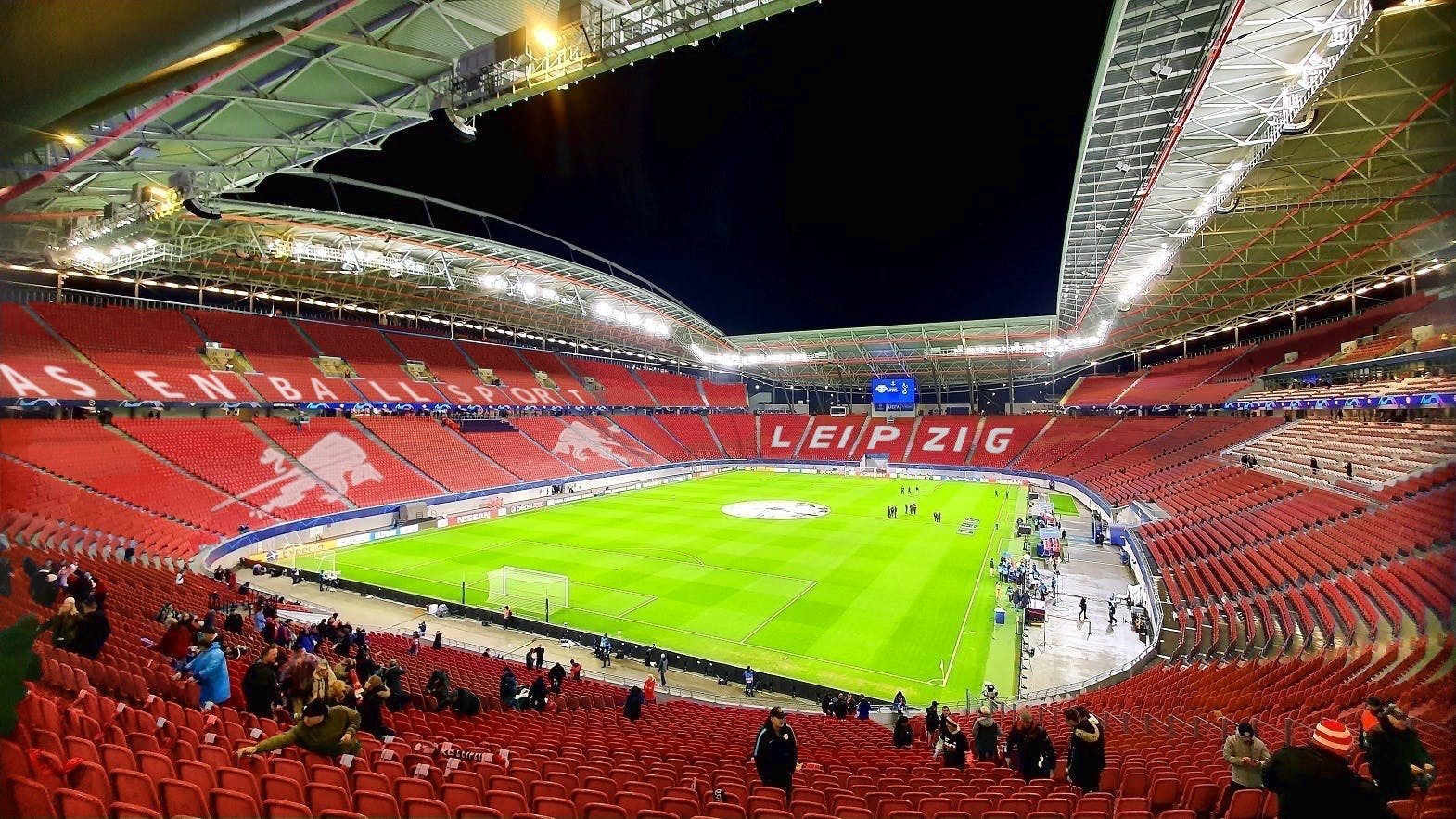 © RB Leipzig
With the fans' enthusiastic reaction to changes, a rendition of an all-red Red Bull Arena (above) was created late last year, welcomed with joy. Initially, seating was supposed to be replaced gradually over the period of 2 years but now works are being sped up.
Interestingly, the seats' frames will remain in place, only the plastic seat and backrest will be changed for red ones. While creative uses for the old elements are being looked for, new seats are being made with 80% recycled plastic to reduce negative impact on the environment.
Seats dismantled in early phases, in turn, are being used by other teams. First portion, months ago, was sent to local amateur side SV Tapfer, while just last week another club, SV Fortschritt Lunzenau celebrated receiving 200 blue seats from the stadium.
Grand glazing scheme
Seats are an important change, especially before the return of fans for 2021/22. But it's only a fraction of all works now being done. Upgrades have been running in a long series since 2019. As part of the changes, the entire stadium is receiving its first ever opaque cladding.
Hanged on steel lamelas, glass will cover particularly the north and south side, reaching up to 17 metres in height. In total, 3,600 square metres of glass are being installed across Red Bull Arena. It's not about aesthetics, rather about comfort of supporters and neighbours alike.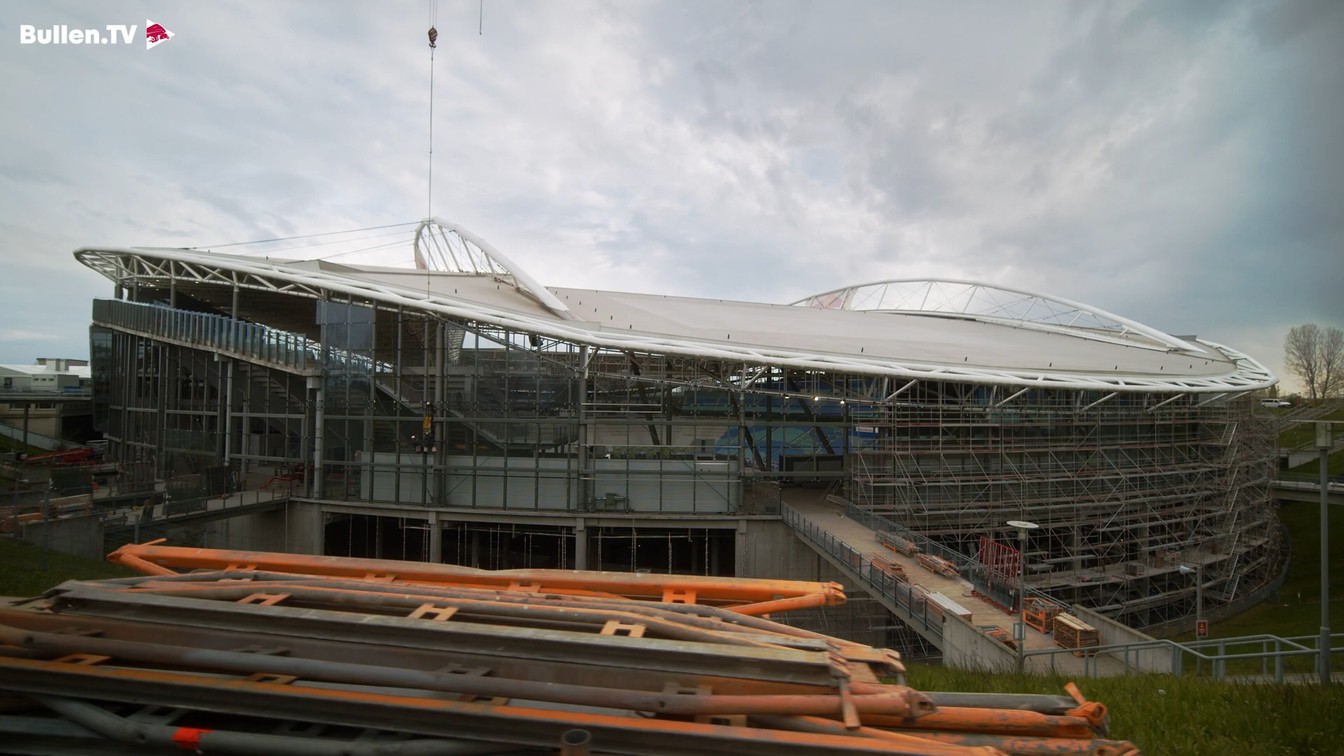 © RB Leipzig
For fans the benefit is reduction of draft and protection from rain throughout the public concourses. For the surrounding community glass will serve as noise insulation as the stadium is aiming to meet noise level restrictions of 70 decibels by day and 55 decibels in the evening.
Facility expansion and easier access
One of the most crucial interventions is the demolition of the historical landfill, a remainder of the legendary Zentralstadion. As you surely remember, Red Bull Arena is unique because of having been built within the bowl of its grand predecessor. Retaining the historical embankments was the iconic feature but proved problematic in terms of fan comfort.
In practical terms such layout means supporters have to first climb the old embankment and then descend into the stadium, a major issue for visitors with any physical impairments. That's why in the south, just behind the famous Werner Seelenbinder Tower, the embankment was cut and a new entry gate is now created. Landfill will be recreated almost in its entirety, with only a pedestrian bridge over the gate not being part of it.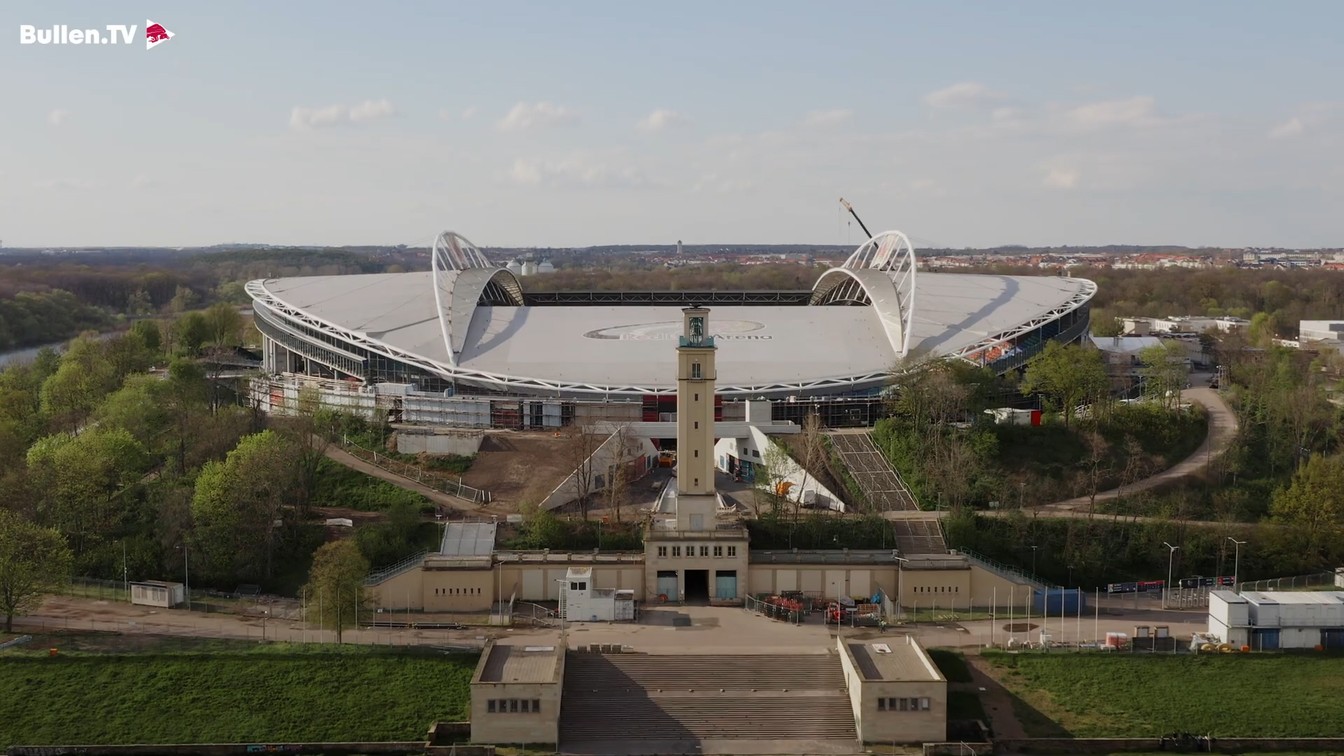 © RB Leipzig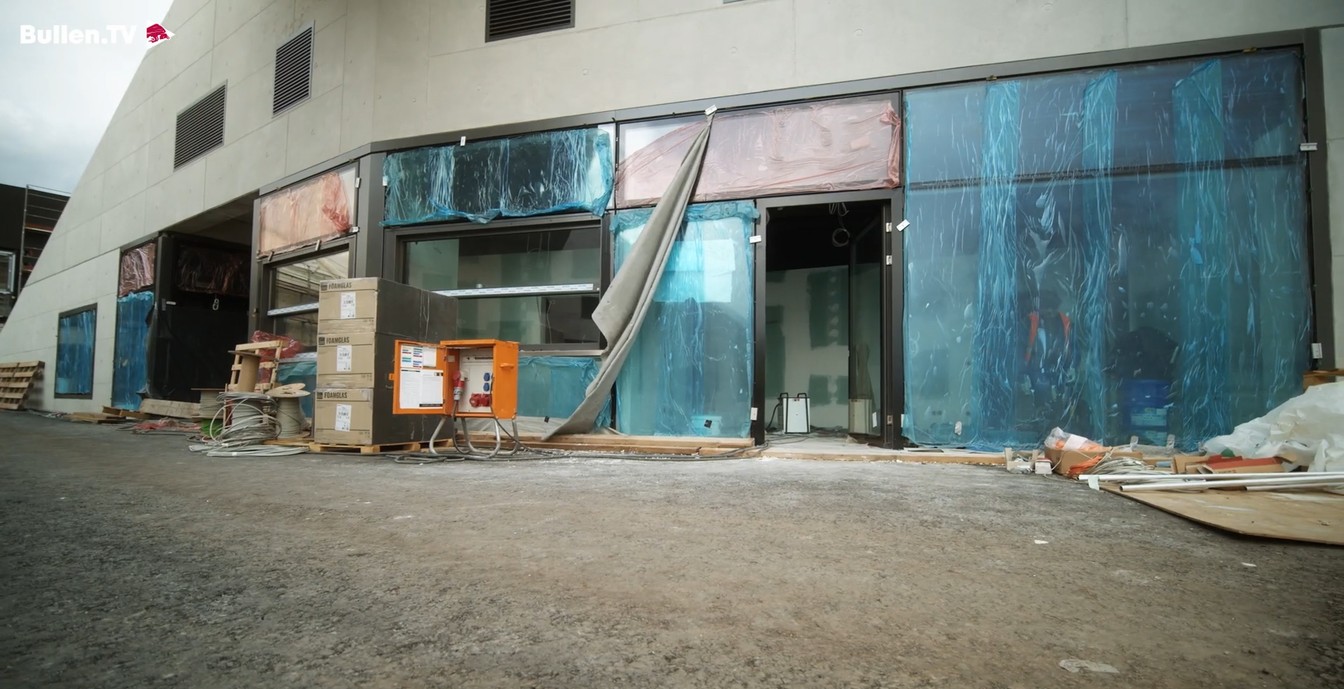 © RB Leipzig
The new gate has significant floor space created for RB's new fanshop and the entire south entry is hoped to become a focal point of the stadium, where fans gather and hang around before/after games. This side of the stadium will now enable everyone to enter without any stairs or other obstacles.
Between the gate and stadium bowl two levels of public concourses are created with a variety of shops and sanitary facilities, accessible both from the ground and the embankment, through additional pedestrian bridges.
In total, by 2022, RB will have spent €60 million ($73m) on all these upgrades, helping the stadium to meet UEFA's highest criteria. This will prove crucial ahead of Euro 2024, which will be co-hosted by Leipzig. Aside from improvements, the changes should boost matchday revenue. International capacity won't change significantly, however during domestic games Red Bull Arena should soon be a 48,000-capacity venue.
Author: Michał Karaś