New design: Futuristic dream of new Parma
source: StadiumDB.com [MK]; author: michał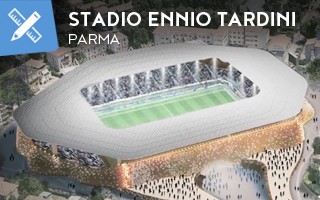 Reborn once more, this time under American ownership, Parma is working on something big. Not in terms of capacity, it's more about iconic design and solutions for decades to come.
Parma is a club with very turbulent past, having gone under and been reborn a few times already. As things stand, they're on their way to relegation but even if this comes to be, one thing won't change: where they play. In 2022 it will be 100 years since groundbreaking at Stadio Ennio Tardini. Of course, the current structure looks nothing like its historical predecessor. But in a few years, it might be a different building entirely.
The current municipal administration, headed by mayor Federico Pizzarotti, is already on board with the plan to reinvent Tardini. Especially that the bill, estimated to be within the €70-80 million range ($83-95m), would be footed by Kyle Krause, new American owner of the football club.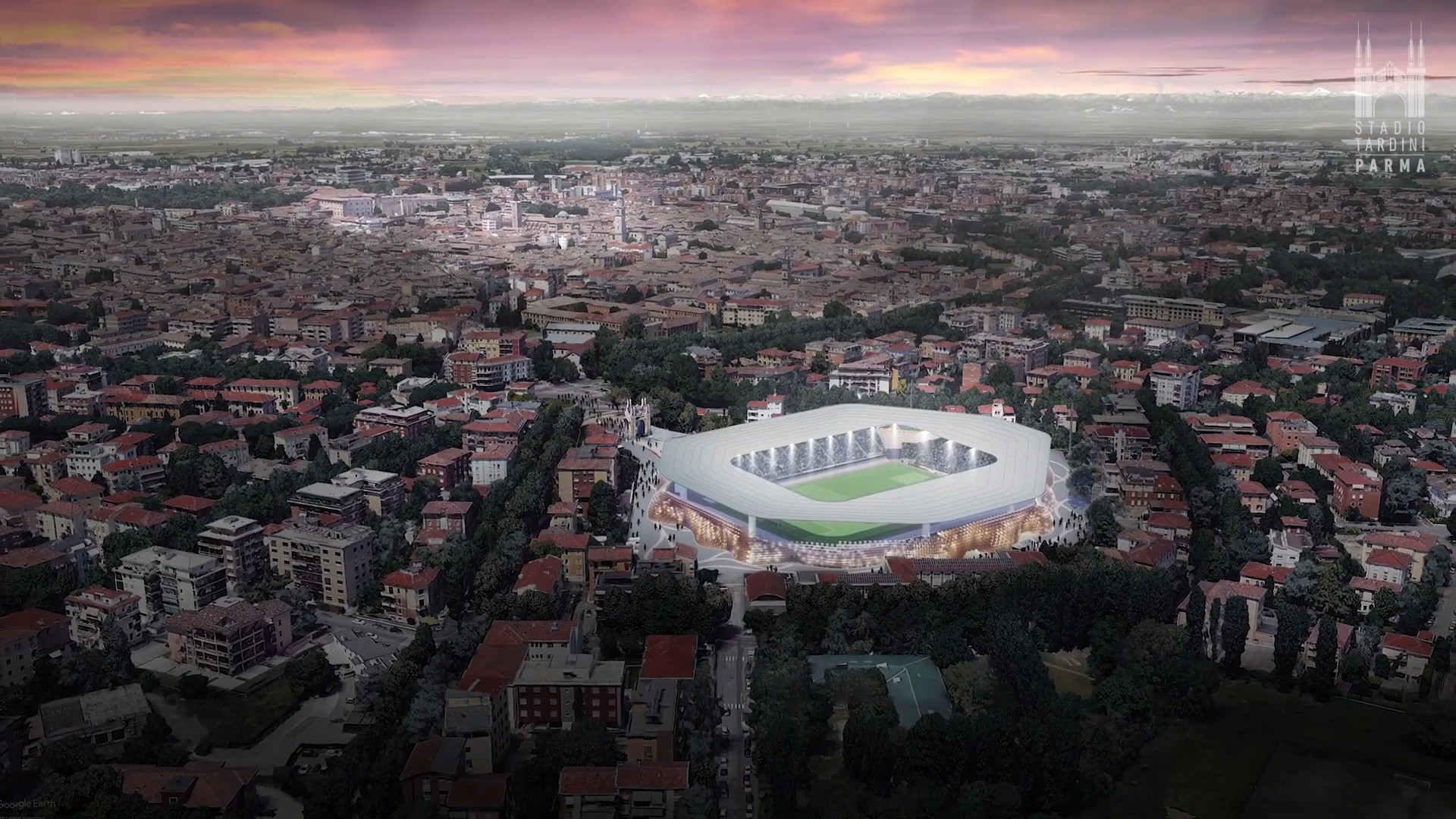 © Parma Calcio 1913, Studio Zoppini
It remains unclear whether the operation could be done in one go or in phases, both options being considered. A lot more questions are waiting to be answered, including the final agreement for Parma to take over the stadium from the city (most likely a 50-60 year concession).
We know one crucial thing, though: how the desired new stadium should look. Earlier this year it was confirmed that Alessandro Zoppini, known for numerous stadium concepts and masterplans, would design the stadium. Today the concept was officially revealed.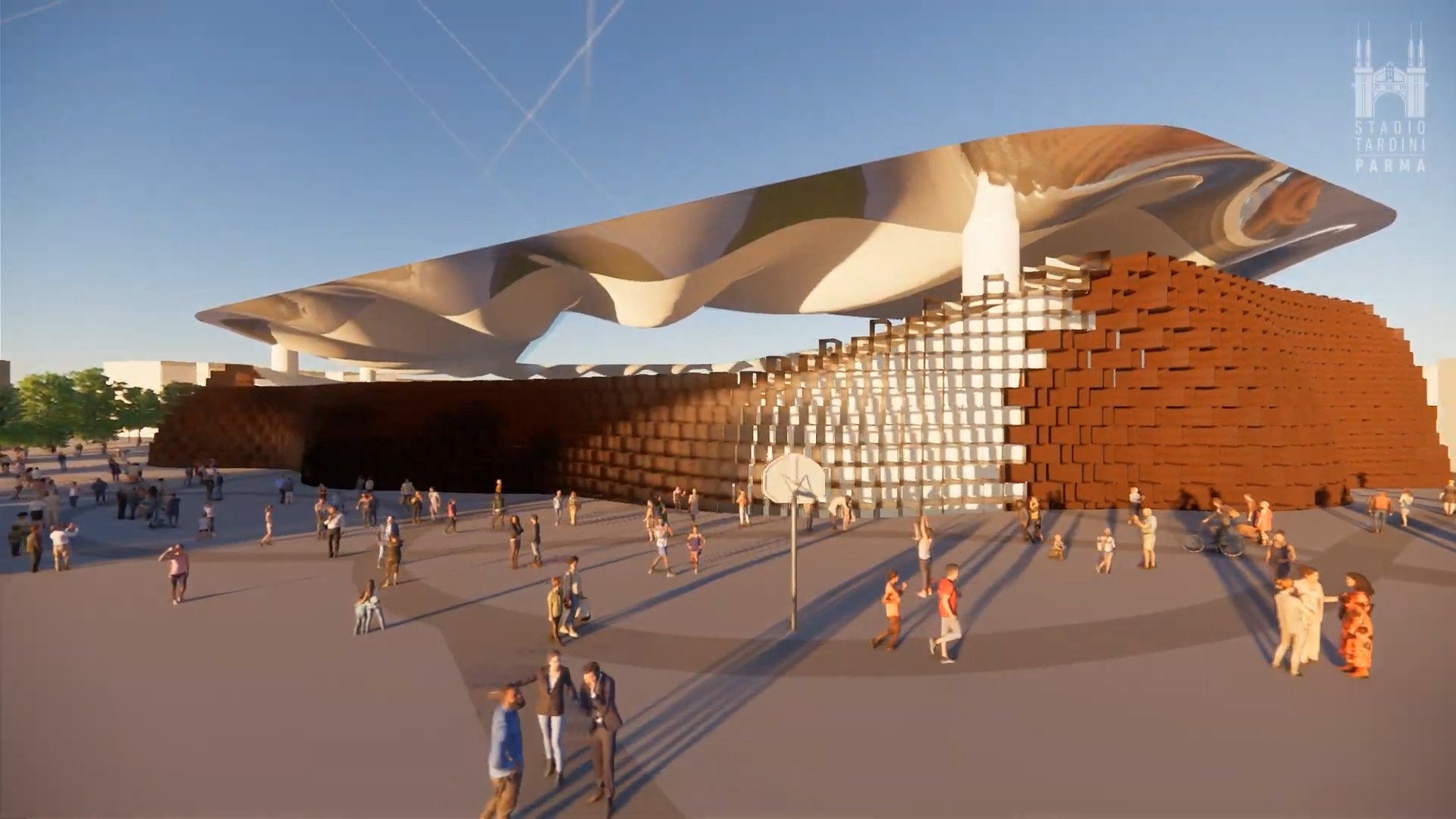 © Parma Calcio 1913, Studio Zoppini
Complete redevelopment of Stadio Ennio Tardini envisions a connection between century-long history of football in this location and modern architecture. On the one hand, the historical gateway arch in the north-west will be retained, while on the other, the stadium will look nothing like it ever has.
Even more, the vision by Alessandro Zoppini's team is one of the most futuristic compact stadiums to date, expected to be a new icon among Italian football grounds.
First, there will be no opaque facade. Instead, an openwork geometric structure created with corten steel will envelope the building. Ensuring proper ventilation, it will also provide varying light/shadow experiences depending on the sun's position. Second, the roof would seem cloud-like thanks to undulating form and only 8 supporting columns. Above the facade it's supposed to be reflective to further the impression.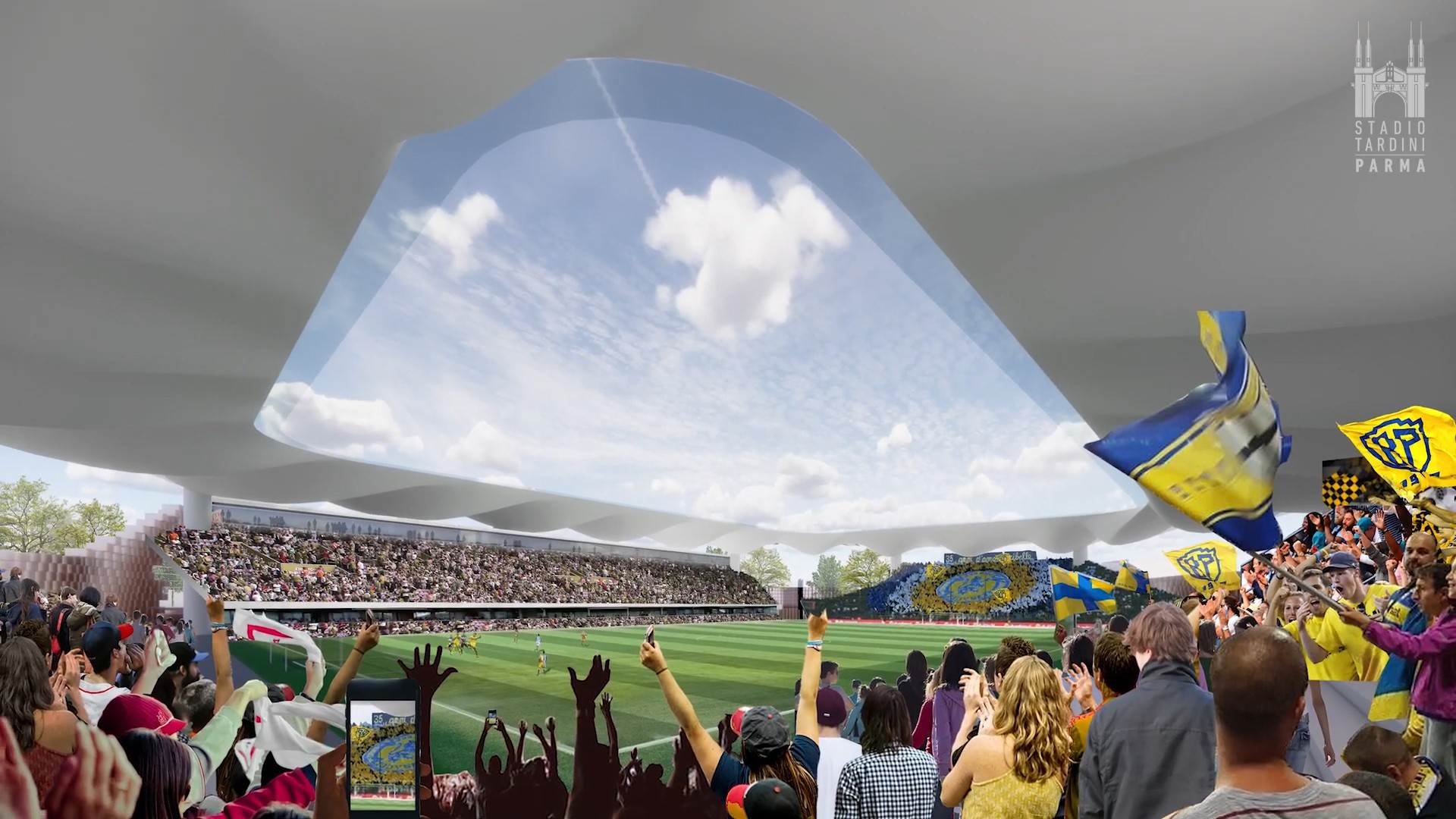 © Parma Calcio 1913, Studio Zoppini
The seating bowl is far more conventional and will change significantly compared to the current ground. The main stand is to be divided into two tiers, lower of them very modest. The fanatic Curva Nord would be extended. All stands are expected to welcome fans with disabilities and total capacity should remain similar to the current ground's, over 22,000. Overall, the seating bowl is to resemble an octagon with openings in corners, even allowing passers-by to peek inside.
While the layout is forced by spatial constraints, the new stadium is supposed to boost the use of space. Tardini's current surroundings are abandoned on a daily basis. Along this vision up to 20,000 m2 of public space with activation zones (cafes, sports fields) would be created, ensuring daily use.
© Parma Calcio 1913, Studio Zoppini
Of course, the road to a new stadium is long, particularly in Italy. Today's images are very initial and the design needs refining before it can be filed at the city hall for evaluation. We should expect optimising efforts that will lead to more practical, less spectacular solutions.
Once the architects are done, the procedural route begins. And in Italy it's famous for killing off numerous stadium schemes. That's why it's not easy now to predict a realistic time frame for this project. Finally, there's politics to worry about. While current authorities of the city are all for the stadium, election is coming next year, which could hypothetically turn the tide.
Author: Michał Karaś