New stadium: Argentina's latest "cilindro" opened!
source: StadiumDB.com [MK]; author: michał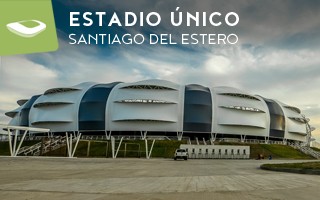 River Plate celebrate victory in Supercopa Argentina, while Argentina celebrates the inauguration of one more modern stadium. The north finally has an international-standard facility.
Last night football fans across Argentina were turned to a major event: last year's Supercopa Argentina game finally took place, seeing River Plate smash Racing 5:0. River are now the only team in the country with two supercups but that's not why we're writing about the game.
It was also the long-awaited first match for the republic's latest stadium, Estadio Único Madre de Ciudades. Its inauguration was shifted from last year because of the ongoing pandemic, which prompted the postponement of key events.
© Estadio Único Madre de Ciudades
The new stadium is now preparing to host the national team's 2022 World Cup qualifier against Uruguay on March 26, then in June two matches of the Copa América will be held here. Regular use is expected to be provided by Primera División's CA Central Córdoba.
Stadium came at a price
Ability to host major events comes after multi-year efforts that led to the new stadium being built. Not without controversy, because Santiago del Estero is among Argentina's poorest provinces, hit hard by the economic crisis that preceded COVID-19. But the new stadium comes as continuation of a larger strategy, part of which saw the cities of Santiago del Estero and La Banda connected by light rail. One station is located just outside the stadium.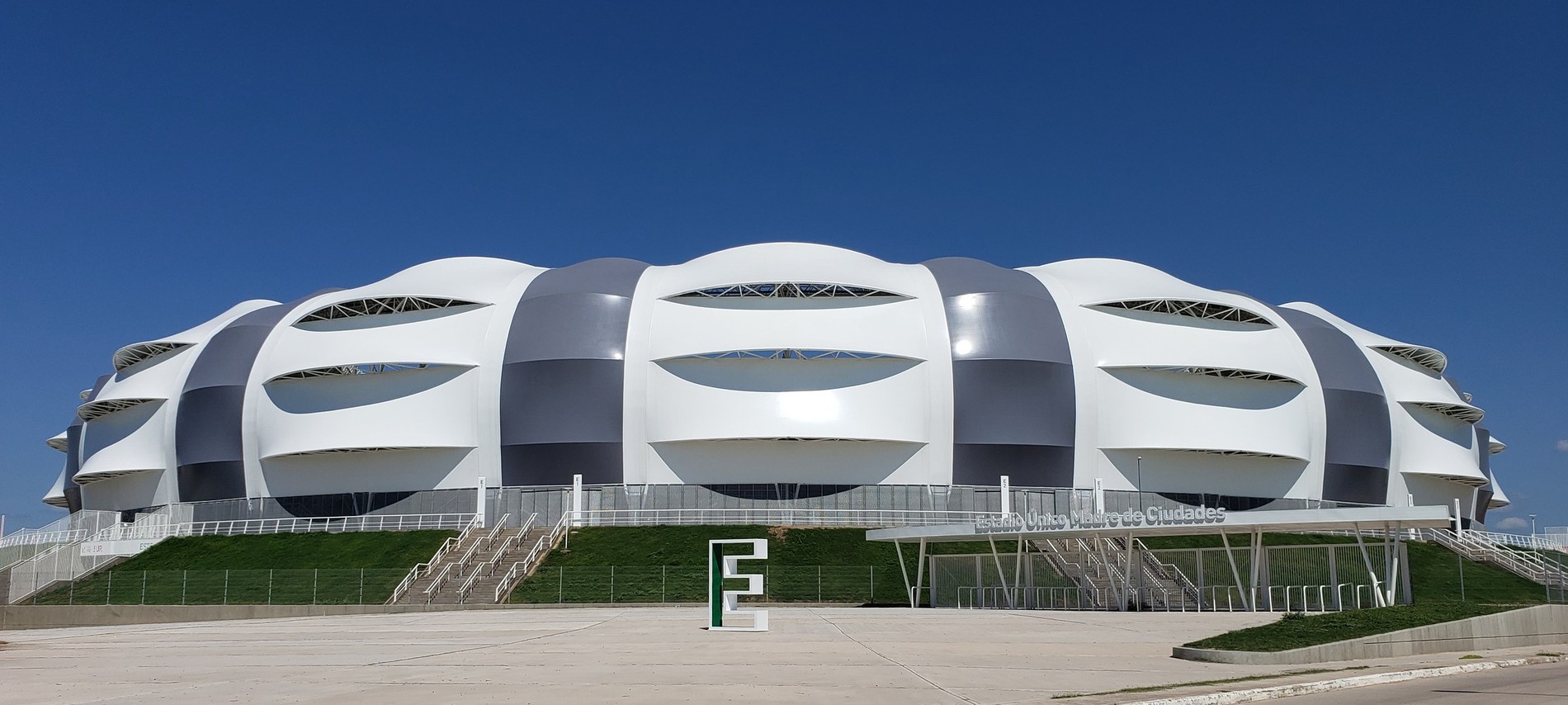 © Gargas
The stadium came at a very modest price, should official data be trusted. Initially expected to cost ARS 970 million, it grew to 1.5 billion, which still represents only $16.6 million. If this indeed is the complete price tag, it's exceptionally low for a 30,000-capacity stadium. However, main architect Enrique Lombardi has recently suggested that $40-50 million is the more likely total. Internationally that's still low, locally it would be significant.
What's so unique about it?
The stadium's uniqueness is included already in the name, not for the first time in Argentina. This time the name also includes Madre de Ciudades, phrase describing Santiago del Estero as Argentina's oldest city, from which expeditions establishing other settlements were launched in the 16th century.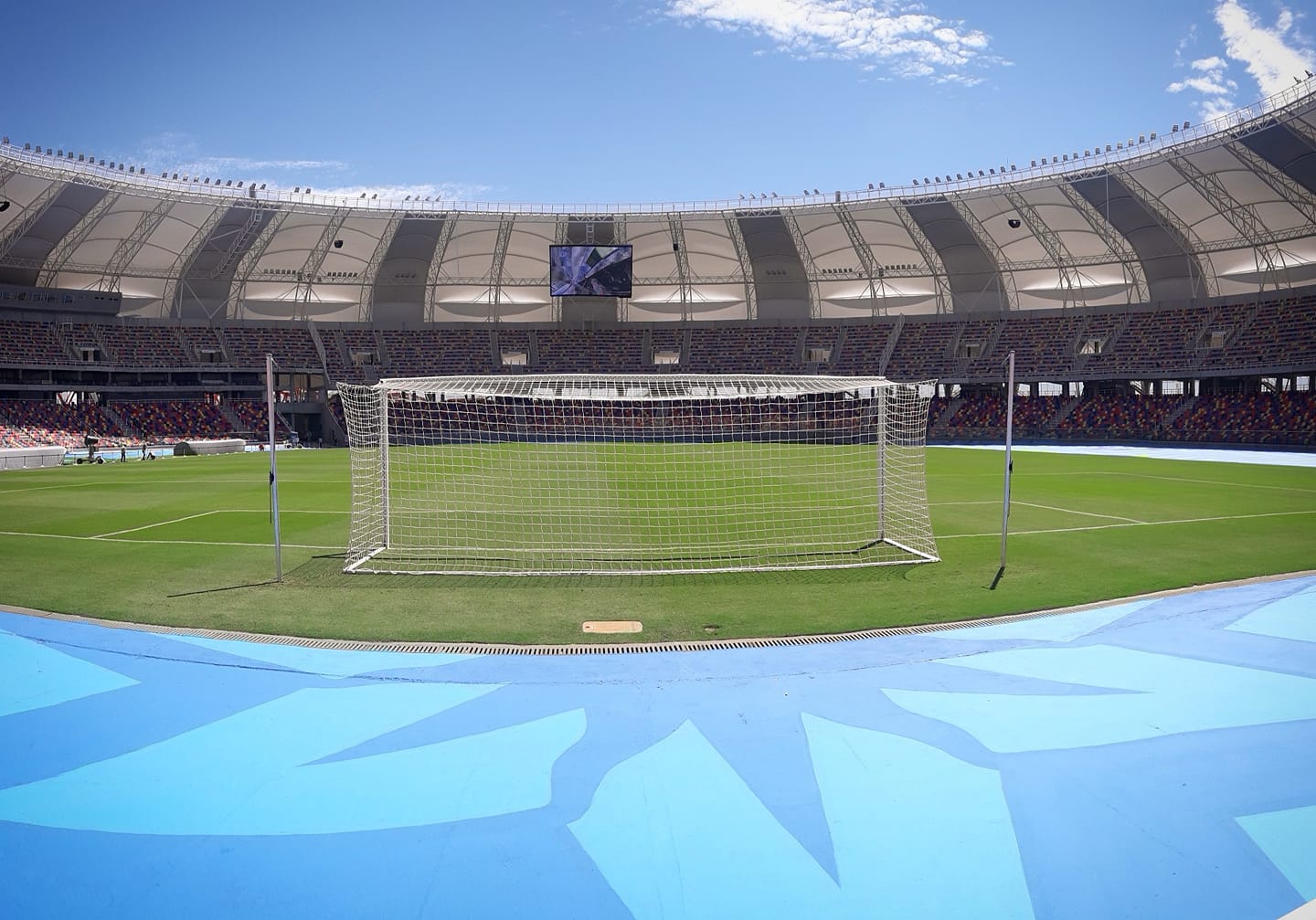 © Estadio Único Madre de Ciudades
Both these parts of its identity are included in the architecture. Like a modern coliseum, the stadium is circular, also paying tribute to the sun, an element of the province's coat of arms. The sun in Santiago del Estero's crest has 16 rays and so the stadium is divided into 16 sections, with 16 entry gates and 16 strips of dark membrane, extending towards all parts of Argentina.
The circular layout comes at a price. On the one hand, fans near the corners of the field sit as close as 7 metres away from the action. On the other, those in the most prestigious west stand have the front row over 25 metres away.
However, a steep and overhanging upper tier ensures most fans have a very decent view of the field. The seating bowl is uniform, with only the main stand having a strip of 22 private boxes between both tiers and cabins on top of the upper tier.
Want to know more about it? Read our presentation!
Author: Michał Karaś