New stadium: The dancing facades of Batumi
source: StadiumDB.com [MK]; author: michał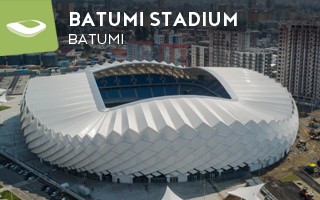 It was commissioned as a new landmark of the coastal city and became one instantly. Even if the new Batumi stadium is yet to host a football game with fans.
Land selected as preferred location of the new stadium in Batumi was disused and post-industrial a decade back, loosely built-up. However, this was the part of the city earmarked as a new leisure area. The southern Leonidze Street was not only extended towards the Black Sea beach but also made into a representative avenue ending with dancing fountains. In this new reality, with high-rise hotels planned around, the new stadium was hoped to become a major landmark. Indeed, it's one of the most voluminous buildings across the city. A quarter spanning 87,000 m2 was set aside for it along Leonidze St.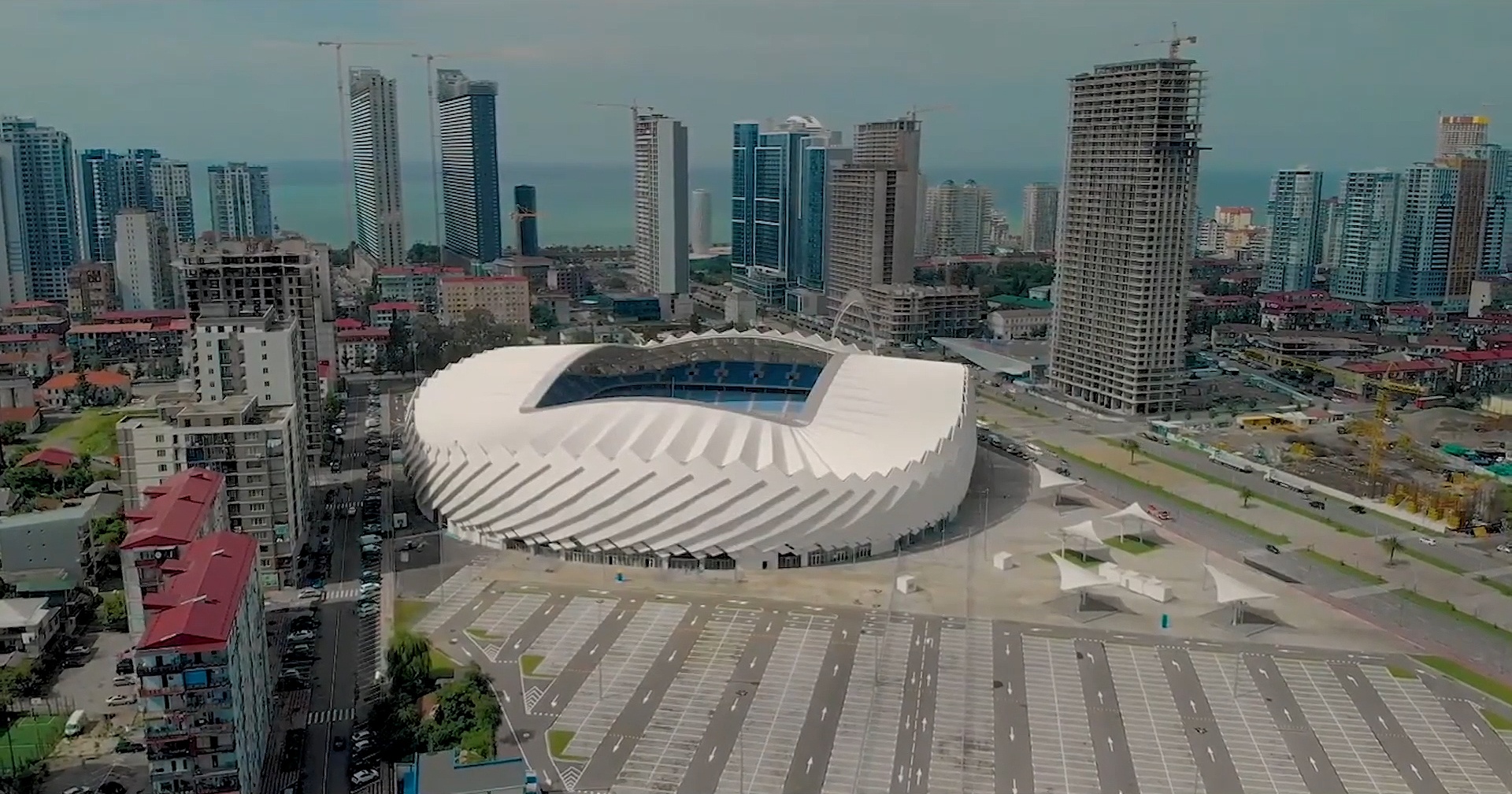 © შპს სტადიონი - LTD Stadium
Following market research, local authorities decided to award the project to Bahadir Kul Architects, the renowned Turkish office with over 20 delivered stadia. BKA's vision embodies what authorities were after, taking inspiration from the magnificent Georgian dances and in more loose terms from enthusiasm and cheerful attitude of local people. The stadium is clad with 76 overlapping panels, each slanted and of different height. This simple measure invokes movement, creates rhythm and becomes a statement itself.
The number of facade panels is exactly equal with the number of roof segments, creating a uniform and consistent bowl. The roof structure consists of 3,500 tons of steel resting on the monolithic primary structure, while all of the stadium is covered with PVC. By day the stadium becomes elegant and almost cloud-like, by night it shines intensely thanks to illumination incorporated into edges of each facade panel. As Batumi is known for its bright and colourful night lighting, this element is consistent with local strategy.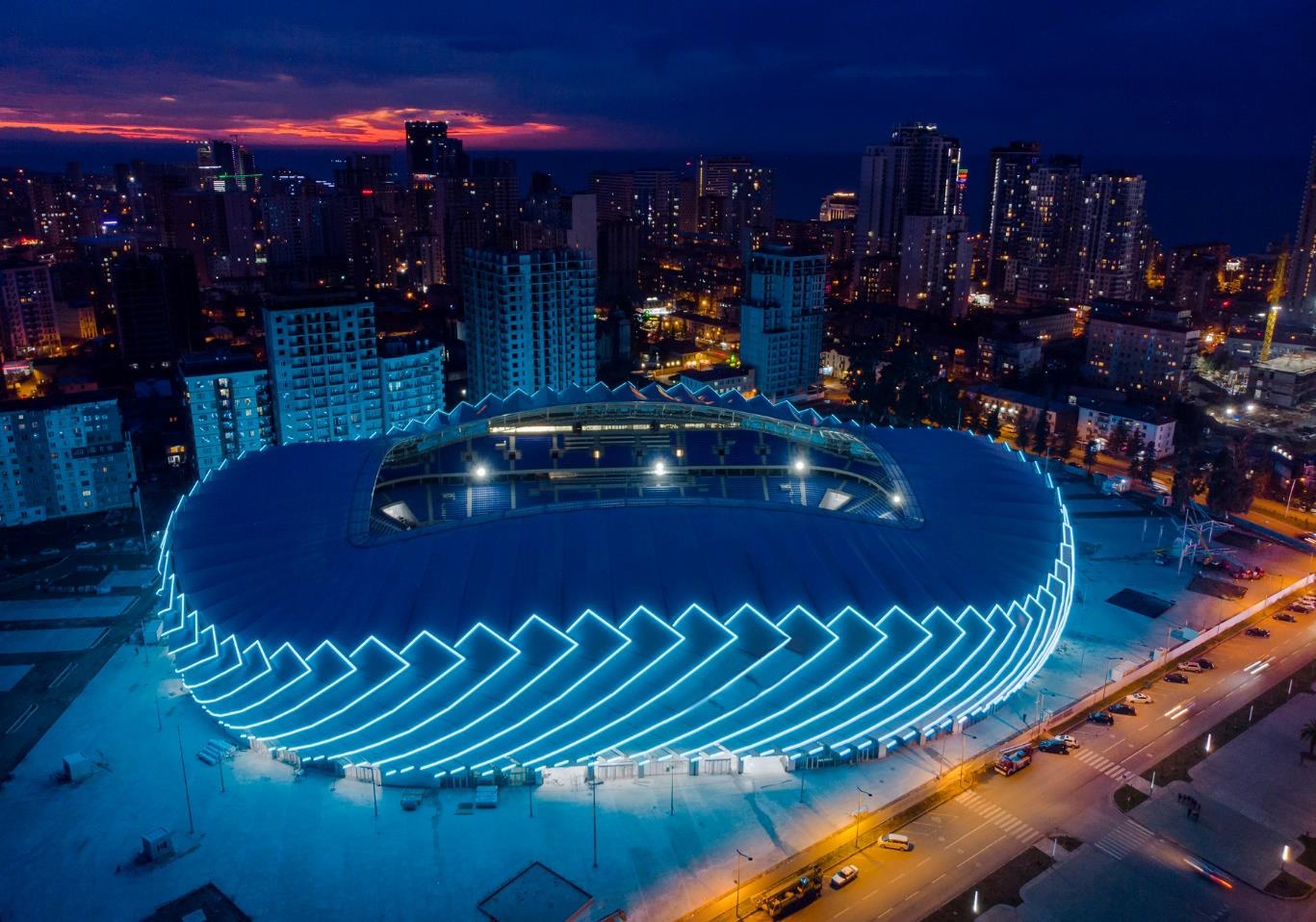 © Government of Autonomous Republic of Adjara
Because the stadium sits along the representative new avenue, architects made sure there are as few perimeter fences as necessary. Pedestrians walking along Leonidze face no obstacles, they can touch the stadium itself. Even more, east side of the stadium offer retail space on ground level, making sure the place won't create 'dead space' on non-matchdays. Aside from the stadium, the new quarter also offers two plazas along Leonidze and parking spots for 1,200 cars. The stadium's footprint is exactly 30,660 m2.
The robust facade and roof tucked closely to the stands pay an important role. Because Batumi sits between the sea and mountains, local weather tends to be unpredictable. That's why the stadium offers protection from wind and rain to all fans. And while it's also intended to be used for concerts, a retractable roof wasn't considered. After all, from 2016 Batumi has a concert venue with sliding roof (for 9,000), on the road to Poti. The new stadium would only occasionally be used in such way.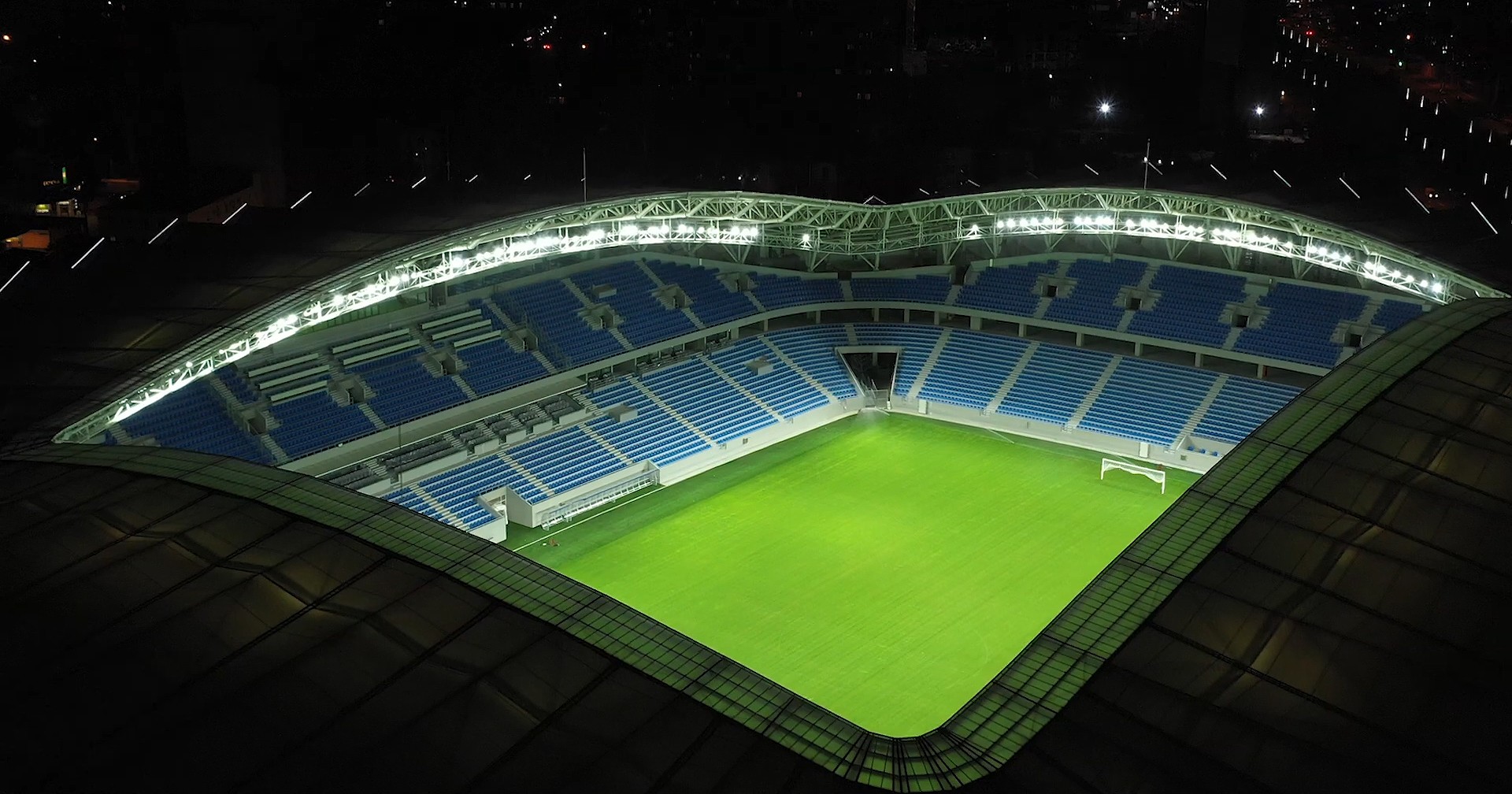 © შპს სტადიონი - LTD Stadium
Because Georgia was for years plagued with poor football infrastructure, meeting the highest UEFA standards became a source of pride. The goal was not just to create proper development conditions for Dinamo, but also to lure the national team to the coastal city. Thus the high-end lighting, sound system and hybrid field. The auditorium is divided almost perfectly into two halves. Lower tier for 10,040 and upper for 9,995. The architects also assured that up to 5,000 additional seats could be fitted with limited effort.
Construction of the stadium began in early 2018 and was contracted to last 34 months. However, the project was nearly complete several months before deadline, leaving a lot of time for testing. Opening took place only in October of 2020, due to the pandemic and efforts to reschedule events so that people could attend. Initially expected to cost GEL 99 million, the project eventually consumed nearly 144 million ($44.4 m / € 36 m upon opening). In international terms it's still not a high price tag.
Author: Michał Karaś