New stadium: Beckham's sensational temporary home
source: StadiumDB.com [MK]; author: michał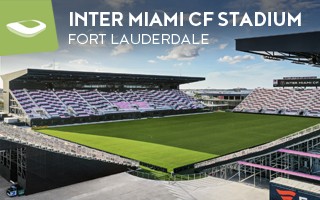 It's one of the most spectacular projects we've described, between design and delivery taking just over 10 months. It may be temporary by definition but it seems the stadium is here to stay for more than a couple years.
When David Beckham announced the end of his career in 2013, it was already certain he would begin building a new MLS team in USA. Buying a licence was his right as part of the famous LA Galaxy contract. Already in 2014 the first vision for a stadium in Miami (the selected market) was presented but fell through. That same year another plot was indicated by the ownership group (in which Beckham owns only 10%) and also proved unviable. In total five different sites were rejected or protested before in 2018 the massive country club site beside Miami's international airport proved viable.
However, at that point the newly established Inter Miami CF had too little time to deliver the stadium before debuting in MLS in 2020. That's why it was decided that at least two first seasons in the league would be played 50 km (30 mi) north, in Fort Lauderdale. Here, the aged Lockhart Stadium was standing idle after relocation of the Strikers in 2016.
In early 2019 the ownership group received 50-year lease of the land including Lockhart, as well as permission to create new training academy with 6 fields and a modular stadium exactly where Lockhart used to be (except with the field rotated to match the north-south axis). However, the time frame was extreme in the world of football stadiums. Only on April 3, 2019, green light for Lockhart demolition was given. Meanwhile, on March 11, 2020, Inter was to debut in MLS. This left 10 months for design and construction.
© Moss & Associates, Manica Architecture
Due to lack of time, even the initial concept of the modular stadium was simplified and optimised immediately. Drawn by Manica Architects and executed by Perez & Perez, the stadium was divided into numerous independent elements that could easily be prefabricated and not always mutually dependent.
The stadium has four rectangular stands with single tiers. Their size is exceptional, though, reaching 18,000 fans. To limit the number of elements almost all staircases were dropped and vomitories are placed almost on ground level. The stands are entirely modular, not connected with other elements.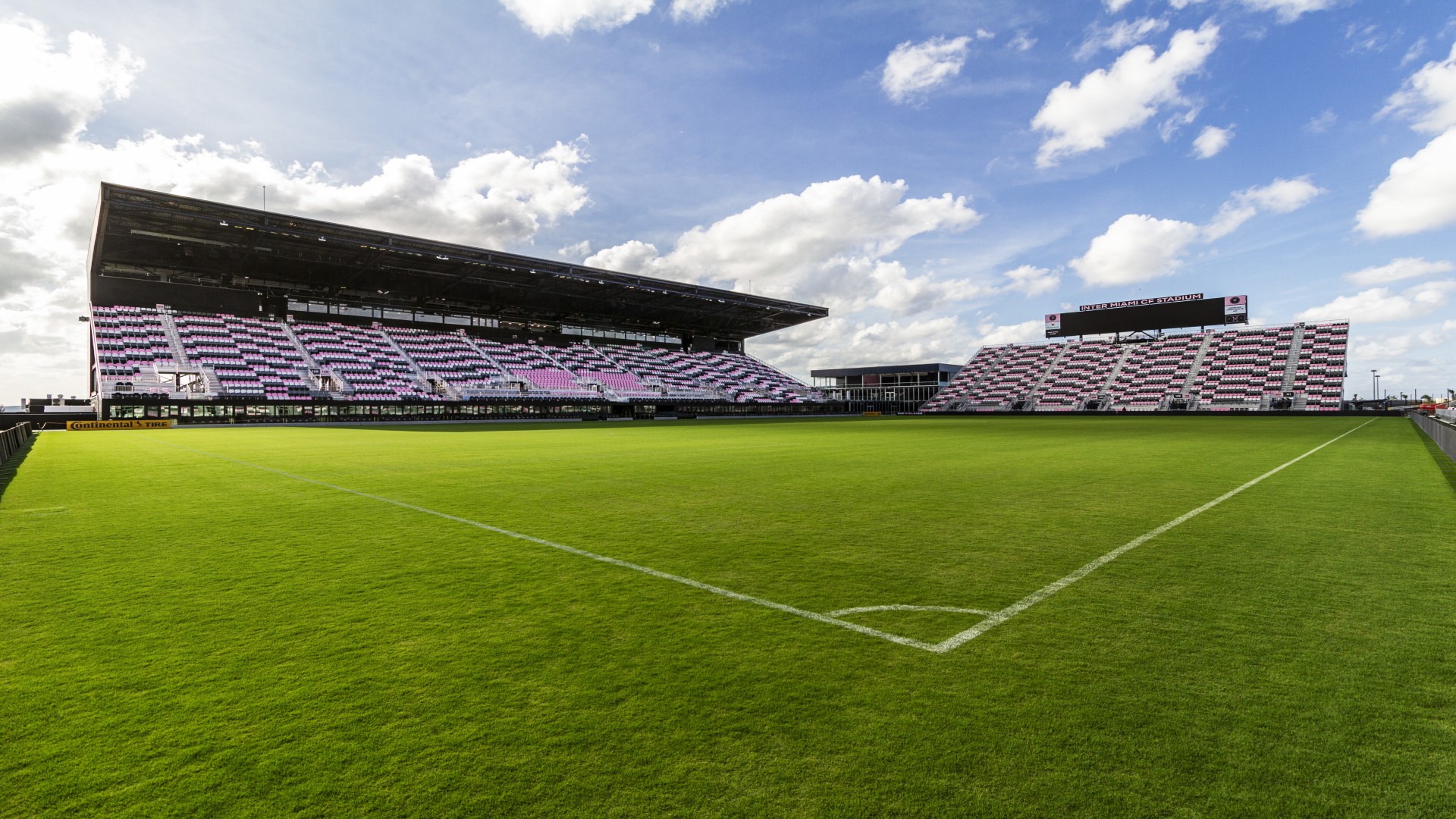 © Moss & Associates, Manica Architecture
On the west and east sides two 27-meter (90 feet) structures were built, each to give support to the stadium's roof. For a temporary stadium the canopy size is quite impressive (west and east combined span 8,500 m2 or 92,000 square feet), while also incorporating all necessary floodlighting. External walls of the roof and its support towers were covered with 3,700 m2 (40,000 square feet) of black and pink panels.
Additonally, the west grandstand wasn't built on ground level. Instead, it was built on top of a single-level building covering 4,600 m2 (50,000 square feet). The building provides all crucial player and referee facilities, while also incorporating 23 field-level premium boxes and associated amenities. The west stand also houses commentators' cabins and camera positions up under the roof, accessible through two dedicated staircases. Finally, the north-west corner was built up by a modular pavilion housing all other uses, including a VIP terrace.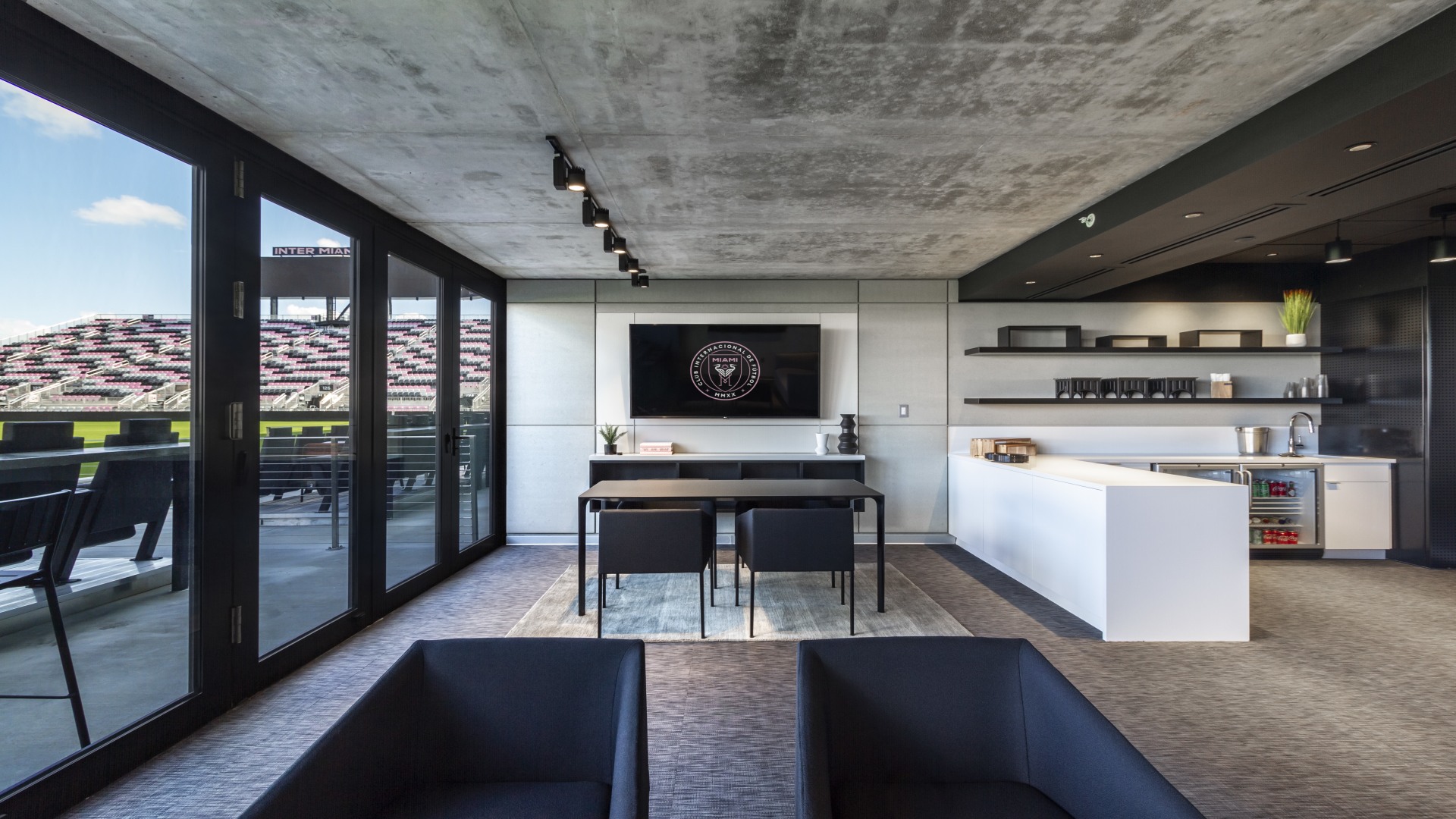 © Moss & Associates, Manica Architecture
Despite the shockingly short time frame, some elements were actually delivered ahead of time and the stadium was indeed ready on March 11. However, the COVID-19 pandemic caused a postponement of the entire MLS season, meaning the first match was officially played on July 18. The endeavour has reportedly cost $140 million (including training facilities and road network), of which the stadium alone consumed $60 million.
Interestingly, the stadium will not prove as temporary as initially thought. Inter Miami established a secondary club playing in US' third league, Fort Lauderdale CF. Once Inter leaves for Miami, the stadium will still be used, even if some of its modular structure could be dismantled or altered to adjust it to future demand. A possibility of hosting other events at the venue was also brought up.
Author: Michał Karaś