StadiumDB.com: Are you on Instagram? So are we!
source: StadiumDB.com; author: michał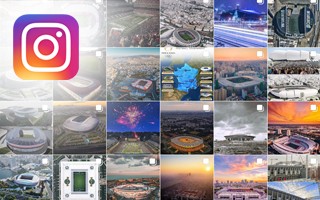 The best stadium photos from around the web, current news and developments of major projects, at least once every day – that's our Instagram account, which is growing far beyond our expectations already!
So far we've been feeding you stadium news through Facebook and Twitter, now it's time for a different stadium meal. Let's digest some of the finest, fresh images of stadiums together via Instagram! Less focused on news, more on the exciting visual side of stadiums, it's a profile particularly handy during times of lockdown, when we all long for the pre-2020 matchday experience.
Make no mistake, you'll still find news on latest designs, construction updates and tournaments, we're just serving them only with the right photographic material. Some photos are our own, some are from fantastic professional photographers or companies and some come from you – fans, groundhoppers and sports architecture enthusiasts.
Together we embark on a journey through some of the most stunning moments in the lives of stadiums, even as empty as they are these days. And we're extremely happy to see many of you already having joined us. In just a few months, through organic interest alone and before 200 posts we're followed by 5,500 people already!
This piece was written specifically to get YOU on board as well! And if you never really felt the need for an Instagram account, maybe here's the reason you were looking for? Check out the below mosaics. These aren't just sunsets and drone shots, each post has a tasty chunk of text about the stadium in question. So one more way to be up to date with stadium news and enjoy some of the most astonishing images at the same time!