New stadiums: Piła, Żagań, Hajnówka and Drawsko Pomorskie
source: StadiumDB.com; author: michał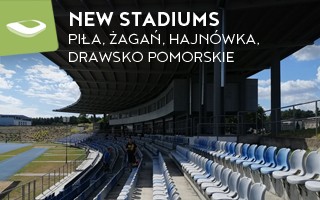 For the first time in a while we've added some new stadiums from Poland, more countries coming soon. Our database has grown by four stadia and three new cities, led by Piła, with a stadium that does remember Adolf Hitler back from its German days.
Thanks to our websites friends Jörg Pochert and Michał Kocik we can today show you further Polish stadiums. The latest additions to StadiumDB are grounds in Piła, Żagań, Hajnówka and Drawsko Pomorskie. Here's all you need to know about them: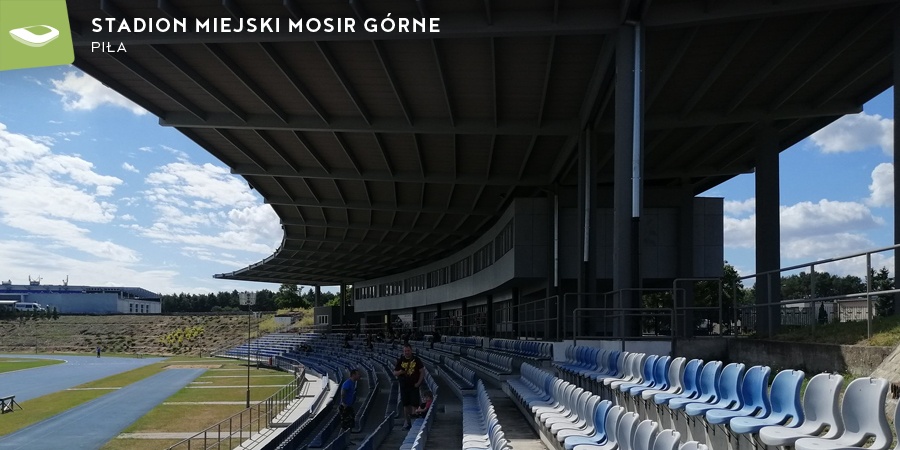 © Jörg Pochert
The municipal stadium in Piła lies on the verge of a forest, within the Górne district, west of the main train station. It's part of the Górne sports complex. Bus stops are located in the north and north-west, the closest one at ul. Żeromskiego. The stadium is surrounded with parking sites, the largest of which is south of the venue, at the connection of Żeromskiego and Sportowa.
The stadium has a traditional layout along the north-south axis, with almost entirely covered main stand in the west. All of the auditorium has been created on massive land embankments, which surround an international standard 8-lane running track and a professional football field.
The west stand can hold up to 2,000 people, while the east – for the away fans – is built around the historical entry tunnel, with two sections of 250 seats each. Beside the stadium stands a major indoor arena, along with a hotel that is partly built into the stadium's southern curve.
The stadium was designed back in 1926-27 by Walter Hildt, back when the city was German. Opening took place on June 26, 1927. Not long later, in 1932, the ground was visited by Adolf Hitler himself, during a rally of the youth activists. Back then the auditorium spanned across all of the embankment, making it a major stadium in the region. In 1988 it was upgraded and reopened. A new running track was laid in 2005 but soon proved to be substandard and unfit for use.
In 2014-15 the stadium in Piła was renovated in two phases, which together saw part of the stands revived back to public use, as well as players' facilities, sanitary facilities and a brand new running track. With no anchor tenant, much of the old stands was covered with low-growing shrubs, seeing capacity drop from some 20,000 to 2,500. The ground now meets major infrastructural criteria and is used by KP Piła, a club created in 2016 to revive football in Piła, which was surprisingly absent for years.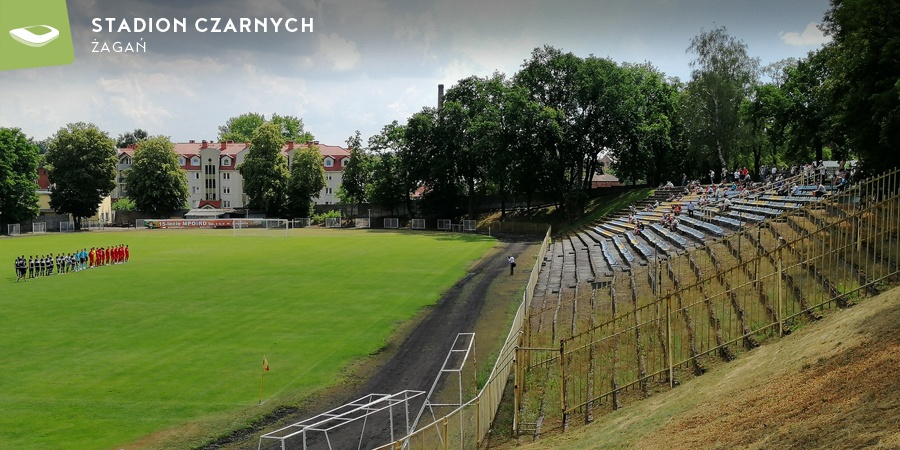 © Jörg Pochert
Stadion Czarnych is located north west of the train station in Żagań, within a 15-minute walk. Its major parking lies to the south-west, by ul. L. Waryńskiego. The ground offers one major grandstand based on landfill. Initially all terraced, it's now functioning with 1,300 individual seats.
The stadium most likely dates back to the 1930s. Initially it served the local Wehrmacht unit. Once WWII has ended, Polish soldiers took over. It was then transferred to the municipal authorities and has since been used by Czarni Żagań. Interestingly, the team had moved to the more modern Arena Żagań but then returned by popular demand.
© Michał Kocik
The stadium is part of Hajnówka's Sports and Recreation Centre (OSiR), just beside the cultural centre and north of the city's main railway station. With other sports and cultural uses, plus nearby Orthodox church, there's ample parking for matchday yse.
The stadium has a 4-lane running track of proper 400-meter length, with two more lanes along the main stand for sprinters. That new stand is entirely covered and consists of three small, individual sections, two with 216 seats and one with 261. On the opposite side two uncovered and smaller sections were placed, each with 124 seats. All these stands are demountable, built on light steel structures.
The stadium was built between 1948 and 1953 and has seen numerous alterations since then. First expansion came in 1958, when players' and sanitary facilities were added. Its field was replaced twice in 1966 and 1999 and the aforementioned building with crucial facilities saw its renovation in 1997.
The biggest change came between 2019 and 2020, when the new field, running track and stands were added. Following these changes it gained a new life and remains the home of local club Puszcza Hajnówka, as well as less known teams.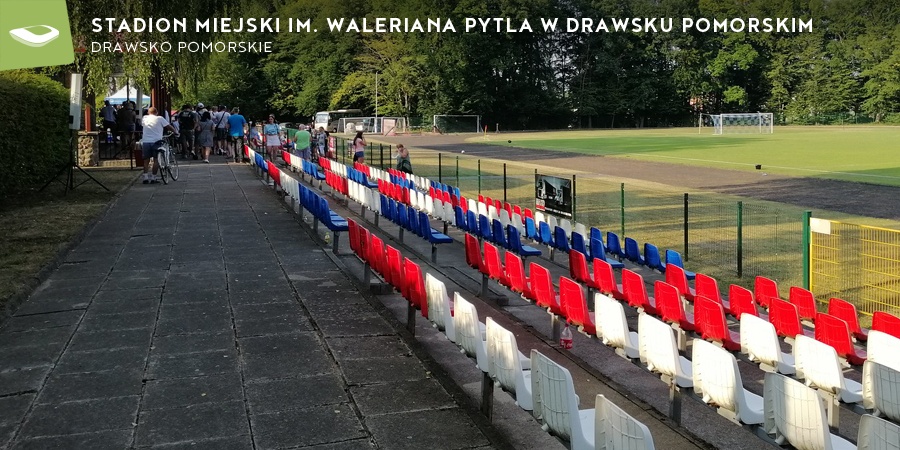 © Jörg Pochert
The municipal stadium in Drawsko Pomorskie lies within close proximity of the Orka Lake to the south. A 15-minute walk is required to reach the stadium from the train station, located north-east of the ground. Two parking sites are available north west of the stadium, accessible from ul. Stefana Okrzei.
Surrounded from all sides by a small forest, it's somewhat separated from the lake and local residents. A dated running track is available around the football field. One grandstand was created on the west side, offering 600 seats, 40 of which are for away followers. Necessary facilities for players and officials are housed right behind the west stand.
Dating back to 1938, the stadium continues to function thanks to regular maintenance and conservation. In 2008-09 wooden benches were replaced with individual seats, the stadium's main building was also renovated.