China: Change of plan in Guangzhou
source: StadiumDB.com; author: michał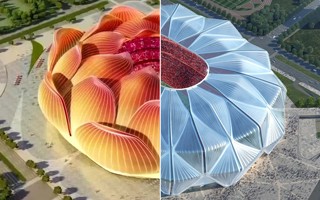 Remember the giant lotus flower? You can now forget about it because the vision in Guangzhou has changed. A significantly different plan is being implemented, as approved on Friday.
It was probably the year's most significant stadium plan announcement. After all, how often can you see ground work beginning on a 100,000-seat football stadium and only then learn how it would look? Especially during a pandemic, where global football was brought to a halt. This stadium became viral for one more reason than its scale, of course: the direct symbolism of a lotus flower.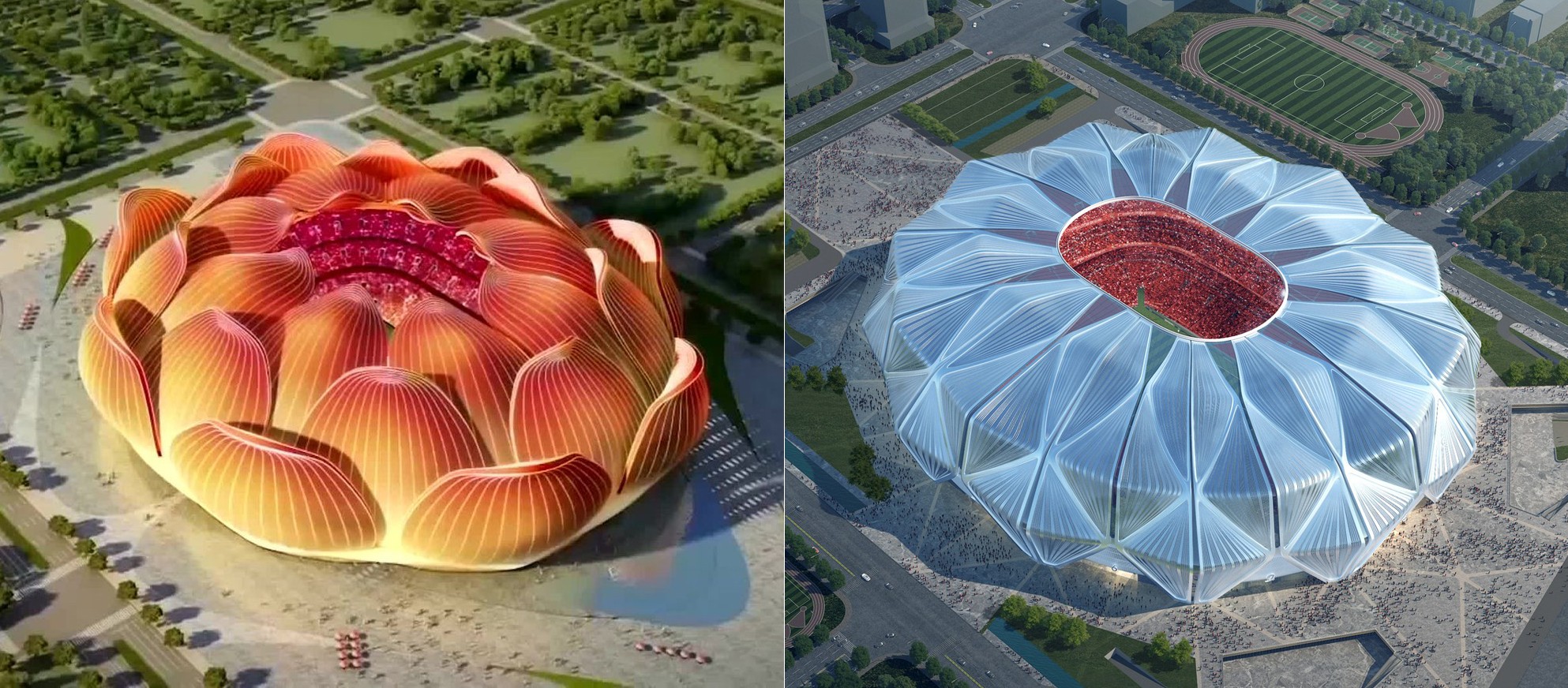 © Guangzhou Evergrande
While we're retaining those renders as part of our presentation, they're no longer valid. As of early July a new concept for that same stadium is being implemented, also created by global practice Gensler. It was precisely Gensler selected out of 8 invited architectural teams, which included AFL Architects, GMP Architekten, HPP Architekten and Populous, among others.
Gensler eventually created three visions for the stadium. On May 28, the Planning and Natural Resources Bureau of Guangzhou City invited 6 Chinese experts in architecture and urbanism for consultation, along with members of other municipal bureaus. Based on their input the third vision was selected, then optimised to meet suggestions, FIFA requirements and economic efficiency.
On July 3 the design was unanimously approved by the Guangzhou City Planning Committee, and Regional Planning and Urban Design Professional Committee.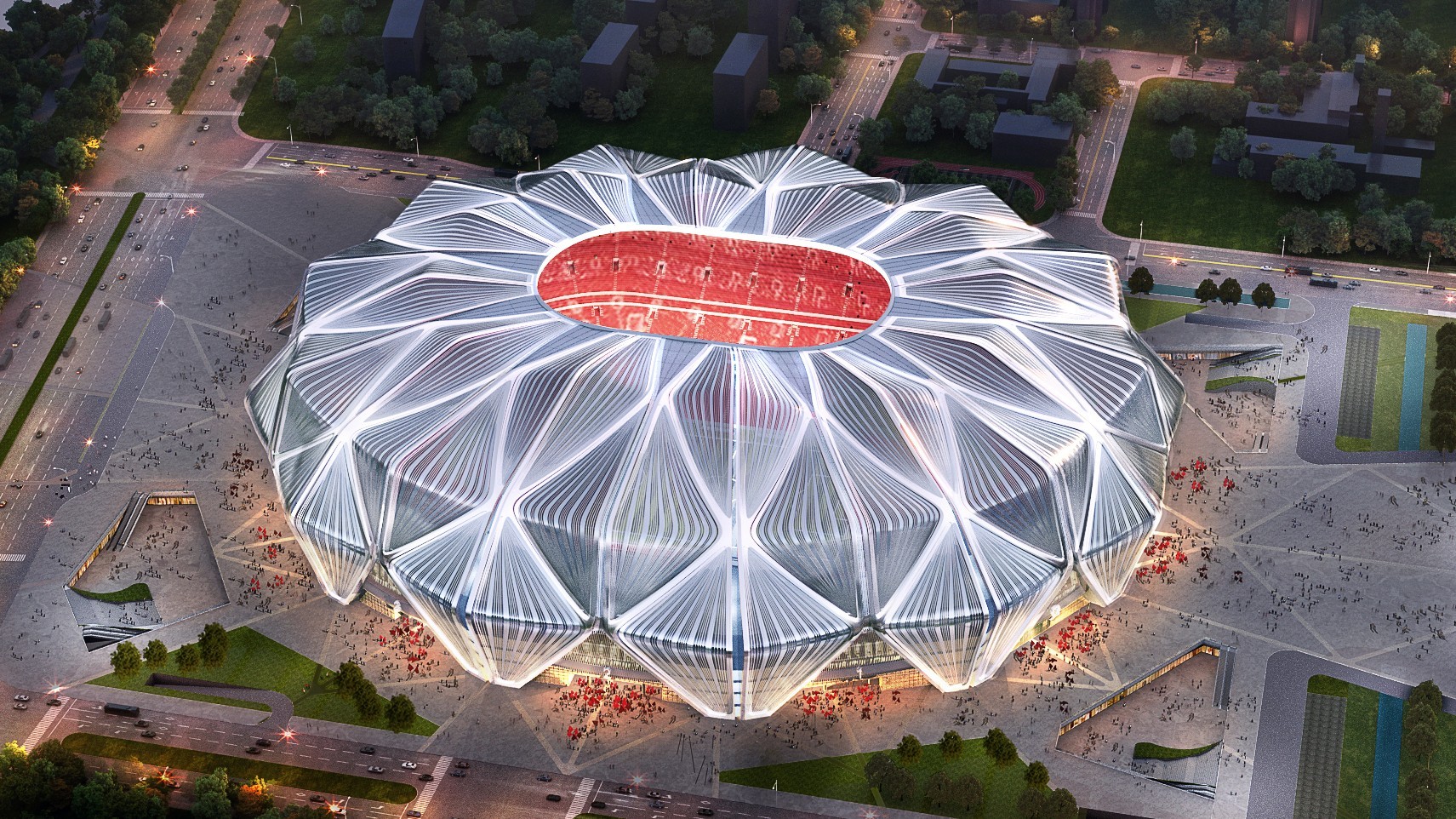 © Guangzhou Evergrande
Less direct, more symbolic
The winning concept isn't as literal and colourful as the first one, only subtly evoking a 'lotus crown', in line with Guangzhou's reputation as the city of flowers. New meanings were created along the way. More angular, the new form can also be read as a diamond, honouring the Panyu district's meaning in the global jewelry industry.
The metallic, polyhedral form is also meant to bring up high-tech and futuristic associations. But perhaps most importantly, this design should be far more material-efficient than the initial one. The stadium will be adorned with perforated aluminium (ensuring good ventilation), translucent ETFE (ensuring daylight access) and photovoltaic glass (generating clean energy). The diamond form will also help collect rainwater for internal stadium use.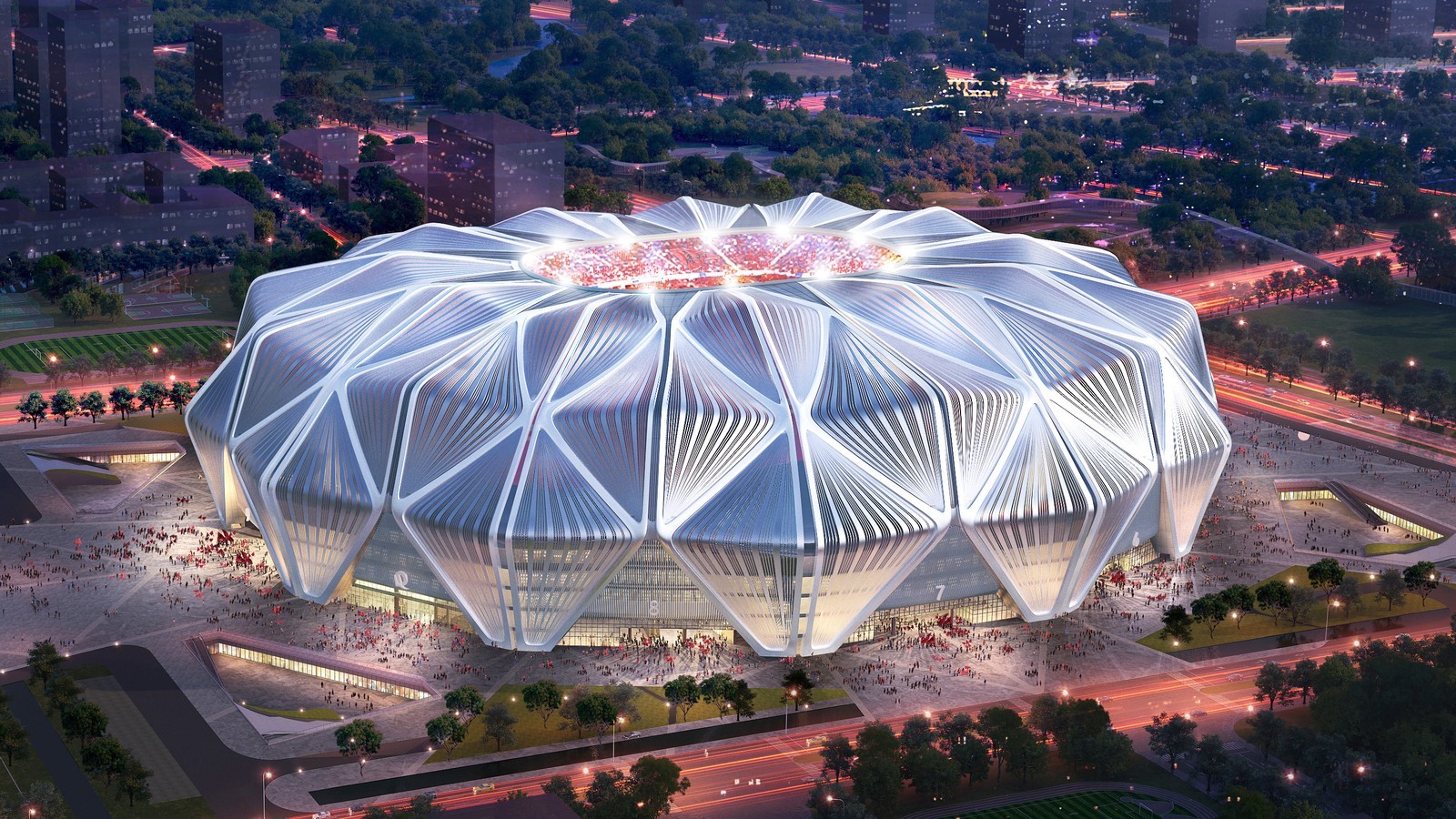 © Guangzhou Evergrande
What hasn't changed is the truly impressive scale of the project, which will see the stadium's peak at 86 meters! That's roughly the height of 30-35 residential floors. Of course, the stadium doesn't need 35 levels, it will still be stunning with 7 floors above ground and 2 underground ones. Up to 4,850 cars and 2,500 bicycles can be parked beneath and directly around the stadium.
Spectator transport remains challenging
Expected to be delivered in December of 2022, the stadium should become one of Guangzhou's main landmark. One issue still to be resolved is how to bring 100,000 people to a game and back. The parking places will mostly be dedicated to players, staff, VIP guests and media representatives.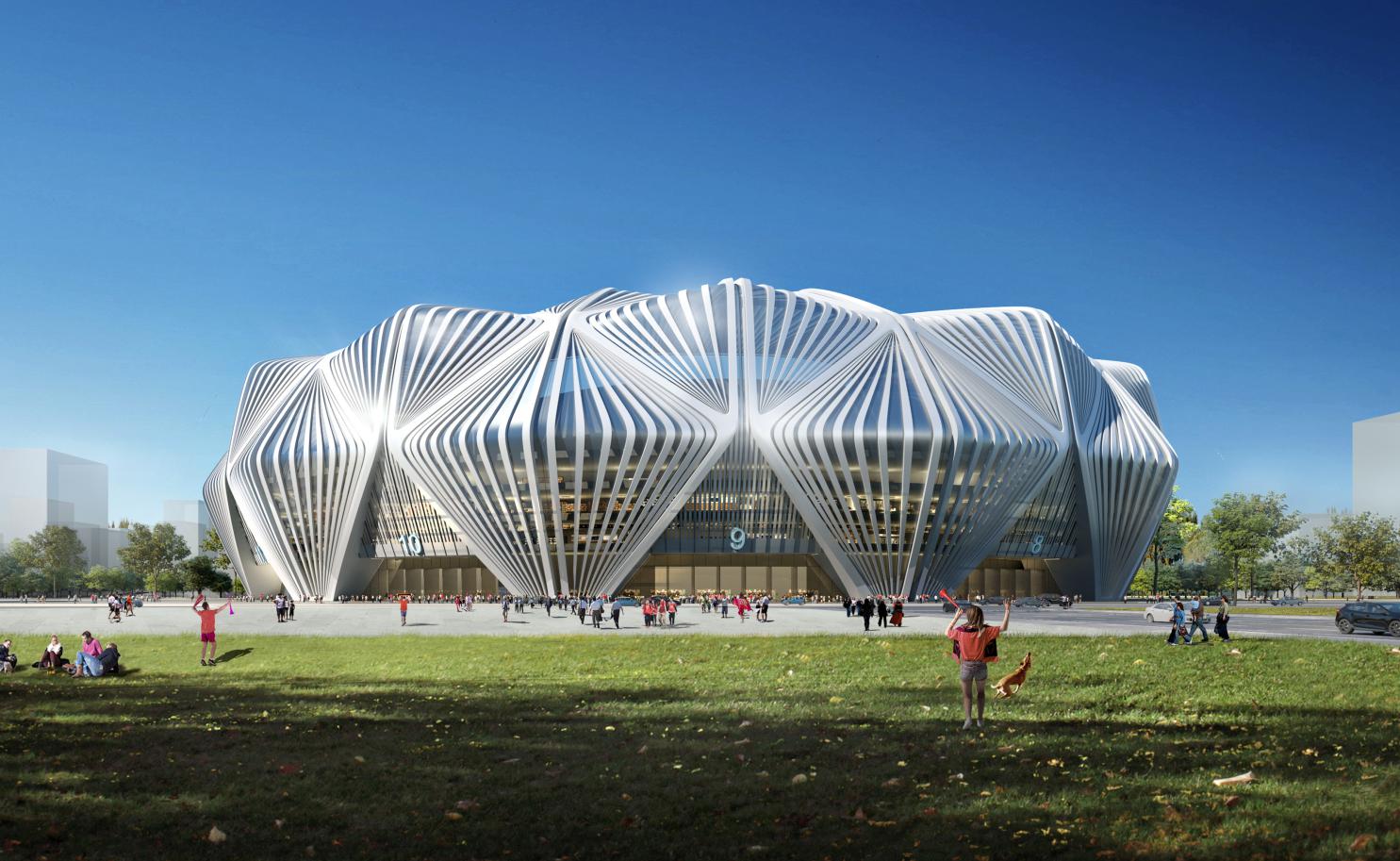 © Guangzhou Evergrande
As of today, there are only 10 bus lines within a reasonable radius. That might seem a lot for an average football stadium but surely not for one housing 100,000 people. The modern southern train station is 2.6 km away and only one metro line (no. 7) has a stop within 1 km from the plot. That's why a plan of altering new line 22 has surfaced, adding a station close to the stadium. Because line 22 will cross with 8 other lines eventually, it should ensure smooth transfer for many fans.