Romania: Laughter through tears in Arad
source: ProSport.ro / AradOn.ro / GSP.ro / DigiSport.ro; author: michał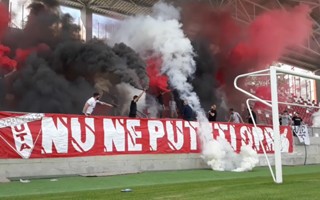 Its construction time is 100% longer than contracted, its price tag grew just as much. And yet the new Stadionul Francisc Neuman not only isn't ready, it became a nationwide laughing stock.
In our database Stadionul Francisc von Neuman still figures as existing, because we usually transfer stadia to the historical section only when their successor is delivered. So, after demolition in 2014, it was expected that the change would come in 2017, the contracted delivery date.
Waiting, and waiting, and waiting
Except that it didn't happen. Work came to a grinding stop already in 2015/16. Instead of reaching 90% in 2017, the contractor (Tehnodomus) reached 70% in 2019. Just a case of shifted numbers. It's thus no wonder that major media outlets like ProSport became speculating whether Arad will break the record for "the smallest stadium under construction for the longest time".
After all, Arad was one of several first Romanian cities to start stadium reconstruction. It was not only put to shame by the robust project delivered in Craiova but even by the extremely controversial Târgu Jiu stadium, which stood unopened despite being ready.
Meanwhile, the last 'official opening date' has lapsed in April. Of course it may seem that the ceremony was cancelled due to COVID-19 but that's just not the case. To this day the stadium isn't ready. Ultras Arad got so fed up of not having a stadium for 6 years (and of the forced lockdown in recent months) that on May 23 they broke into the new stadium, lit numerous pyrotechnics and displayed a 'You cannot stop us' banner.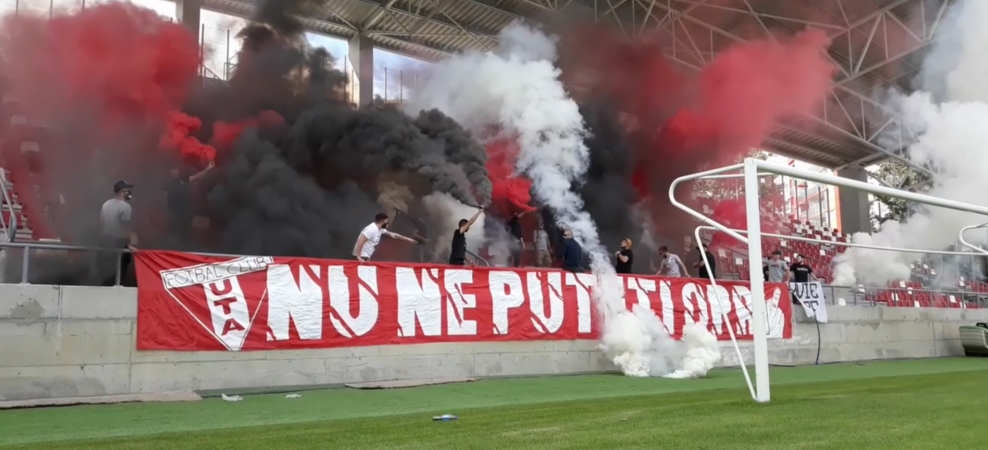 Despite the project having been handed over to the city, it's still not entirely finished, lacking numerous elements. Which, understandably, is causing quite some frustration locally, but also many jokes.
Some reasons for laughter
For example, main ticket office for the south stand will welcome fans with a blank concrete wall in the front. All ticket windows are located on its sides, though the sidewalk basically ends on the front wall, with no room for queuing on the sides.
The parking for 300 cars and 20 buses has simply not been built at all. It just wasn't part of the contract and no contract for its delivery has been signed as of yet. Even better, the giant screens were recently delivered but it reportedly turns out they are too heavy to be hanged under the canopy. Instead, they should be mounted in the empty corners... which are actually occupied by the massive steel arches supporting the roof. So, yeah...
Even the field, which was of very good quality back in April, today is yellow and burnt by the sun. Whether it would be saved before opening is an open question itself, because there is no confirmed opening date. Presumably it would be ready for UTA Arad's return to the top flight, which seems to be happening this summer.
Speaking of UTA Arad, they've got more to worry about than just the field. As it turns out, the stadium has no room for a club store or pub, even enough office space. In fact, during his visit to the stadium site, manager Laszlo Balint has learnt that there is no office planned for him.
Finalising contractor Drast Company suggested something would be done to find the space... But that space is already scarce. According to reporting by AradOn.ro, the mini hotel planned within the main stand, which was supposed to have 23 rooms, actually has 13 rooms.
Not just the small things
While some of the aforementioned issues may seem absurd, most of them should be possible to mitigate without major efforts. But there are other complaints that reveal how much was lost of the original 2015 concept.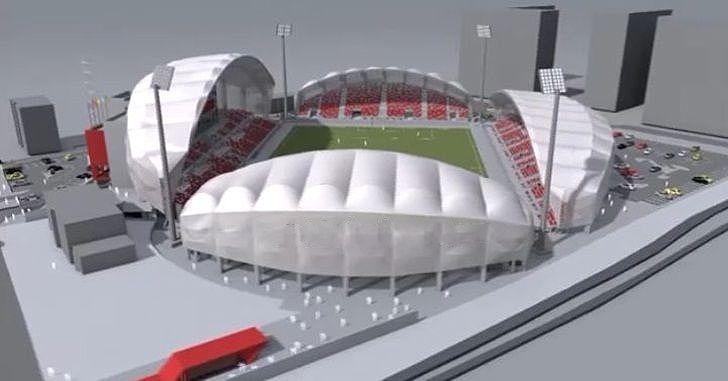 While always planned with corners empty, the stadium was supposed to offer membrane cladding to shelter fans from draft and rain. The membrane was scrapped as part of the optimising process, not just from the facade but also from the roof. So the anticipated level of comfort has immediately lowered.
And yet the stadium managed to consume over 100% more than was anticipated. Contracted for RON 32 million back in 2014, the build has already cost nearly RON 68 million (€14m). Which is why recently one of the city council members has demanded responsibility from the city, especially that – according to his claims – the list of irregularities or errors on site is 300 positions long.