New design: Wooden enthusiasm in Kaunas
source: StadiumDB.com; author: michał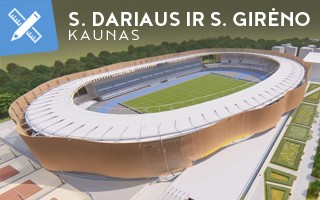 Modern stadium clad entirely with timber, sounds sensibly. It also envisioned maximum use of existing facilities. But the joy didn't last long, after a year into construction progress has been very modest, at best.
With the prolonged inability of authorities to deliver a new national stadium in Vilnius, Kaunas has for many years been the Lithuanian city with the largest stadium. S. Dariaus ir S. Girėno Stadionas received its current form in 1979 and in 2017 the vision of its thorough upgrade was drawn.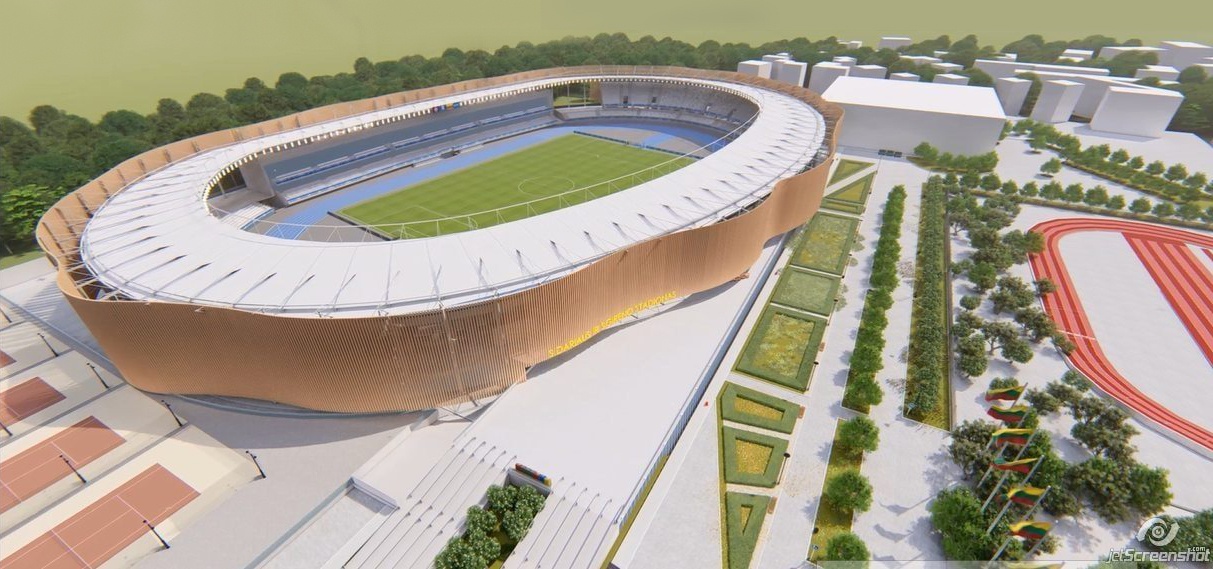 The plan foresees a brand new main stand in the east (filling existing gap), housing all crucial facilities and a rather modest number of spectators. The 1979-dated C-shaped concrete stands are to be rebuilt and filled in parts where the auditorium was missing. This way the stadium will grow from over 9,000 to over 15,000, ensuring Kaunas retains its status of the city with Lithuania's largest stadium.
For the first time in history all seats will be covered and the stadium is expected to meet major requirements for both football (UEFA Category 4) and athletics. But, perhaps most interestingly, the stadium will be clad entirely with timber. This way its flowing facade is expected to fit nicely within the woodland surroundings.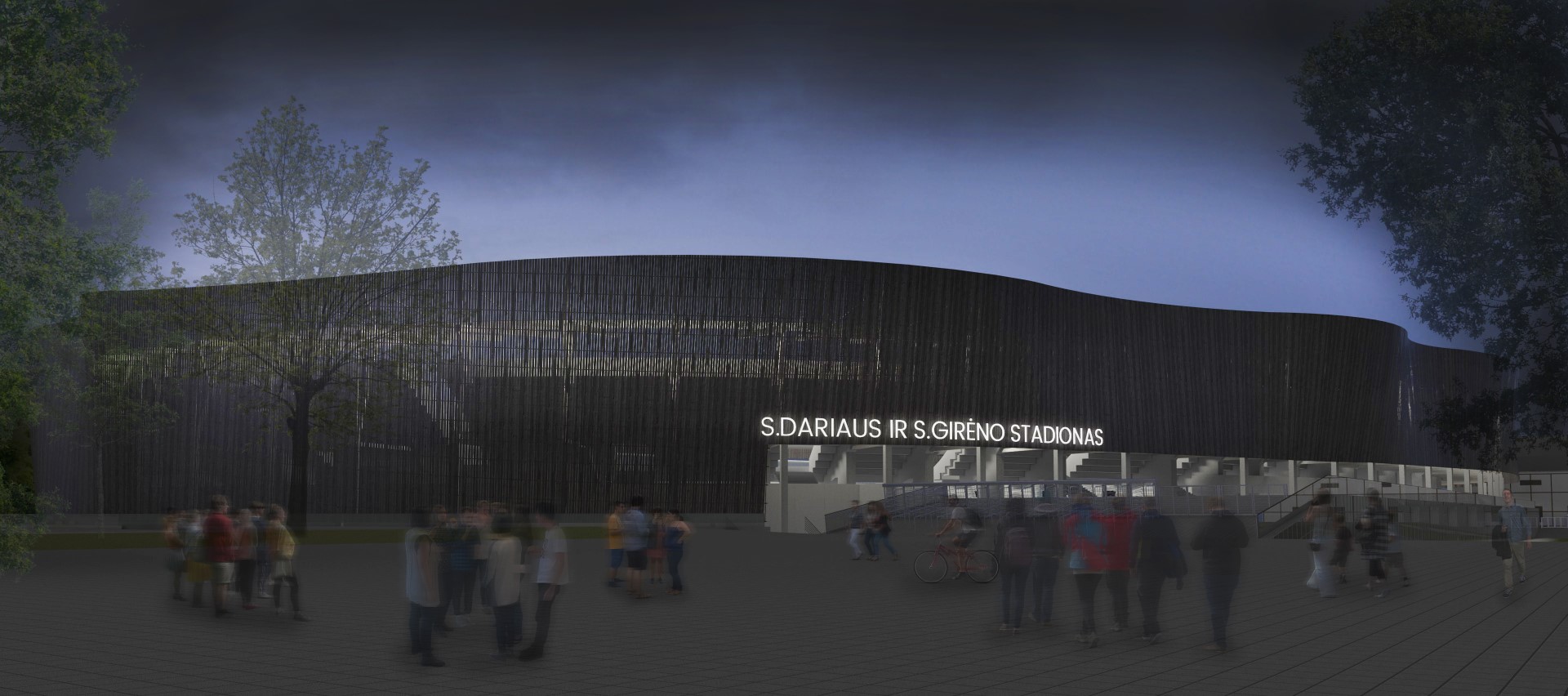 The plan was good, implementation... as usual
Kaunas was supposed to show Vilnius how things should be done. After all, the Vilnius national stadium scheme has been 'ongoing' since 1987 and is nowhere near actually being delivered. Meanwhile, Kaunas has a sensible plan of building upon what is already there.
Even more, the city went from words to action in a timely manner. Design was first presented in 2017, in early 2018 the tender was already ongoing, by June the winning company was selected. The tender was protested, but by late July the court had confirmed that Turkish company KAYI Construction can indeed be contracted to carry out the scheme.
Not only offering a reasonable price (€34.95 million, while the city had €46 million earmarked for the project), KAYI also agreed to carry out all works in just 20 months. That's a very good time frame for a project including partial demolition and retention of the primary concrete structure.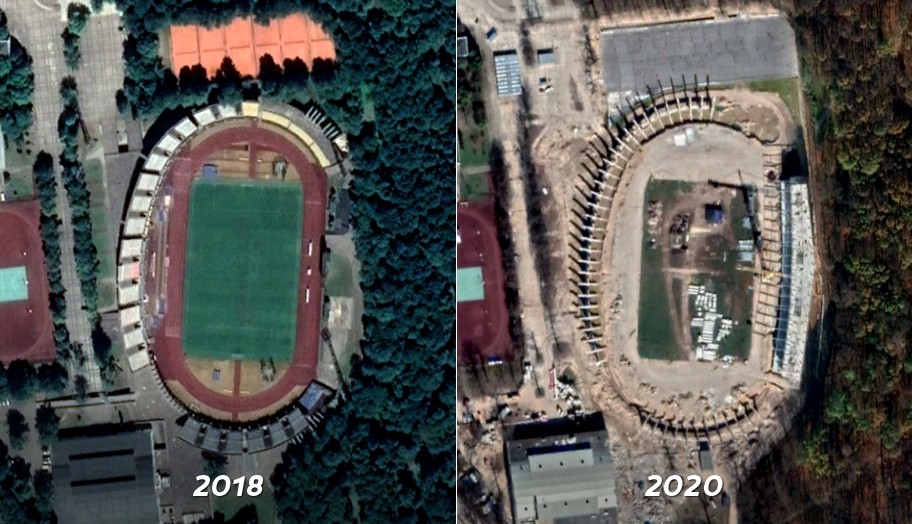 Work was launched already in the summer of 2018 and KAYI even brought its own workers to the site from Turkey. But throughout 2019 it became clear that the pace is far from satisfying and 20 months was not a realistic estimate. Even worse, by September Turkish workers went on strike as they were not being paid by their employer. As a result, in January of 2020 the city terminated the contract and forced KAYI out.
Initially, the stadium was due for completion in the spring of 2020 and yet to this day only a 3-level skeleton of the new main stand and foundations for new stands have been laid. Recent confirmation from a Lithuanian official suggested the stadium will be ready around 2022. The worst piece of news is that it's not available for athletes or footballers as the running track has been damaged and all former stands removed, leaving just the bare concrete supports.
It's estimated that KAYI carried out work worth some €8 million. But since the city already had additional €11 million for the project, funding for a new contractor should be considered safe.