England: Coventry City still aiming for a new stadium
source: CoventryTelegraph.net; author: michał
The end goal remains moving into a stadium they would own. But for now working out a deal to return to Ricoh Arena has to go first. If it doesn't happen, it's back to Birmingham for the Sky Blues fans...
It was supposed to be a great leap for Coventry City, but the club's 2005 relocation to Ricoh Arena brought pain and uncertainty instead. The club's ongoing conflict with the city led to the Sky Blues leaving Ricoh Arena a few times already, always trying to find a short-term alternative and eventually returning.
The most recent one has been Birmingham's St. Andrew's Stadium, which might prove to be CCFC's home for up to two more seasons. That's how long the EFL would allow them to share the ground with Birmingham City FC, under current agreement.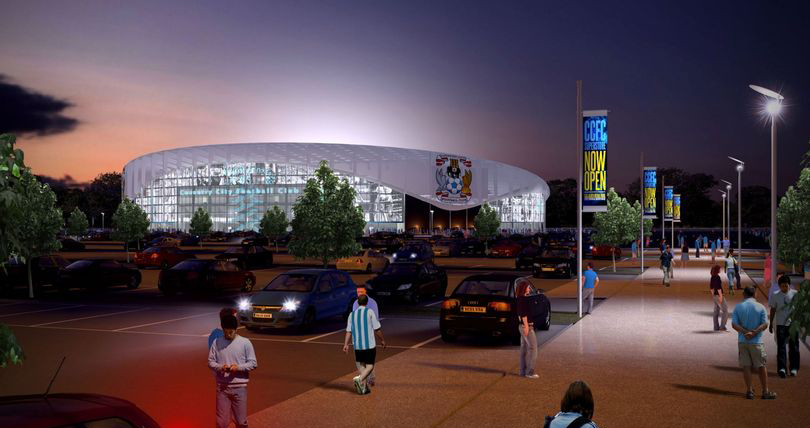 Released in 2013, this vision of a private CCFC stadium has so far been the most solid idea of what the club would want.
However, the club is working on a new deal with the Wasps, current owner of Ricoh Arena, who took over during the conflict between the city of Coventry and City FC. Recent signals suggest the 2020/21 campaign should bring football back home, however nothing has been sealed yet.
In a recent statement the club's chairman Tim Fisher suggested the best scenario would be striking a 5-year tenancy at Ricoh Arena. This amount of time should be enough to deliver on the club's long-standing but so far failed dream of building a private stadium of their own.
"The Ricoh Arena was built for the football club, unfortunately we could never strike a deal to stay at the Ricoh, which was a great shame. We left the city again regrettably, we came back, we've left again, again regrettably, but we want to have a stadium in Coventry, in the Coventry area which we can call our own.
"That's what this football club, and any football club needs. It needs to be able to own its own revenue streams and be masters of its own destiny." chairman Fisher said.