Poland: The peculiar case of Radomiak stadium
source: StadiumDB.com; author: michał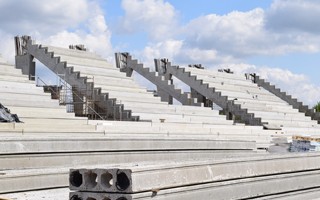 Here was the plan: new indoor arena and stadium in 2018. Here's the reality as of now: half-built stadium with one stand up for dismantling and the prospect of spending double the price. And it's not over...
Radom is a city with a quite special place in Polish society, though not a place locals particularly enjoy. A bit like Milton Keynes in England, just slightly less absurd than Bielefeld's status among Germans. So when something odd happens in Radom, it's just reinforcing the stereotype of Radom being Radom.
But when the city announced its ambitious plans to build two modern stadia for both its professional teams, they were finally about to boost the status and not be the country's laughing stock for once. At least infrastructure-wise. The first project (Stadion Broni, delivered in 2013) went rather well, even if not everyone enjoys football with a running track.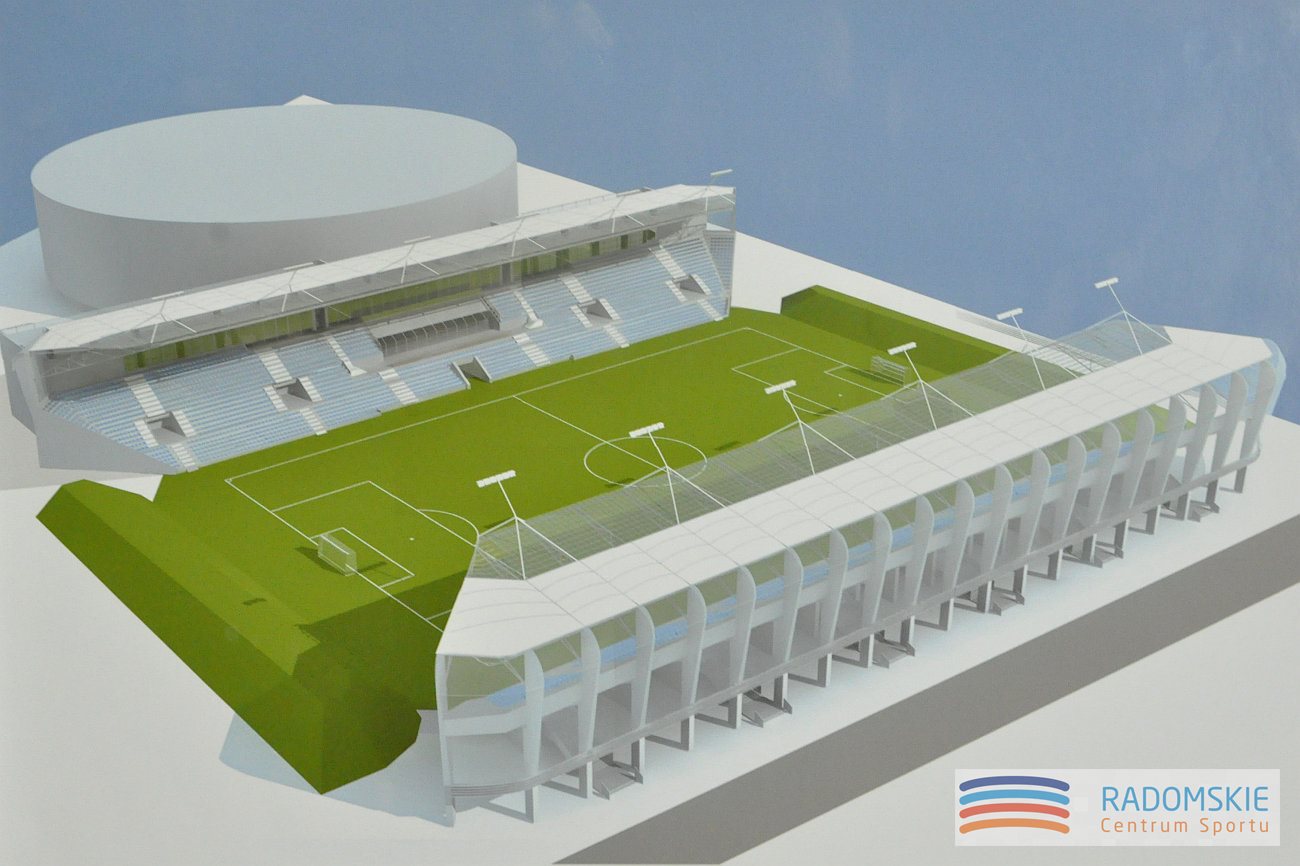 © MOSiR Radom
But when the same contractor (Rosa Bud) broke ground on the second stadium, things went sideways very fast and the comedy of errors is showing no signs of stopping. Upon groundbreaking the contract suggested Radom would receive a new football-specific stadium for 8,500 people (with expansion to 15,000 in mind). That ground was supposed to be operational in late 2018, as was the 4,000-seat indoor hall, attached to its south stand. Total price tag for both venues was to reach PLN 110 million (€26m).
And then the contractor didn't really try
Less than a year into the construction process it was already clear that the project is facing delays. By May 2018 Rosa Bud applied for 3-month extension of the contract, which was granted by the city, arguing the delay isn't caused by the contractor's negligence. By late 2018 it was already clear that the delay is only growing and witnesses were alarming that there were very few people actually working on the stadium. In early 2019 the site was almost abandoned.
Between last days of February and first day of March the contractor and city have each unilaterally terminated their side of the contract. By that time the indoor arena was delivered in nearly 85%, while the stadium was 50% ready. The city filed a criminal complaint against both contractors, though the guilt was largely presumed to lie with Rosa Bud, which was undergoing serious trouble.
And then the second tender became a joke
With no workers on site, the unfinished project had to undergo thorough stocktaking and a second construction tender was launched. In early September of last year the winner was selected, a joint venture between Erekta Budownictwo and Interiors Karolina Pawlak. The losing bidder, Betonox Construction, filed an appeal against the result but lost.
© MOSiR Radom
But it then turned out the winning bidders had no intention to work on the project at all. Even more, a third company, not taking part in the tender at all, filed its own appeal just before the deal was to be signed, then retracting it just a few days later. This way the winners were able to recover their security deposit and walk away from the project they had pledged to deliver.
Once more, the city of Radom filed a criminal complaint against the contractors. Well, contractors-to-be.
And then it turned out the project has been a mess from the start
As a result of the turmoil, Betonox Construction was finally awarded the project. By that time the city had already spent PLN 92 million on a project that was supposed to cost 110 million at its conception. Betonox agreed to carry on but only for a steep price of PLN 82 million. In mid-January of 2020 the deal was finally signed.
But residents began asking why Betonox is only working on the indoor arena and not touching the stadium itself. Soon enough it became clear that there's a structural issue with the stadium, later it also became clear the same issue covers the indoor arena. Because of high water table, parts of the structures became flooded and damaged by damp.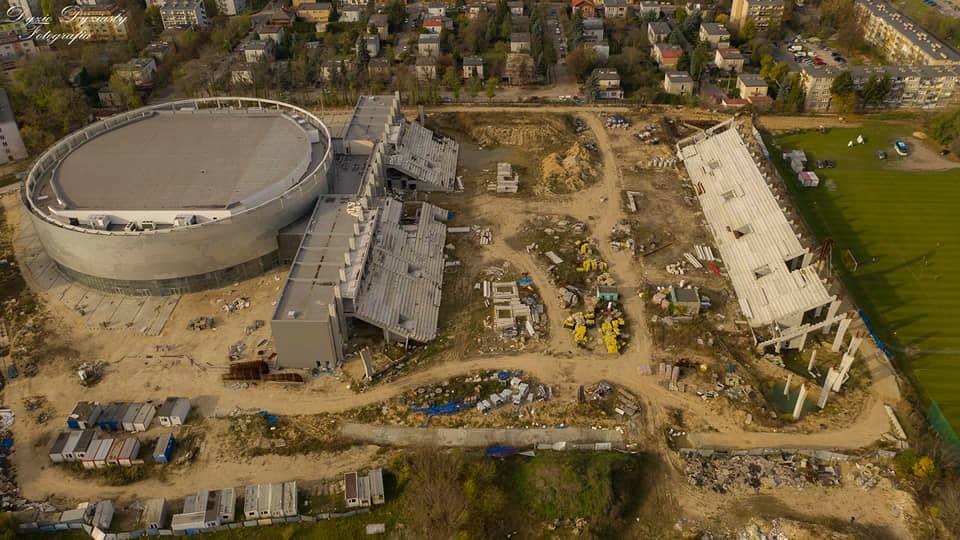 © Radomiskie Inwestycje
It turns out the city, construction supervision authority and initial contractors relied on flawed analysis of the soil and went with structures that would not be safe after completion. Betonox offered solutions to mitigate the issue, including additional piling, foundation and retention walls but... doing this will require the nearly erected north stand (for 5,000 people) to be dismantled and then rebuilt on stronger foundation. And, of course, it will cost more time and money.
We're now nearly in June of 2020, 1.5 year after initial delivery date and half of the stadium has to be disassembled. It's now clear that the project will not conclude in its contracted date (mid-January of 2021). It's also clear that the PLN 174 million spent and/or contracted so far (instead of PLN 110 total) will not be enough. Sure enough, the city has filed one more criminal complaint against initial contractors. If any, the silver lining is that part of the wasted taxpayer funding should be recovered. After lengthy court battles, of course...