New design & construction: The giant from north Jakarta
source: StadiumDB.com; author: michał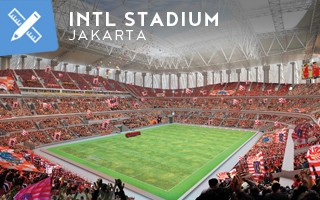 It's the scale you expect from NFL with crowd passion you can only find in Indonesia. Once the new home of Persija opens in 2022, it will change the country's football landscape. It might also cause the ground to shake...
We haven't covered Indonesia arefully for a while, so it's time to make up for the biggest gap we had: the Jakarta International Stadium. It's the most exciting development currently going on in the country and one of the world's largest stadia being built. From now on we can show you both the design renderings and construction progress.
But let's get back to when it began. The plan of building a new international-standard stadium in Jakarta dates back to early 21st century. In the extremely dense urban fabric of the Indonesian capital there was only one venue meeting both domestic and international needs: Gelora Bung Karno (GBK).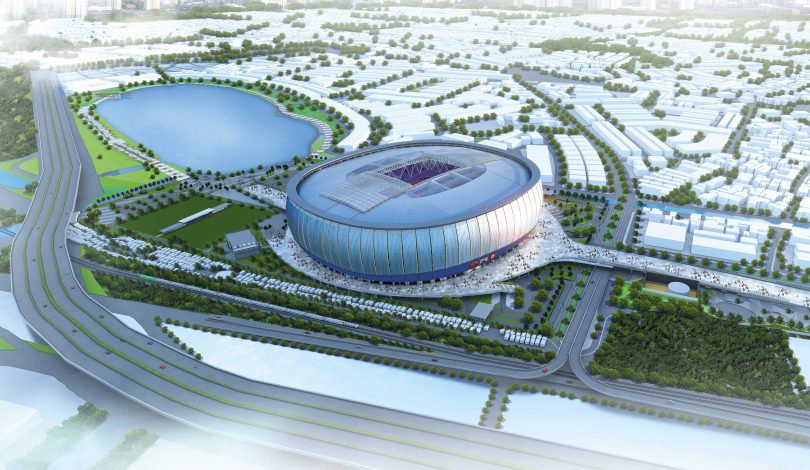 © PDW Architects
Because it became the default home of football side Persija (after the old Lebak Bulus got demolished), GBK often saw event dates clash with football games. And with Persija being able to draw immense crowds, the need for a new stadium was clear for years. At peak, crowds of Jakmania-led supporters reportedly exceeded 100,000 people.
In 2011 the location was selected and a concept created for what was supposed to be named Stadion BMW (where BMW stands for a slogan abbreviation rather than the car manufacturer). A multi-use 50,000-seater was envisaged beside the lake Sunter in North Jakarta, just beside the ring-road. The project got stuck in limbo, however, which proved... very good in the end.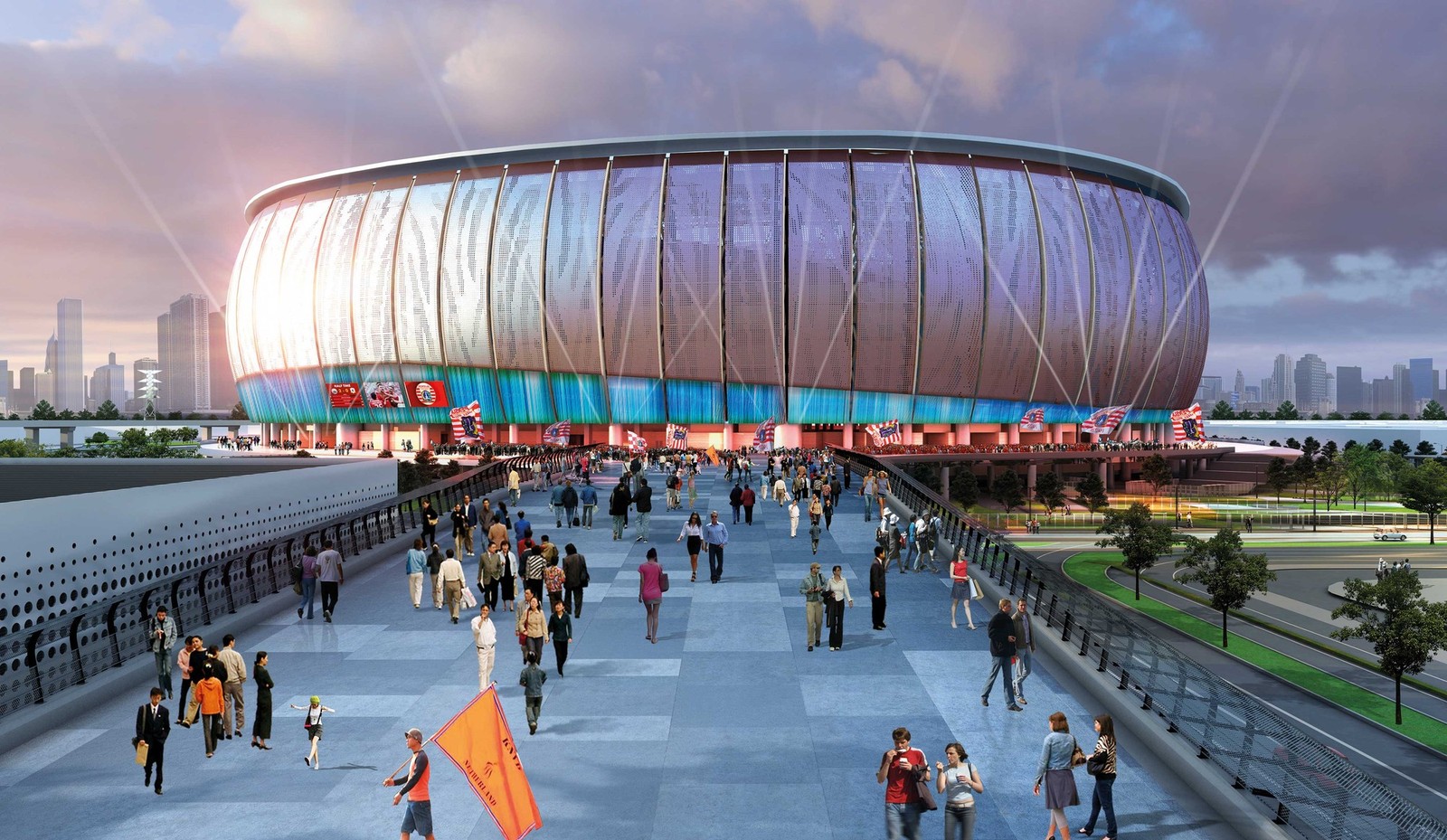 © PDW Architects
A brand new vision was drawn, finally without the common Indonesian running track, with over 30,000 more seats and a retractable roof, to become a multi-event football stadium able to compete with the best venues globally. This is what was commissioned from PDW Architects, the same company that designed Stadion BMW initially.
By far the most impressive thing about the new stadium is its scale. Don't confuse it with capacity, though. With 82,000 seats it's indeed a grand stadium but Gelora Bung Karno used to hold over 100,000 people so Jakartans are used to this. However, the sheer volume of the new stadium is hard to imagine. GBK is 35 metres tall, while the new International Stadium rises to 73 metres!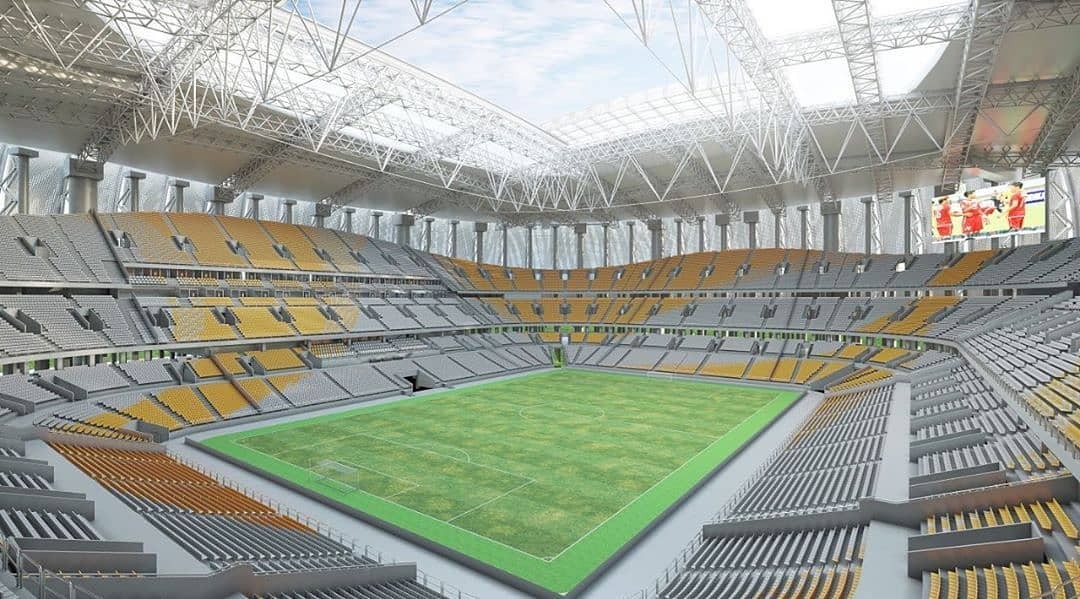 © PDW Architects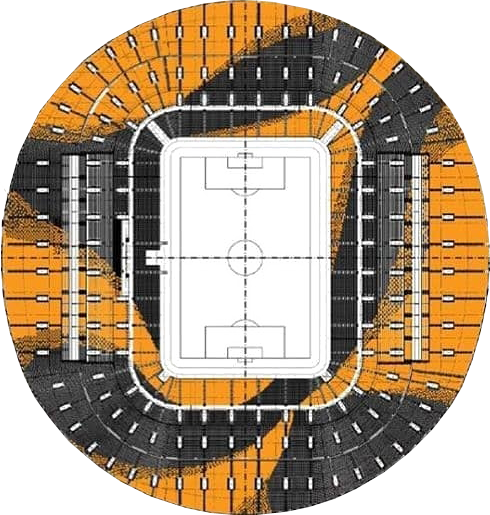 The building's outline will thus dominate the landscape of North Jakarta, where not many tall buildings are based. Interestingly, the stadium will make use of this as an advantage, offering a 360-degree sky view deck on top, giving visitors a panorama of the city and a view of the sea in the north.
Exterior of the stadium will be clad with aluminium composite panels. Each of them will be perforated and the pattern of perforations are said to be inspired by the symbols in Persija's crest and tiger's stripes. Thanks to these openings, the stadium's interior will be properly ventilated, while also allowing LED illumination to bring the stadium to life after dusk.
A total of 9 floors with facilities were planned behind the facade. In order to make the most of available space, perimeter fencing was dropped entirely, leaving the ground floor for commercial spaces and internal stadium parking (800 cars and 100 buses). Because the stadium is planned on wetland, building underground levels for such use was ruled out.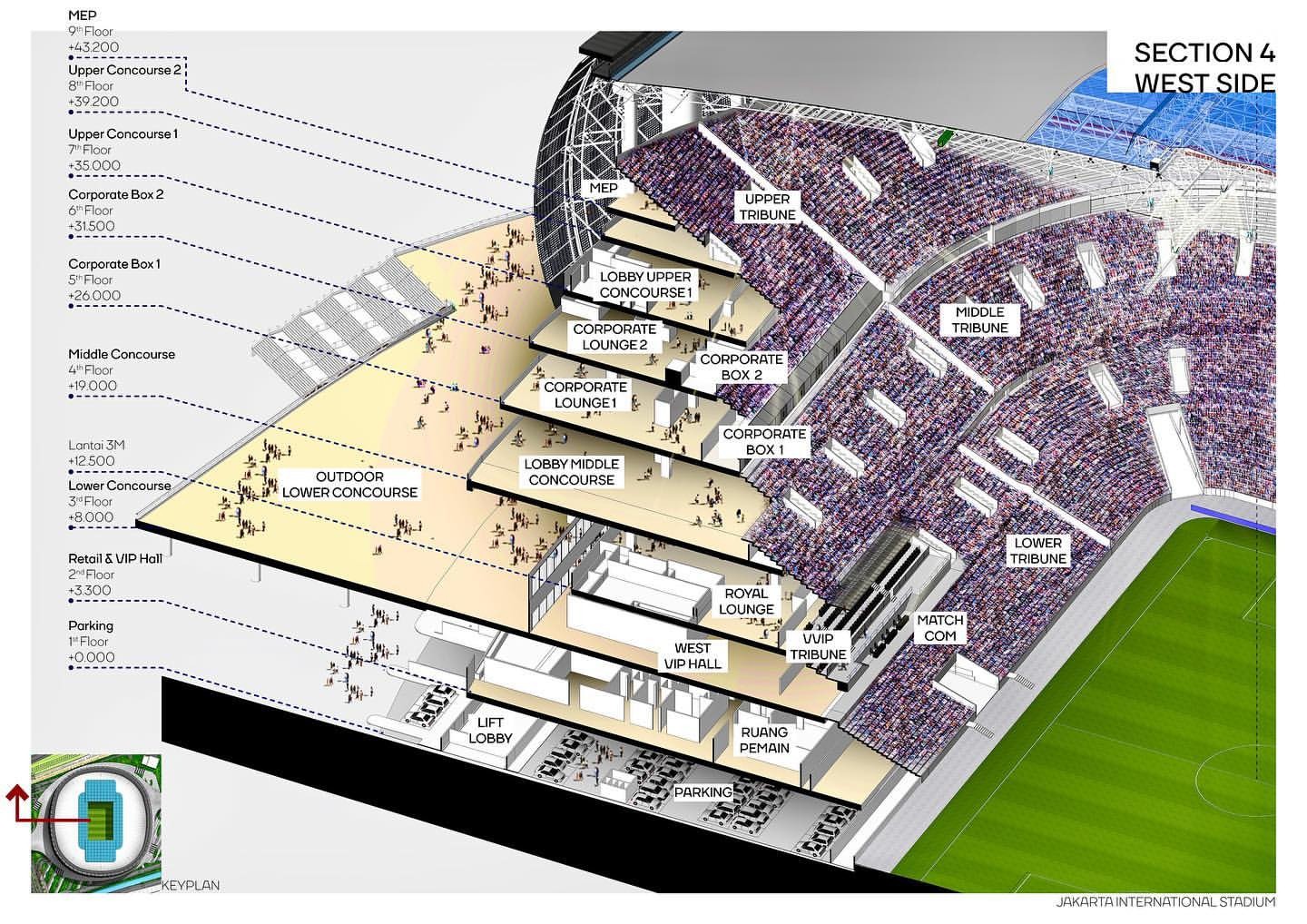 © PDW Architects
This in turn resulted in fans entering the stands as high as on level 3, where the main public concourse (out of three total, the others on level 4 and 7) will be located. Level 3 is also where the stadium should connect to mass transit systems, expected to discourage mass use of cars and motorbikes.
The auditorium is a robust bowl towering over the hybrid field, with stands roughly 10.8m away from the field. The stands will be divided to three tiers with these rakes: 24° for lower tier (22,600 seats), 29° for middle tier (19,700) and 32° for upper tier (nearly 39,700). A total of 52 corporate boxes will be located in the east and west (18-30 people each). In total 186 VVIP seats are planned, 1,610 box seats, 3,490 open business seats and 316 media seats.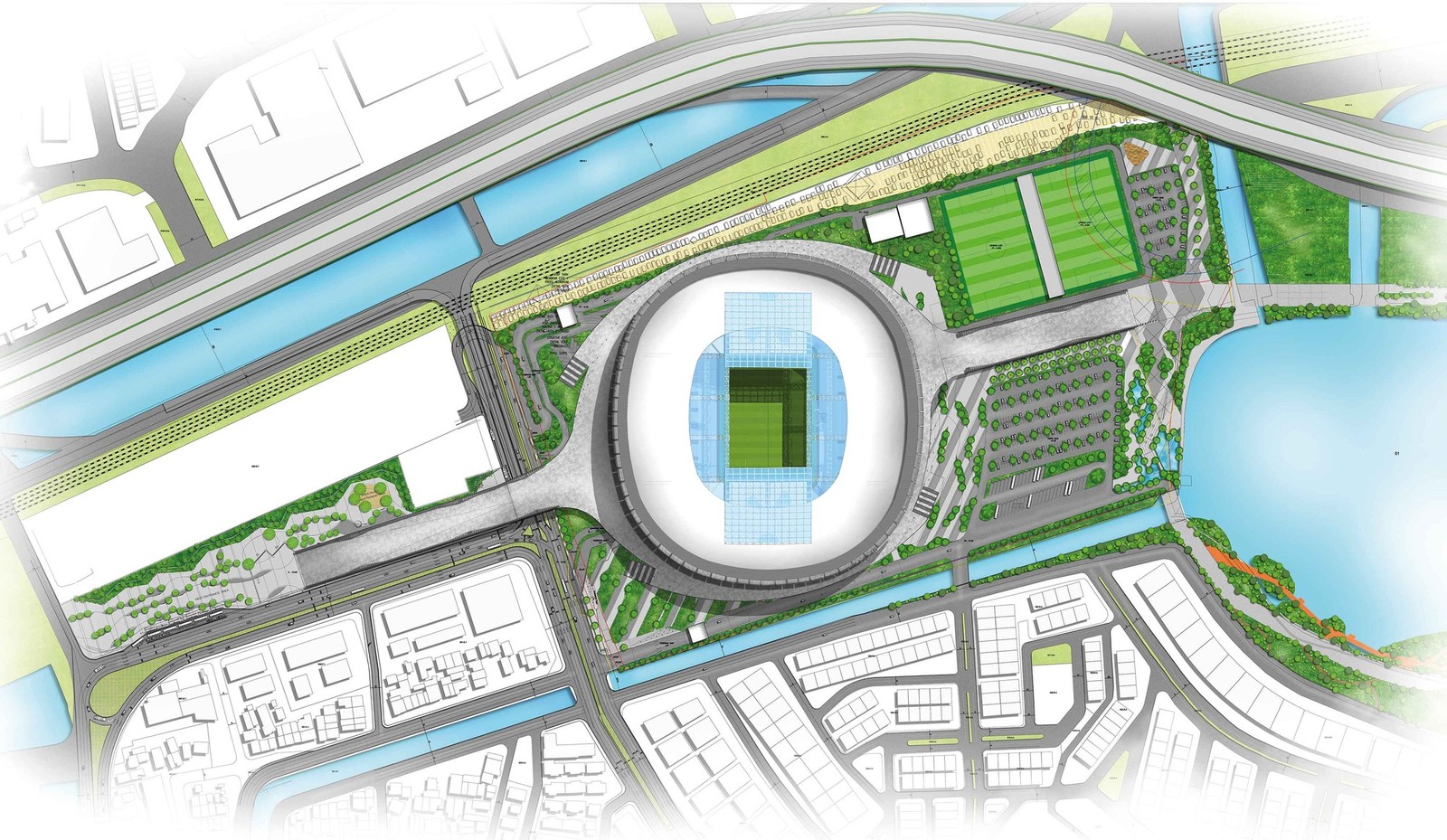 © PDW Architects
The budget, as Indonesian stadia have got us used to, is very modest in international comparison. The entire stadium was contracted for just IDR 5 billion ($340 million). All of it is expected to come from the Jakarta Provincial Government.
Construction was formally launched in April of 2019, however early months saw work limited to land clearing and piling. Because of the water table is very high, thousands of piles have to be driven into the ground before proper foundation work could begin. Actual ground-level construction began in early 2020. The new stadium is expected to be delivered by the end of 2021.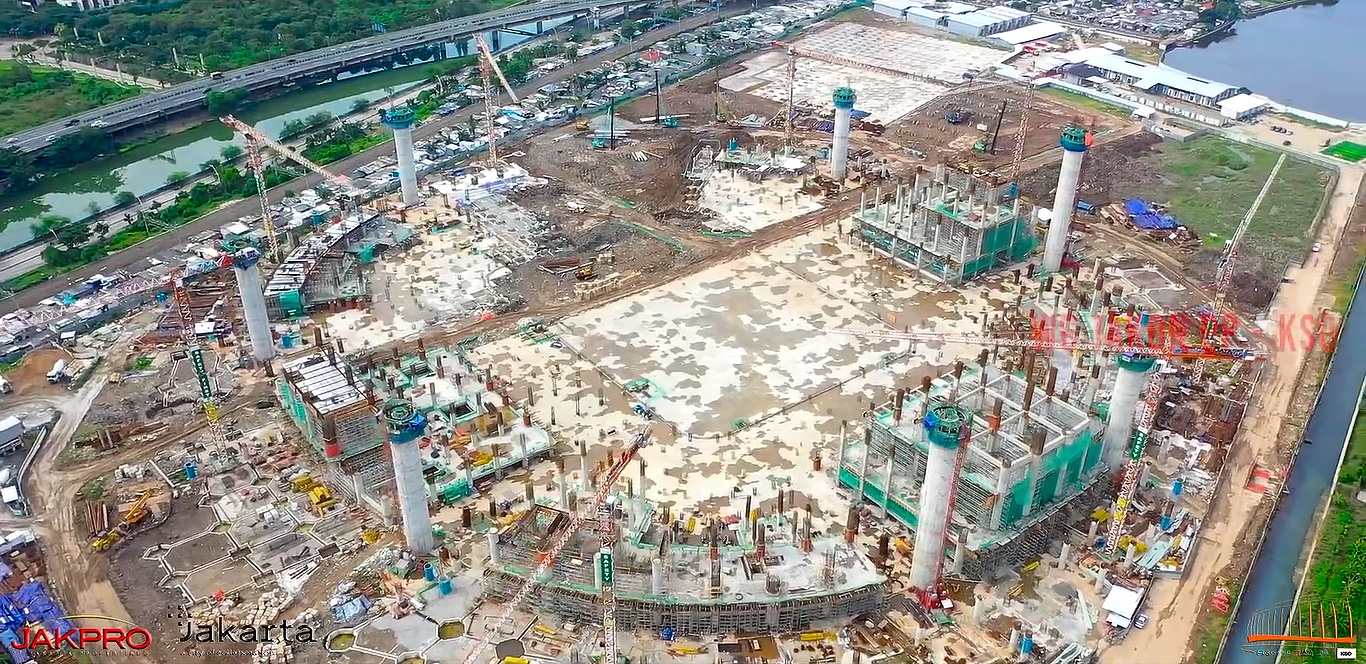 © PT WIKA Gedung Official Youtube