Germany: Construction in Karlsruhe in line with schedule
source: StadiumDB.com; author: michał
Pandemic or not, construction work on the new Wildparkstadion in Karlsruhe is progressing as expected. Its first new grandstand should be delivered in September. It's the further phases that may be challenged.
As confirmed by the municipal subsidiary for the new Karlsruhe stadium, Eigenbetrieb Fußballstadion im Wildpark (EIBS), work on the new 'Gegengerade' (opposite straight, east stand) of Wildparkstadion is progressing along schedule.
The project already had its lower tier of the auditorium ready in early March, now the installation of the upper tier is progressing towards the half-way mark. With the structure being prefabricated, progress can be see nearly on a regular basis through the municipal webcams.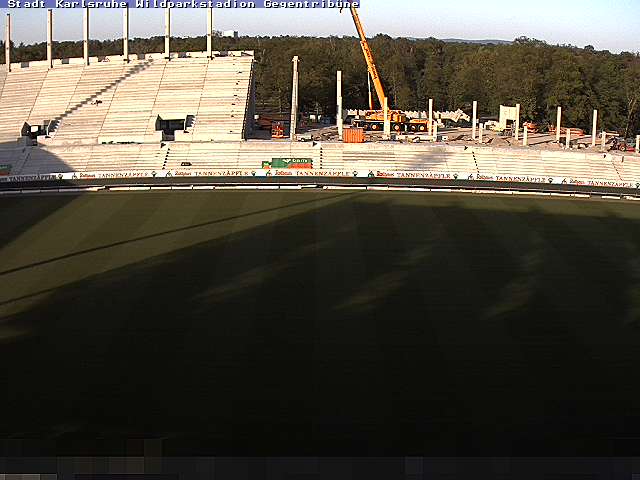 © Stadt Karlsruhe
At present the large toothed beams are being installed, they will give support to the auditorium's steps. The largest precast elements weigh 42 tons each and measure 29 meters.
Once the bare structure of the east stand is in place, construction will move upwards, towards the roof. Already now its main support columns are being erected, which will become the venue's peak at 30 meters.
But the most important element aesthetically are the Y-columns, which will be placed along the stadium's perimeter, anchoring the roof. Each of them will measure 22 meters. With the stadium's design being quite uniform, the number of toothed beams, main pylons and Y-columns is identical: 74 of each.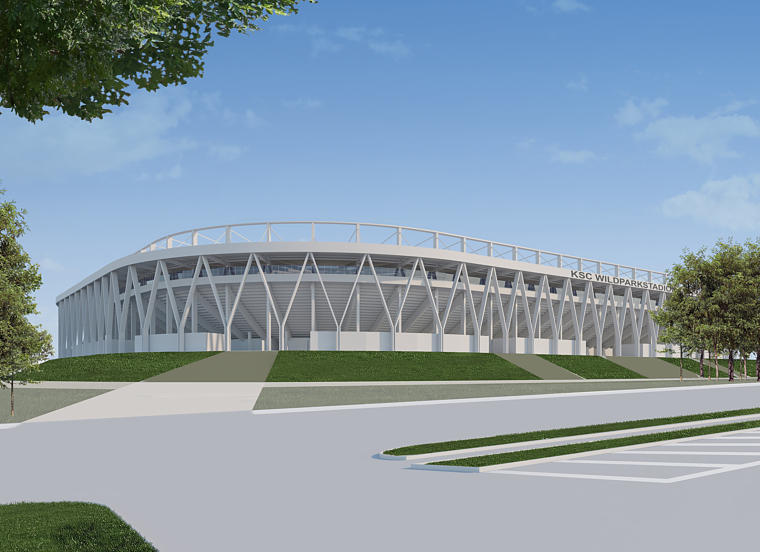 © agn Niederberghaus & Partners, BAM Sports
We're writing about the progress as if it was just a regular construction site, despite the ongoing COVID-19 pandemic. Because it is, according to BAM Sports. The contractor assures works are going as planned despite special safety protocols. Teams are being reduced to necessary minimum, all possible works are done remotely and sanitary standards have been boosted.
According to the contract, this first phase of the project should be delivered already in September. Then construction crews are to move to the south end and the west stand. However, with the dynamic situation it would be premature to claim further phases will be delivered as planned initially. If that is the case, the 34,302-capacity stadium should be ready for use in 2022.