Stadium of the Year: Public Award – Puskás Aréna
source: StadiumDB.com; author: michał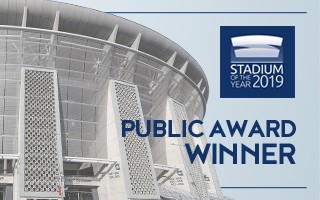 With strong representation from Central Europe this stadium's strong position is no secret. But that wouldn't have been enough to win. One in two (!) voters this year supported Puskás Aréna, contributing to its final success!
Only during the very first few days of this year's Popular Vote this stadium wasn't leading. But once Hungarians began voting it reached the very top. Though we then saw waves of votes from Indonesia, Britain, Argentina, the Philippines and other countries, it all seemed to benefit this stadium as well.
As a result, Puskás Aréna was included in 14,955 out of 30,632 (almost exactly 50%) votes and proved popular regardless of which country voters were in. And it did get votes from 107 countries/territories in total!
Of course this success wouldn't be as strong without voters from Hungary (and neighbouring Slovakia, with strong Hungarian diaspora), but unlike in previous years – voters from one nation didn't dominate the vote. Instead, the stadium proved widely supported also in Indonesia, Argentina, Poland, Great Britain, USA, the Philippines and so on.
We're proud to declare Puskás Aréna our next Stadium of the Year, the second Hungarian venue in history (after last year's Jury Award for DVTK Stadion)! Its monumental and classic architecture is a tribute to the legendary Puskás Ferenc Stadion and we can only wish the successor to experience the same glory!