Stadium of the Year: Jury Vote 2nd – Puskás Aréna
source: StadiumDB.com; author: michał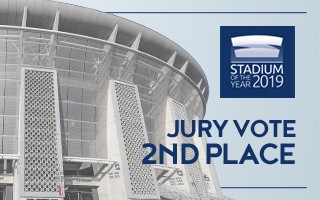 No, you're not seeing double, it's the Budapest stadium again. This time it was voted second by the Jury, ex aequo with one more stadium.
We've seen the Public and Jury agree on specific stadia more than once in the past and the 10th edition is no exception. In both votes the new Puskás Aréna in Budapest proved to be among the best candidates.
In the Jury vote this is owed largely to its architecture, which is one giant tribute to the legendary Puskás Stadion, while also being respectful to its surroundings. The rough aesthetics based on concrete and steel is no accident, after all the decisive element regulating the new stadium's rhythm is the decorative staircase tower, recreated to mimic those of the old stadium.
Meanwhile, the eastern tower was retained entirely in the historical form it had. What was demolished later largely became used as construction material, making the connection between old and new even stronger. Even the stadium's footprint follows the old one.
At the same time the stadium provides world class facilities and immense amount of floor space, combined with well delivered auditorium and impressive, vast roof structure. Frankly, we fully agree with this stadium being ranked so high by our Jury!