Stadium of the Year: Jury Award – Japan National Stadium
source: StadiumDB.com; author: michał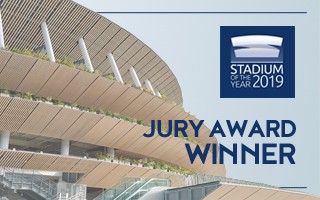 Not as imposing and futuristic as planned initially, the National Stadium in Tokyo is a masterpiece of harmony, rhythm and functionality. All packed with warm wood greenery, creating a mix unseen in stadium design!
This kind of unanimity is unprecedented: each of our Jury Members awarded this stadium exactly 90%. And scoring 90% means that each of the expert architects gave the National Stadium maximum number of points in two out of three categories! What for?
For the creation of a uniquely Japanese and very local stadium. Local in the sense of its use by local residents on a daily basis. After all, the new national stadium of Japan has a public promenade with greenery, accessible for all.
Being furnished with wood inside might not be surprising itself, however the extent to which timber was used in all public areas, facade and even the roof structure is unprecedented in stadium design. It's also the signature of Kengo Kuma's work, in the case of Tokyo's National Stadium aiding in the creation of a uniquely cosy and human-scale building, despite its immense scale and capacity of nearly 70,000 people.
Then comes the meaning of the cedar and larch wood used, sourced from all prefectures of Japan and symbolising the nationwide preparations for the 2020 Olympics. Even if the tournament is postponed in the end, this in no way diminishes the effort put into this project. And it should be remembered that the world-class stadium was delivered with very tight schedule, yet with no compromise in terms of quality.
In so many ways this is unlike any stadium we've seen to date. And we're proud to call it Stadium of the Year, especially that it's only the second Asian venue in history to receive this title!