COVID-19 crisis: Supporters show their colours
source: StadiumDB.com; author: michał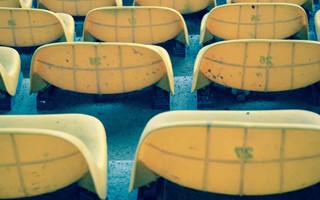 Lack of football is hard to bear for its enthusiasts. But while football – as all areas of life – is in for hard times, supporters are showing that it's no time to feel helpless. Here are a few cases of how to show support, not just for your club!
It's still unclear how the current football season will end, whether we'll see players running onto the fields at all. Logically, this means severe financial uncertainty and trouble for many football clubs. With no matchday revenue and shaky sponsorship deals, survival may become an issue for some.
Support for the club
That's why more and more teams are looking for ways to generate additional income with no matches played. Some have been selling virtual tickets – to name just Lech Poznań and Radomiak Radom (Poland) – in order to let fans to contribute without entering the stadium itself.
Bulgaria's Levski Sofia went a slightly different route. Having found out that their hit game against Ludogorets would be postponed (or cancelled, final determination yet to be made), the club continued sale of tickets as collectors items. But, should the game come to fruition at a later date, buyers of these tickets will be allowed inside the stadium. Result? 10,898 tickets sold!
In Berlin fans of Union prompted a yet different approach. When their club lost matchday revenue from the hit game against Bayern last weekend, Union launched a virtual food truck, selling images of what fans love to buy at Alte Försterei. Sausage, goulash, beer or radler – anything can be bought for €2.5 and €4, all in support of the team.
Poland's Wisła Kraków decided to issue one more portion of shares available to the public. In total the club aims at collecting PLN 4.28 million (€1 million) in just over a month. After three days already more than a third has found investors, from individual to bulk buyers.
Scotland's Kilmarnock FC have in turn received £50,000 from their supporters in order to help salvage the team's budget.
Support within the community
Having been barred from traveling to their away game at Estadio Mestalla, supporters of Atalanta were reimbursed for their €50 tickets. But instead of taking the money, all 1,200 fans decided to donate it to their local hospital battling the coronavirus epidemic. In total that's €60,000, a noteworthy amount!
In Poland several supporters associations have already established support groups within their local communities. The goal is to provide assistance to those most vulnerable during the crisis. Fans of Ruch Chorzów and Lech Poznań are voluntarily delivering groceries and prescriptions drugs to seniors. In Poznań they're also collecting bottled water for local hospital which reported shortages.
Support for those on the front lines
During this difficult period some people are far more exposed for infection than others. And football fans aren't forgetting about the sacrifice some members of the society are making.
In Madrid, fans of Rayo Vallecano expressed their support for doctors and nurses with long banners hanged on top of a building. "Sólo el pueblo salva al pueblo, trabajadores sanitarios sois nuestro orgullo ¡mucha fuerza!" (Only people can save the people, medical staff – you are our pride, stay strong!).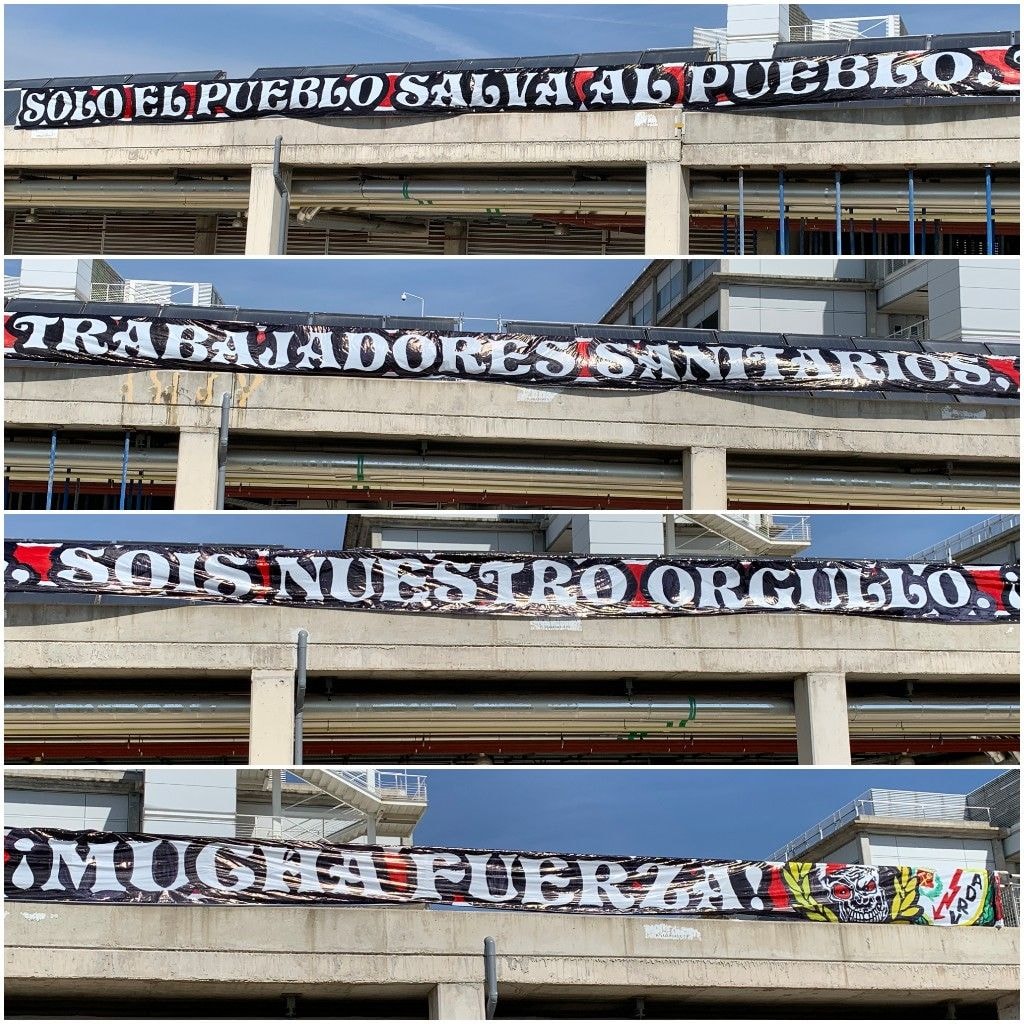 In Austrian city of Graz a similar message is on display, hanged on a viaduct. "Vom Supermarkt bis zum Krankenhaus, was ihr gerade leistet, verdient Applaus, danke!" (From the supermarket to the hospital, whatever you're doing, it deserves applause, thanks!)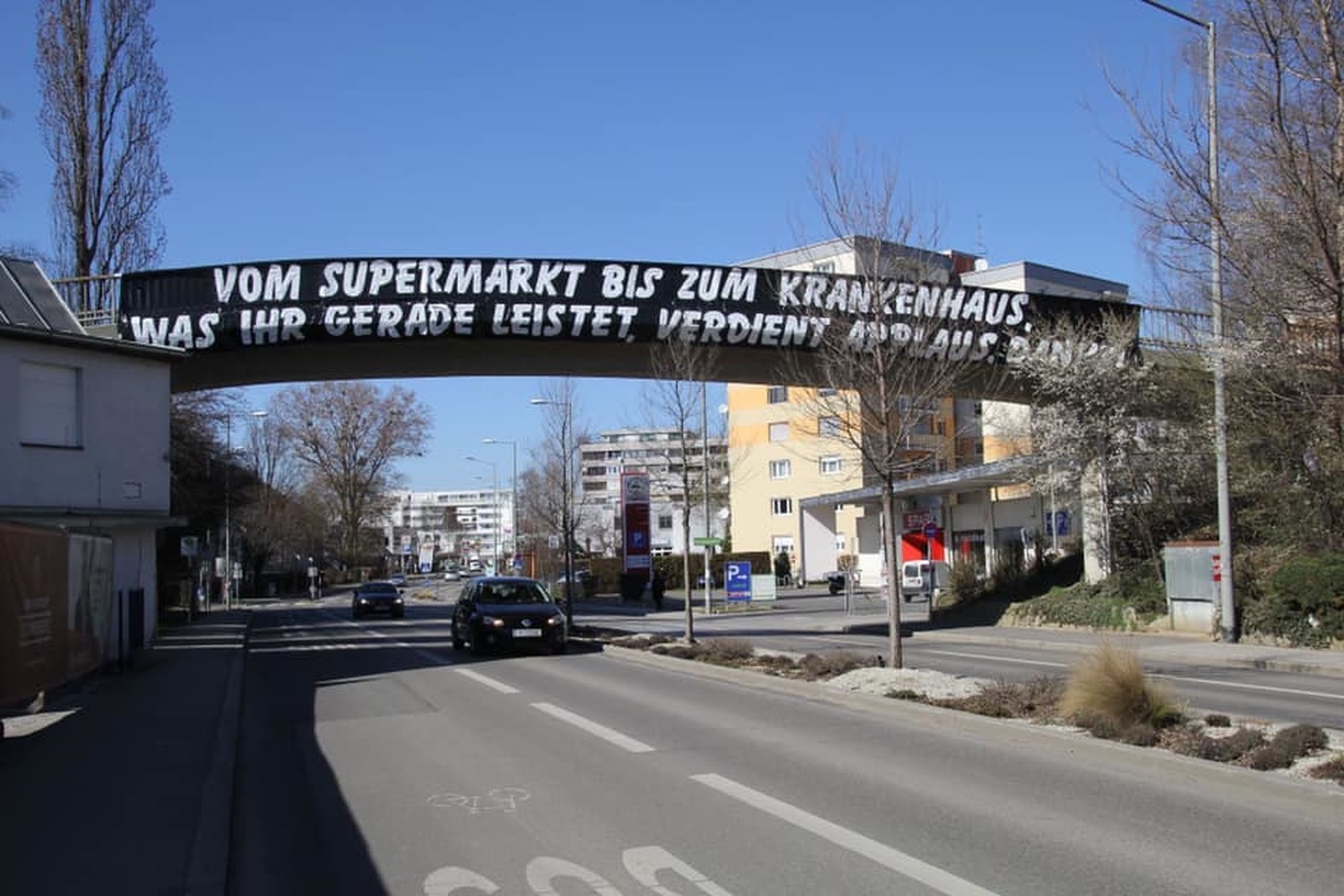 Of course the list isn't complete, it only shows the cases we know of. Please don't hesitate to write and inform us of further efforts through social media or by writing to michal@stadiumdb.com. And stay safe!