Stadium of the Year 2019: The Popular Vote is officially open!
source: StadiumDB.com; author: michał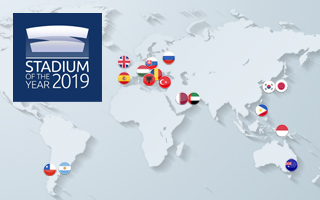 And we're off! For the next five long weeks we'll be accepting your votes and together we'll be selecting the best stadium opened in 2019. The list isn't long but there's so much to choose from!
When did that all happen?! It's already the 10th edition of Stadium of the Year, our annual grassroots project inviting everyone around the world to rank stadiums opened in the past 12 months. Over the past 9 editions (though first 2 editions weren't available on this platform) you've cast 361,646 votes, which is amazing. We wouldn't mind going beyond 400,000 in the next few weeks. What do you say?
What you'll find below is the list of 21 stadia out of over 40 (!) that you've submitted over the past two weeks. It's the shortest list of all our English editions but – amazingly – there were 13 stadia that should have been opened in 2019 and yet weren't for different reasons (delays, social unrest, funding shortage, etc.). We also chose not to include Tel Aviv's Bloomfield Stadium as its facade is incomplete and that would impede its chances in the Popular Vote. Their chance will come next year.
How are you voting?
You may go for architecture, there's quite a lot to choose from. Al Janoub Stadium in Qatar is the legacy of the late Zaha Hadid and one of its kind in terms of retractable roof. VTB Arena in Moscow is actually two stadiums created in historical outline of a different stadium – a must-see! As every year, fantastic stadia have been opened in China and there's a vibrant red gem standing in Tirana as well...
You may go for atmosphere. After all, some stadiums are beautiful but might be white elephants or not serve their purpose too well. So go for it, check the compact stands and safe standing of Allianz Field. The microbreweries opened at two stadia last year. Or England's largest single-tier stand at Tottenham Hotspur Stadium.
You may embrace sustainability. In that case you will surely appreciate the efficiency of heating/cooling at Slovakia's new national stadium. Or the impressive water collection system in Saint Paul. Or the long list of efforts that made Estadio Jorge Luis Hirschi the greenest stadium in Latin America...
You may also choose local pride. After all, the list contains four national stadia – of Albania, Hungary, Japan and Slovakia. There's our first Philippino stadium or first Papuan stadium, both a great source of pride for locals. There are strong fanbases around some stadia and whether you support London's Spurs or Daegu FC or Rangers de Talca – it's fantastic that you wish to support your local stadium! The only thing we ask for is that you include other stadiums that you actually appreciate in your vote.
After all, in order to vote you must select 5 different stadiums. The best one gets 5 stars, second 4 stars, etc. Then just click 'Vote' and you're done. But keep in mind – you can only vote once, further attempts will not be counted. So if you have already voted yourself, please share the news about Stadium of the Year. All our Stadium of the Year graphics can be used freely in social media and traditional online media.