New stadium: Welcome to New Guinea!
source: StadiumDB.com; author: michał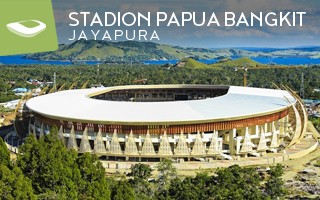 It's our first stadium from the distant and beautiful island of New Guinea, sitting not far from the border between Indonesia and Papua-New Guinea. Inspired by local craftsmanship, this giant has a really picturesque backdrop!
Every time the Summer Olympics end, sportsmen across Indonesia prepare for their games – the National Sports Week (Pekan Olahraga Nasional), also held in 4 year spans. Until 1996 the tournament was almost exclusively held in Jakarta but then rotation began, along with modern stadia being built across Indonesia's numerous islands. But it wasn't until 2020 that a major stadium was built in New Guinea, inviting the tournament to Jayapura for the first time.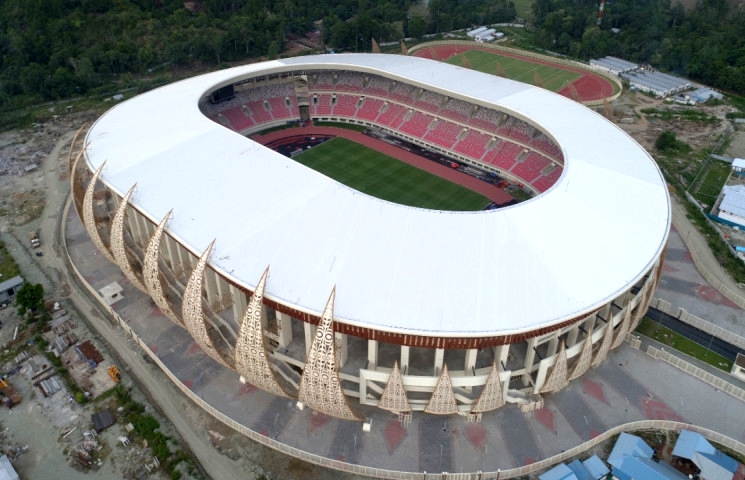 © Pemerintah Provinsi Papua
Precisely for this tournament preparation to deliver the stadium began in 2015. Not only the largest across New Guinea, the stadium is also built with capacity and infrastructure that would allow it for consideration to host even FIFA World Cup games. The selected plot of 13.7 hectares lies half way between the city proper and the international airport.
From the north the stadium is surrounded by hills and mountains, to the south land opens towards the magnificent Sentani lake. The stadium was designed entirely among the nearly natural north-south axis, sitting proudly between two secondary venues: indoor arena on one side and natatorium on the other. The complex's symmetry is only slightly undercut by training stadium situated just east of the main one.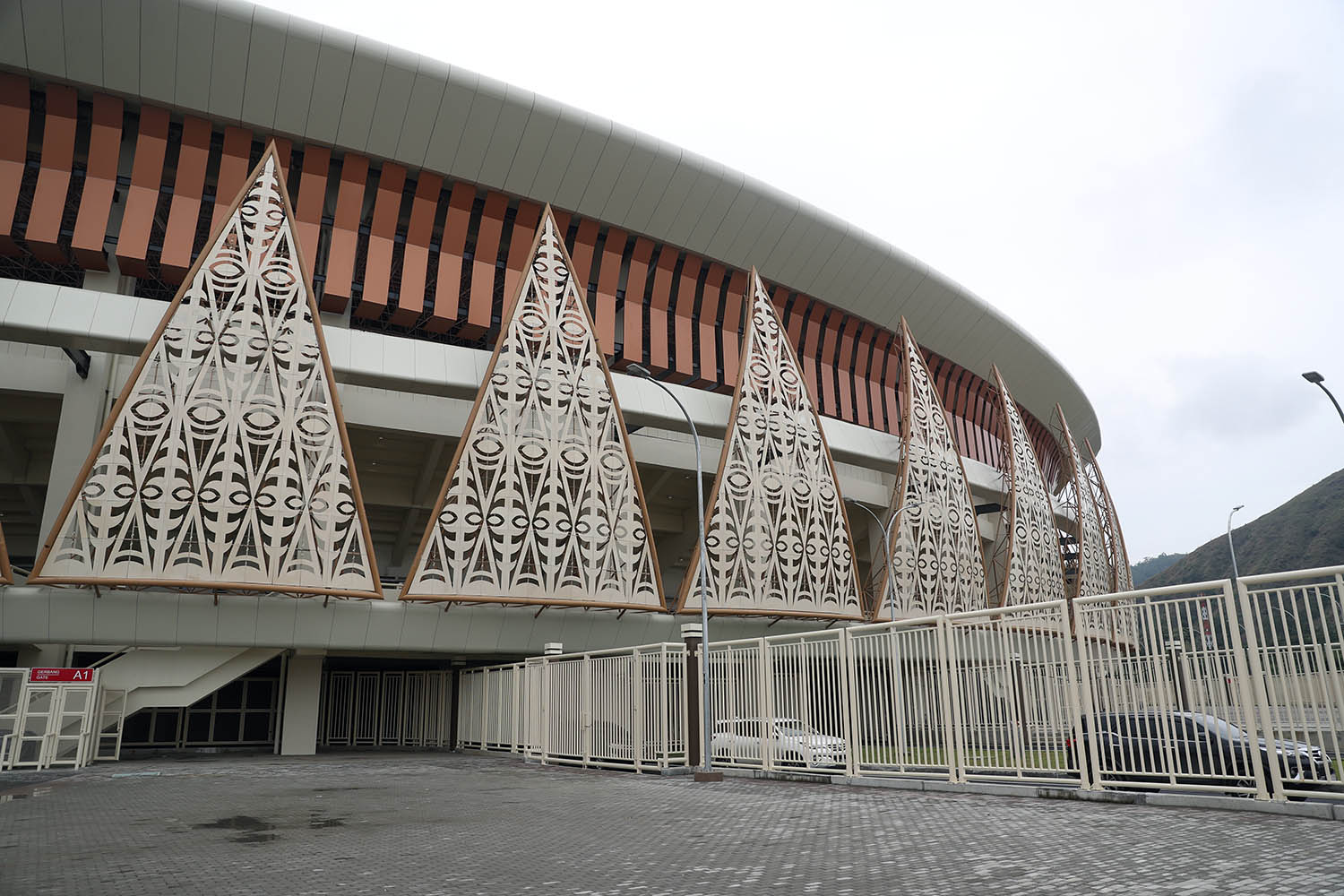 © Kementerian Pemuda dan Olahraga
The stadium itself covers just under 5 hectares of land and has floor space of 71,000 m2. While it's not expected to offer any non-sporting use on a daily basis, it offers extensive facilities for training. Despite its traditional oval layout, stands were divided into four independent structure. Each of these monolithic structures has either two tiers (along the sides) or a single tier (both curves). All of them are connected solely by the roof (covered by 30,000 m2 of tin) and public concourse ensuring smooth crowd circulation.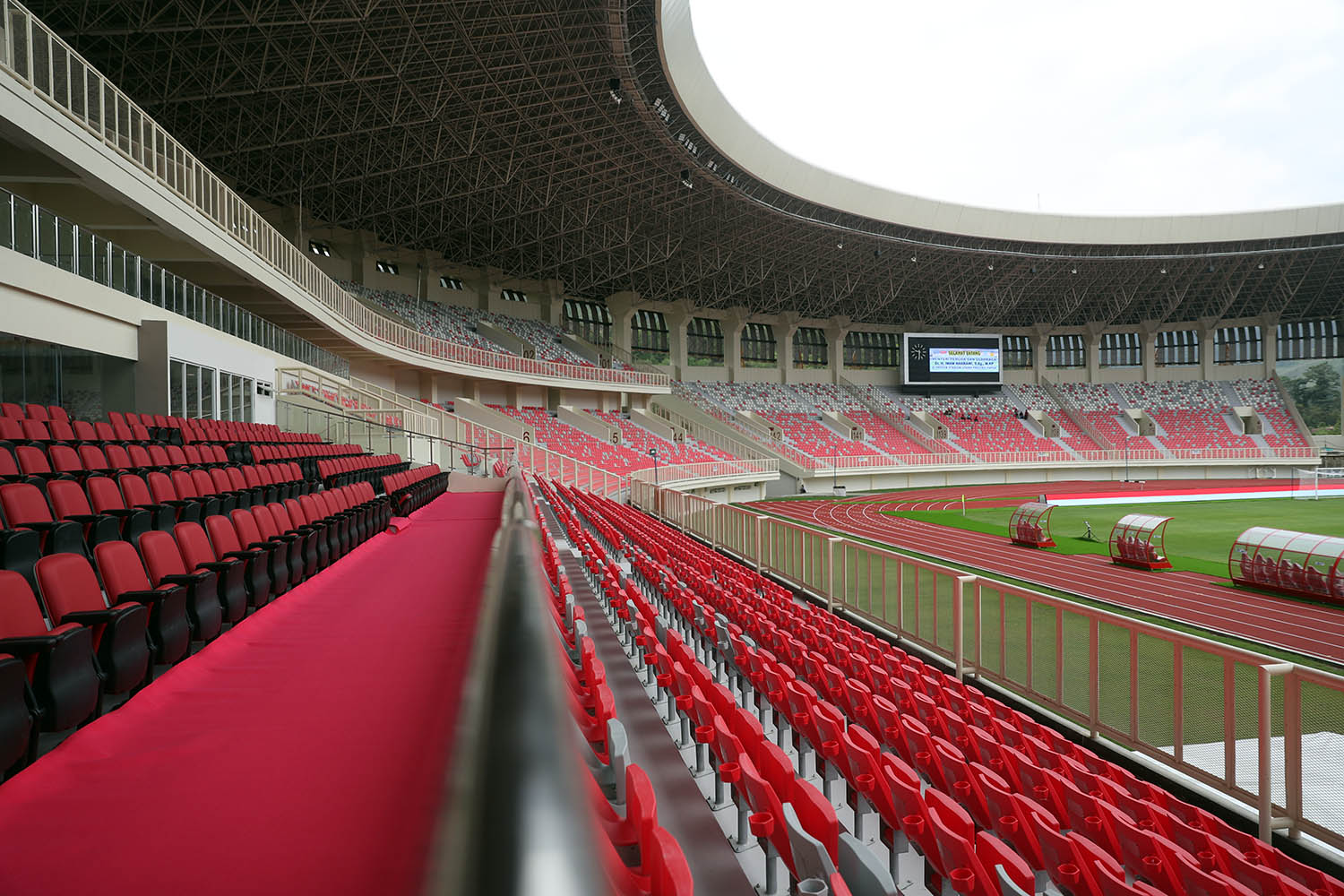 © Kementerian Pemuda dan Olahraga
Though it's very basic in terms of technology, the stadium offers a rare approach to decorative facades. Instead of opting for a mesh or other envelopes, the concrete bowl is surrounded by 50 triangular 'sails', of which 34 are smaller and located along the curves, while 16 are taller even than the roof, peaking at around 40 meters. All of them are highly perforated, imitating carved shells typical to Papuan craftsmanship.
Construction of the stadium began at the end of 2016 and by April of 2019 it was declared complete. In fact it wasn't but full delivery took place just a couple months later. Its budget was modest, as is common in Indonesia, reaching some IDR 1.3 billion ($95.3m upon opening). Aside from hosting the 2020 PON it's considered as possible venue for at least some games of local football team, Persipura Jayapura.